Review: King Spawn #1
[Editor's Note: This review may contain spoilers]
Publisher: Image Comics
Writer: Todd McFarlane, Sean Lewis
Artists: Todd McFarlane, Javier Fernandez, Brett Booth, Stephen Segovia, Marcio Takara, Philip Tan
Letters: Tom Orzechowski, AndWorld Design
Colors: FCO Plascencia
Reviewed by: Carl Bryan
Summary
"Someone's slaughtering children to get my attention."- Spawn
King Spawn #2 – A historical NEW ongoing SPAWN series begins! The launch of this book, nearly three decades in the making, further expands the SPAWN UNIVERSE with a growing presence of Hell, Heaven, and Heroes here on Earth.
One of the most vile and horrific villains in the SPAWN mythology returns: Billy Kincaid…now, simply called KINCAID. But his new campaign to murder is more than it seems. Like everyone else in SPAWN'S UNIVERSE…battle lines have been drawn, and all-out war is about to be unleashed.
Continuing the dramatic battles from SPAWN'S UNIVERSE #1, this is where it all begins!!!!! Don't miss out…the last time a new ongoing SPAWN series launched was in 1992.

Positives
King Spawn #2 continues the storylines that were ignited in issue #300.  Taking the reins of the primary writing is one Sean Lewis.  Lewis's style is different than McFarlane and that is a good thing.  At times McFarlane becomes a bit predictable, but his game has been accelerating on an uptick for some time now.
Lewis provides a heroic Spawn and one in which we as readers are going to recognize as a hot button for all of us given the first chapter in this comic.  Killing children is a hot button, and when kids are involved, it apparently brings out the vengeance that all of us would feel if we had Spawn's powers. 
If you have been a long time Spawn fan, you know what he did way back in the early 1990s to one Billy Kincaid who would lure children in with ice cream.  You can't unsee that comic image of what Spawn did to Kincaid…google it!
To have this killer Kincaid back in business is not only horrifying but the overtures of this story ring of the violence we see in modern life.  Lewis flys real close to the Sun in this book of Spawn and it is real scary stuff!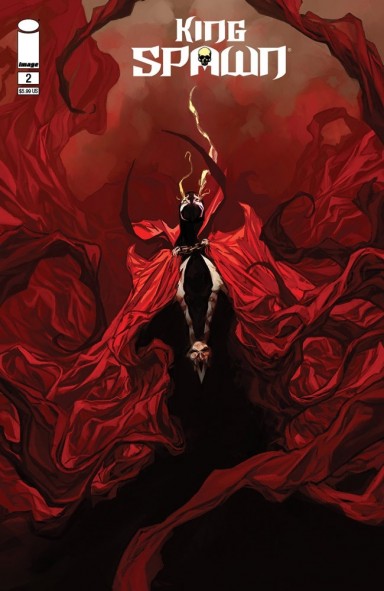 Positives 2.0
McFarlane is a genius.   He has taken us back in time to the root of all human evil in bringing Kincaid back to life.  The artistic renditions in this book are meticulous and it floats seamlessly back and forth with the regular Spawn series.  This particular issue is very one-sided in Spawn's attempt to try to stop children being killed, however, Kincaid provides Spawn a bit of a conundrum…. very Jokeresque.
If there ever was a villain that literally could come to life in real life….it is Kincaid.  Let's pray a Spawn would be present to take that kind of evil on!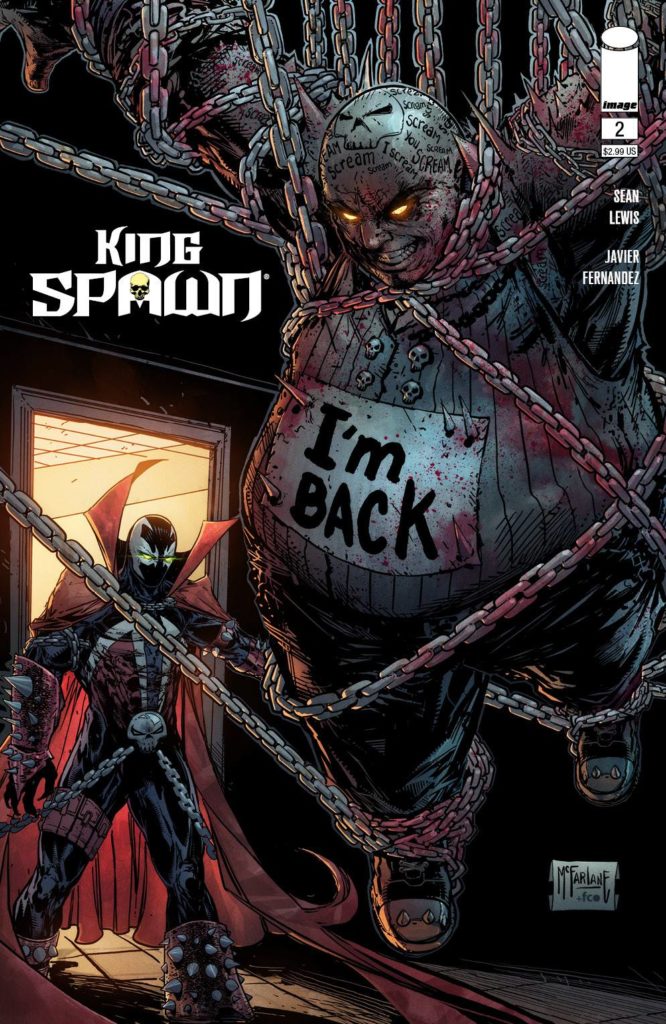 Accolades for World Record Setting
2021 is the year of Spawn.  Spawn's Universe #1 kicked things off.   King Spawn #1marks the first time in twenty-eight years that anyone can buy a monthly issue #1 Spawn book. This will give McFarlane hope of reaching a new generation of readers that missed out on the initial launch of the Spawn back in 1992. October will bring Gunslinger Spawn #1. Finally, there will be a new #1 team book, which will band five characters together to fight against forces too big for any of them to take on alone. That book is titled The Scorched. Spawn, Redeemer, Gunslinger, Medieval Spawn and She-Spawn begin the group's adventures, but McFarlane promises a rotating cast of heroes over the coming months to keep the roster of heroes fresh.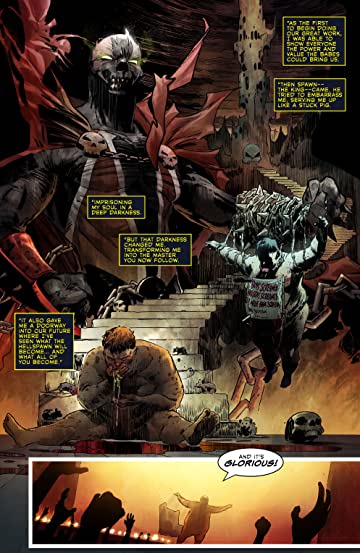 More Positives
This team of artists is top notch.  If you like your comics with immaculate detail, check out every page of this comic book.  The penciling alone must have taken months.  It is so fine pointed!  But that is McFarlane and his team…no shortcuts!
Verdict
This is the #2 issue you want on your shelf right now.  The art work alone is worth every penny, but the story lines are rich.   The return of Kincaid is simply horrifying.  I thought that Scott Snyder created some villains, but Billy Kincaid was terrible in the 1990s….and this new horrific version is a billion times worse.  Gunslinger #1 is going to be awesome and the return of Haunt inserted into the Spawn Universe…well played Mr. McFarlane!