The Nice House On The Lake Vol. Two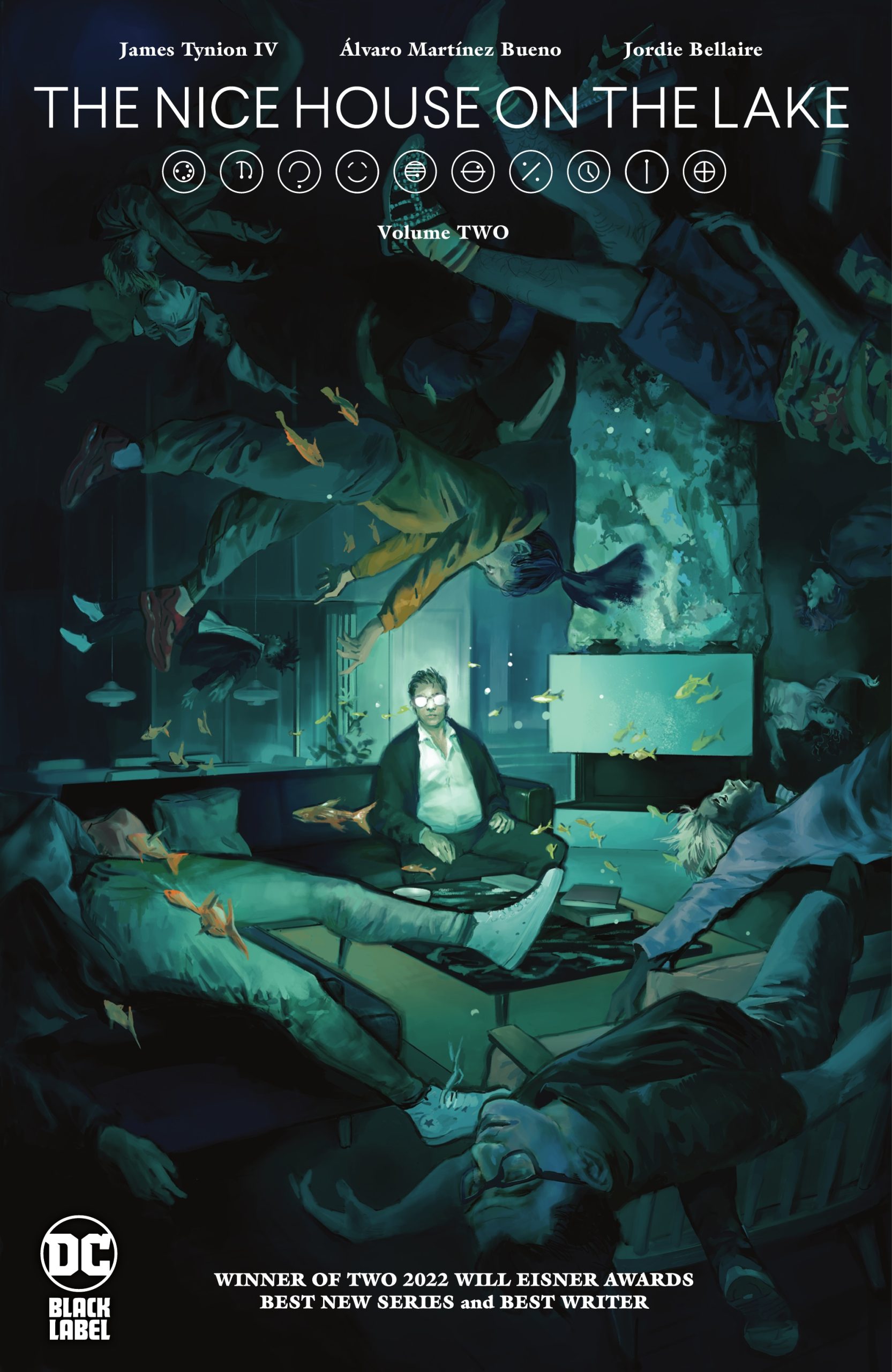 Writer: James Tynion IV
Artist: Álvaro Martínez Bueno
Color Artist: Jordie Bellaire
Letterer: AndWorld Design
Reviewed by: Steve J. Ray
WARNING – This review contains mild spoilers for the first volume of the series. If you haven't read that yet, PLEASE DO SO. You can pick up The Nice House On The Lake Vol. One Collected Edition, anywhere books and comics are sold.
The Nice House On The Lake Vol. Two collects issues #7 – #12 of the title, the main and variant covers, and also publishes writer James Tynion IV's original pitch for the series.
Summary
It's been almost exactly a year since volume one was released, and we last checked in on the housemates, so the wait for The Nice House On The Lake Vol. Two has been a long and anxious one.
The previous book dropped bombshells, surprised us, scared us, and blew our minds. The appearance of Reg near the end of the book, (even though he was already trying to make himself seen and heard when Sam discovered the second house, at the end of chapter three, and even got a mention in chapter one) changed everything. Here was Walter's closest confidant, possibly his best friend, and someone who knew all his secrets.
Of course, by the end of volume one, we also discovered that Norm (now Norah) and a few others also knew the truth about Walter long before they were all gathered at the lake house, only to have those memories wiped. This was yet another shocking revelation.
All this neatly brings us to volume two, where more secrets are revealed, and we finally get to see how the plans for the house came together, and who was actually behind them.
Positives
Where do I even begin? Be forewarned, there will be no "negatives" section in this review. James Tynion, Álvaro Martínez Bueno, Jordie Bellaire, and Deron Bennett have continued to lift the curtain and, while I've been anxious to see what lurks there, I also really wanted to look away… but couldn't.
Once again, we're given a story that fascinates and terrifies us. The art, color, and letters are sublime, adding to said tension, fear, and fascination perfectly. We learn more about Reg and Walter, and how the plans for the house came into being. The worst part is that we kind of already knew some of the answers, just because of what we've already witnessed. In a stroke of brilliance, though, this doesn't lessen the blow, it reinforces the horror.
What is a revelation is the further looks into Walter's past and his feelings for his friends. Norah, Reg, and Molly in particular. We know – or rather Walter has told us – that his human body had hormones and that he really did have feelings for his friends, some of which were far deeper than just platonic. Volume two takes this even further.
The way that James Tynion can make something as simple and commonplace as feeling like an outsider feel even more isolating and terrifying than it already is, is pure genius. At some point or another, we've all felt like we don't belong, or that others are more loved or wanted than we are. Seeing it happen to the best, the brightest, and the most beautiful in this messed-up world that's been turned upside down, makes this horrific fantasy feel all the more real.
That's one of the greatest aspects of this entire series; the way that the writing and the art feel so down-to-earth and real, even though this whole chain of events, and the planet that the survivors have inherited, is just about as messed up and wrong as anything ever could be.
The art by Álvaro Martínez Bueno and Jordie Bellaire just highlights all of it. The visuals in this book are simply phenomenal and make the commonplace horrific, simply by bringing the most terrifying of possible scenarios into what should be the safest place of all… home.
While the whole series has been stunning, there's a page in this book that showcases some of the best storytelling I've ever seen in a comic. The way the camera pans away from Ryan, just as Walter and all the other housemates walk away from her, is unnerving, spine-chilling, and incredibly effective. Truly beautiful work from everyone involved.
Even the way Deron Bennett's letters blow up whenever Walter's ire is raised is a joy to behold.
From steamed-up mirrors with hidden messages, to sublime vistas, and some of the most human of human beings, this series is a pure delight. Saying that about a horror story may sound odd, but the storytelling genius of every creative talent working on this book makes me proud to be a grown man who's still reading comics.
The way this sublime horror story taps into human nature and the fears all of us have is beautifully handled. No one likes to be kept in the dark or lied to, even when the truth can be extremely painful. Walter has quelled a rebellion before, but the personalities of the people he has saved are too strong to be held back. As every adult alive will agree, eventually the truth will come out, and the bigger the lie, the more destructive the consequences.
We have eleven people, locked in a perfect house, away from the rest of the world. Over the first six issues, collected in volume one, we, and they, learned that they were the last surviving humans on Earth and that the one friend they all had in common, Walter, was actually not human at all.
This creature, for want of a better word, had been given a human form and emotions, in order to preserve ten perfect examples of humanity: an artist, a writer, an actor, a historian, a musician, a mathematician, a doctor, a scientist, a politician, and a person of faith.
Read the last two paragraphs back to yourself, and you'll automatically see a problem. If you've been following the series, then, for you, this problem will also have a name. Walter, it seems, became all too human, and saved one more person than he was allowed to by his superiors, who or whatever they may be. There are eleven survivors, not ten.
Walter has complete physical and psychological control of his charges, including the ability to manipulate their memories and make them invulnerable to harm. Eventually, they found all that out, and, while the inability to cause themselves any physical harm was generally met with glee and taken as a boon and a wonder, the fact that they were the only people left alive on Earth had the complete opposite effect. Walter had to wipe those particular memories out.
Over the course of the series, we also learned that one of Walter's charges helped him design the idyllic home and habitat they all share. In this book, we learn that another inhabitant of the house helped him design the control systems. Now… imagine what could happen if the wrong people had access to these controls. That's as close to dropping a spoiler as I'll ever get, but that thought alone should have you clamoring for this collection.
Horror and tension have always been present on these pages, but this book manages to up the ante and deliver even more shocks and twists. Walter and his masters may have spared the occupants of the house, but right from the beginning, Walter's been lying, both to his superiors and to his human friends.
Has Walter known exactly what was going to happen all along and planned for it? Or worse, has this been his agenda from the start?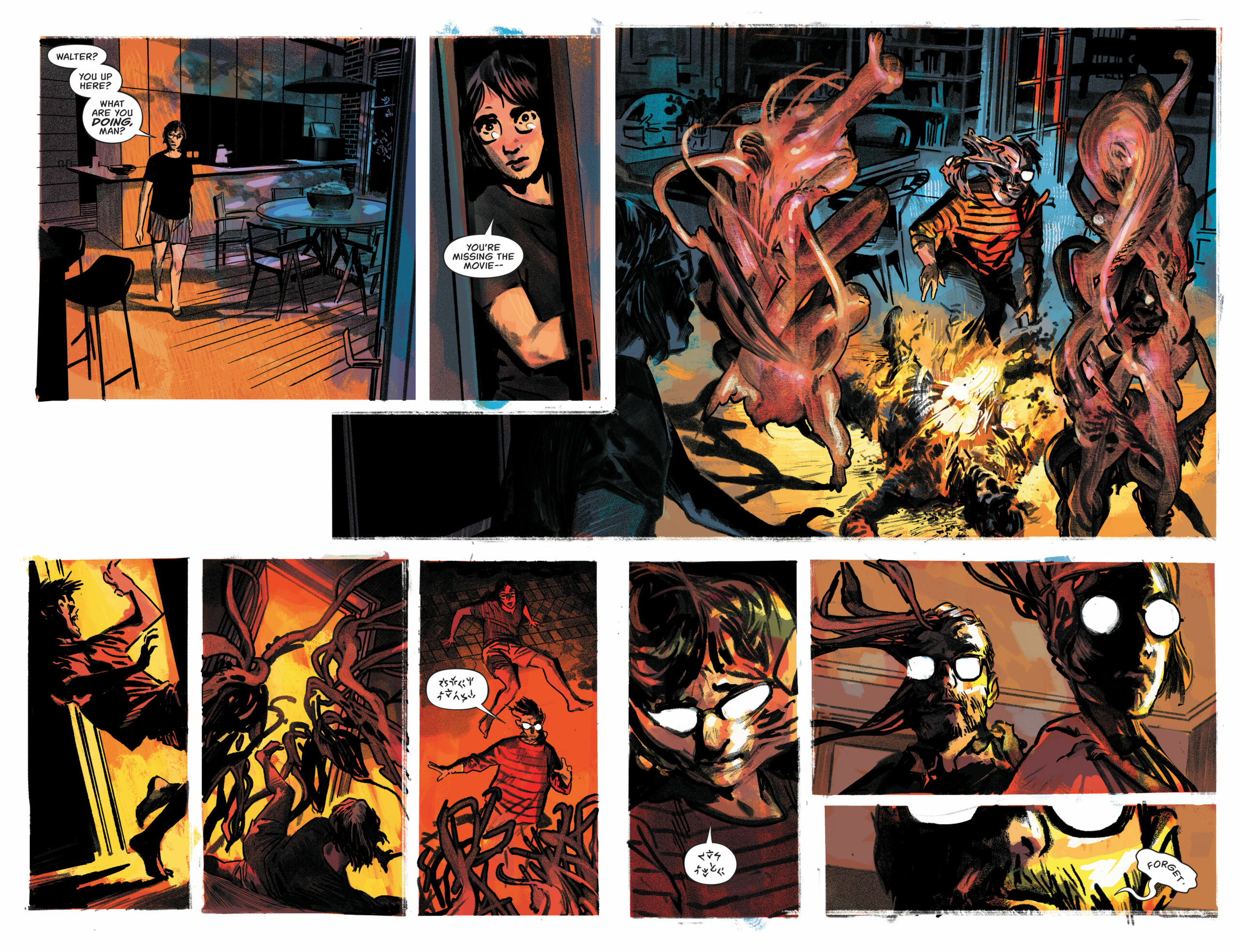 James Tynion has cleverly shown us how all this will most likely end, writing scenes set "now" and interspersing them with those showing us how we got here. This story has been exquisitely and expertly crafted, so much so that I had to re-read book one again in the days leading up to the release of The Nice House On The Lake Vol. Two.
Memories have been lost, regained, manipulated, and edited like a document on a PC. Walter's been writing all these people's lives for decades… but what happens when the puppets' strings are cut? Is this horror fiction, or a deep look at how writers treat their characters, as told by one of the best? This series works on so many levels and I've loved every second.
Having met and interviewed both the writer, James Tynion IV, and the artist, Álvaro Martínez Bueno, I know just how much love, blood, sweat, and tears have gone into these pages. The best news? As James said in his interview, this chapter may well be over, but there's more story to tell.
Few series have hit me in the same way that this one has, emotionally. I feel a kinship with Walter, and with his friends. I've brought a few people to DC Comics News, and to our sister sites Dark Knight News and Fantastic Universes. These great people have, over the years, become more than colleagues, they've become part of an extended family, spread over the globe with a common love of comics and stories. If I knew the end of the world was coming, but had a way of saving them, I would.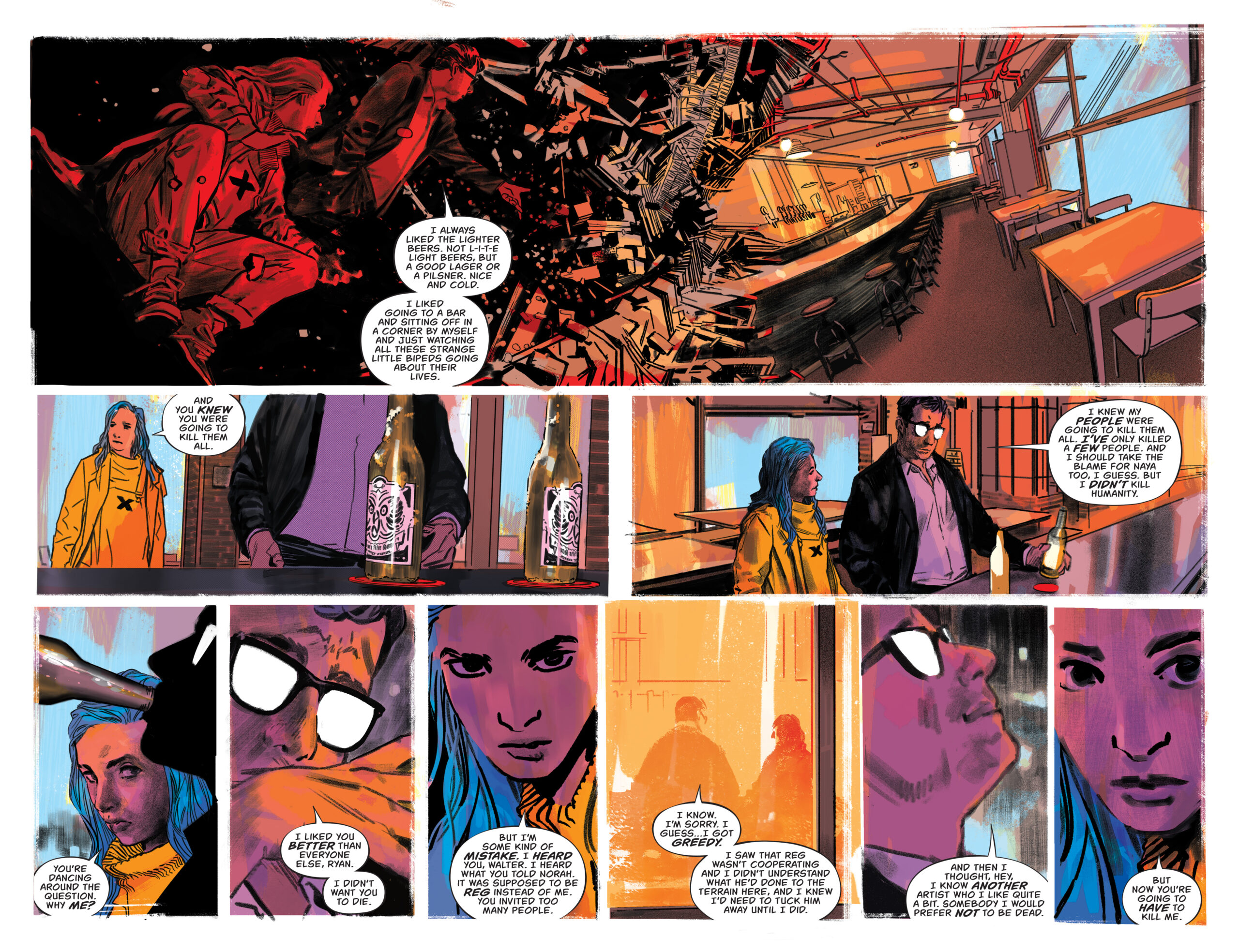 The problem is, what if you could only save so many? What if you made the wrong choice and the ones you saved turned against each other and you ended up losing them all anyway? What if the ones you chose not to save should've been the ones you saved after all? Worst of all, what if every decision you made wasn't even your own and you had power over every decision the people you saved would make, moving forward?
The Nice House On The Lake Vol. Two concludes this chapter, which tells the story of a being who can control people like chess pieces, characters in a video game, or protagonists in a book. Every day, writers make choices about who lives and who dies in the stories they tell, but Walter does it with living, breathing human beings. Yes, he's saved them and given them the perfect home and everything they could ever need, but the biggest, most beautiful, magical cage in the world is, at the end of it all, still a cage. The freedom to do what you want, to read, watch, eat, and drink whatever you like may sound great, but only being able to do it with a limited number of others isn't, particularly when that group has been chosen by someone else.
The team of Álvaro Martínez Bueno, Jordie Bellaire, and Deron Bennett (AndWorld Design) have redefined what collaborative storytelling is. Once again in this book, there are whole pages that are made up of text and color, with only avatars of the character's faces. Were these pages created by Deron and Jordie, just Deron, or Álvaro, Jordie, and Deron as a team? I don't know, but I'm eternally grateful and incredibly impressed. Using web pages, message threads, and transcripts to tell this story has given readers a comic that looks, feels, and reads like no other.
Verdict
The Nice House On The Lake Vol. Two is an amazing book, both to read and to look at. The creative team that put this story together ranks, at least in my mind, as one of the best in all of comics. If you've never read this series, do yourselves a favor and pick up the double Eisner Award winning volume one as well (ISBN 9781779514349).
If, like me, you've been following this story from the beginning, then this finale will satisfy you, but will also leave you wanting more. At least we now know that we'll actually be getting it.
The Nice House On The Lake Vol. Two comes out on Mar 7th, 2023. ISBN: 9781779517401

Images Courtesy of DC Entertainment. Review copy courtesy of Penguin Random House.