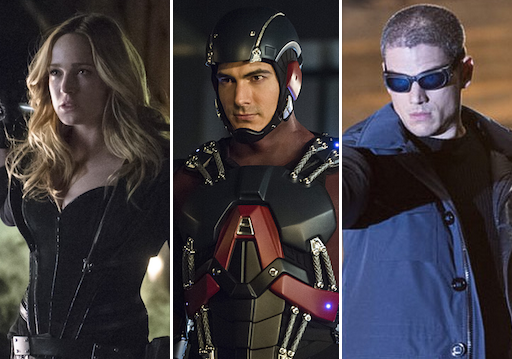 It's been a terribly kept secret that Arrow, The Flash, and iZombie just aren't enough when it comes to shows based on DC properties for The CW. Now, make sure you're sitting down for this one: a team-up show set in the "Arrowverse" is in the early stages of development!
Here's what we do know: as of now the cast will consist of Brandon Routh as Ray Palmer/ The Atom, Wentworth Miller as Captain Cold, Victor Garber as Dr. Martin Stein, and Caity Lotz. It's unclear if Lotz will reprise her role of Sara Lance/ Canary because that character is dead, but I sense a Lazarus Pit in her future – keep in mind that bit is my own speculation. A solo Stein is quite peculiar, so maybe Robbie Amell joining the cast as Ronnie Raymond isn't far off as to complete the Firestorm Matrix. As for Cold, I can see him being a wildcard member of the team and not a villain, much like in recent Justice League comics. It's also expected three more DC heroes yet to be portrayed will join the lineup.
Arrow and Flash producers Andrew Kreisberg and Greg Berlanti are expected to be in charge of the project and we could see this go to series as early as mid-season next year; think January or March 2016.
No title has been given, so let the speculation begin!
UPDATE: Caity Lotz has confirmed the story on Twitter.
Is this an omfg moment? @Deadline: Arrow/Flash Superhero Team-Up Spinoff In Works At CW… http://t.co/L36sCvO4gr

— Caity Lotz (@caitylotz) February 27, 2015
And on Facebook.
Source: Deadline