Doctor Fate #13. Paul Levitz- Writer, Ibrahim Moustafa- Artist, Lee Loughridge- Colorist.
Rebirth comes to Doctor Fate! Oh, what's that you say, Doctor Fate isn't a Rebirth title? Well, you could've fooled me! From the Tony Harris cover which is evocative a DC series about another Golden Age hero- Starman. Doctor Fate #13 reframes the series and character of Khalid Nassour in terms of content as well as visual appearance. Starman ran from the mid-'90's through 2001. One of the most significant themes that writer James Robinson and artists Tony Harris and Peter Snejbjerg explored was legacy. Not surprisingly, legacy was one of the aspects of DC Comics that Chief Creative Office Geoff Johns state he was bringing back in Rebirth. It should come as no surprise that Doctor Fate is an ideal book in which to utilize the concept of legacy. Doctor Fate was introduced way back in More Fun Comics #55 cover dated May 1940. I hope that this series gets a chance to run with the concept and doesn't fall by the wayside. It may seem superficial at first, but after this issue it feels like Doctor Fate may have the potential to be the same critical success that Starman achieved 20 years ago.
Kent and Khalid are on the beams of an under construction skyscraper observing the city below and discussing Kent's reappearance. It's all news to Khalid, he had no idea his great Uncle was Doctor Fate before him. There's no discussion of other previous Doctor Fates- Eric and Linda Strauss or Hector Hall, but we do learn that Kent's been away for a while and has heard the call back to his entry-less tower in Salem, Massachusetts.
We also learn that Kent has the power of Fate in him without the need of the Helmet of Thoth. This sequence clearly sets up Khalid's need and desire for a mentor and Kent's willingness to guide Khalid, but not necessarily in the manner Khalid desires. Kent divulges to Khalid that there's an evil attacking the city through burning it in effigy. They must find this evil and stop it. Kent suggests that the easiest way to do this would be to burn an existing model of the city. Khalid recalls such a model at the World's Fair Grounds in Flushing Meadows.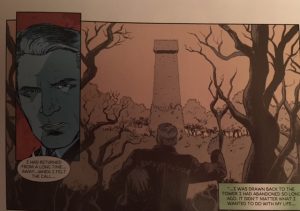 There's a legacy here too. This location hosted the World's Fair in 1964 and 1939. Now if you've been reading comics for a while and the 1939 World's Fair seems significant, especially for a character like Doctor Fate, then you're on the right track. More importantly, the buildings for the 1939 World's Fair, the Trylon and Perisphere were co-opted by the All-Star Squadron for their headquarters in their premiere issue- All-Star Squadron #1, September 1981. This can't all be coincidence. Oh, yeah, Doctor Fate was a member of the All-Star Squadron, as were all the Golden Age DC and Quality Comics characters. In previous continuity, the All-Star Squadron was the wartime (World War II) appellation for all the Mystery Men (and Women) who operated at the time. Sanctioned by the War Department, they sometimes included the Justice Society of America and sometimes not. All the members of the JSA were part of the All-Star Squadron, though all members of the A-SS were not members of the JSA.
Khalid finds the creature burning the model of the city and imprisons him. Kent disappears with the offender to hold him safely in the Salem tower. Kent does congratulate Khalid on a job well done in the process.
The Positive
There's a new energy and excitement with this issue. The first year of the series did a solid if somewhat slow job of establishing Khalid in his role of Doctor Fate. With this single issue, this book has become a legacy book and Khalid a legacy character. This opens up so many storytelling possibilities and opportunities for developing both Khalid and Kent's characters. Levitz and Sonny Liew did a solid job in the first year, but this is a great jumping on point for new readers. Whether you are a Golden Age/Earth-Two fan or just a reader looking for something a little different, this is a book to try out.
The Negative
The fresh air and new life Rebirthed into this title make it very difficult to find fault with this book. However, readers with no knowledge of Doctor Fate's history may find Kent Nelson's significance confounding. But that's why I'm here.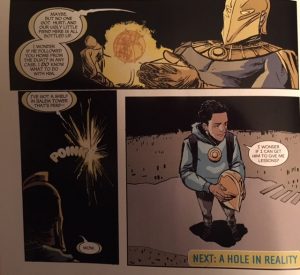 The Verdict
Often, a comic book series will suddenly change direction and become something entirely different- Saga of the Swamp Thing by Alan Moore for example. Doctor Fate #13 has a few indicators that it is an attempt by DC to recreate the Starman phenomena 20 years later. Levitz is an experienced writer who's no stranger to Golden Age characters. The reintroduction of legacy into the DC Universe with Rebirth certainly makes this an obvious title to benefit. It's only one issue, but this may be an opportunity to get in on the ground floor of something special, or at the very least incredibly nostalgic. If nothing else, it certainly feels like a DC Comic of yesteryear. I mean that in a good way.