Stephen Amell continues teasing Season 5 of Arrow, announcing Stardust (Cody Rhodes) will appear on the upcoming season.
Amell announced the news via Facebook live, during his appearance at Heroes & Villains Fanfest in New Jersey.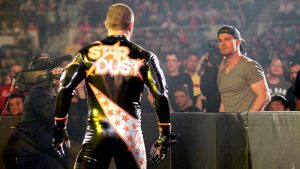 Cody Rhodes mostly known as Stardust in the WWE, who recently shared a rivarly with star Stephen Amell on said show, will debut on the DCTV universe with an still unknown role.
https://www.facebook.com/stephenamell/videos/1087580911327175/
Amell made the announcement via Twitter as well.
Guest starring on #Arrow this fall… Mr. @CodyRhodes —

— Stephen Amell (@StephenAmell) July 2, 2016
Arrow returns this October, with a more down to earth season according to the show's creative team.
What do you think about Cody Rhodes appearing on Arrow? Will Amell's and Rhodes' WWE rivalry continue inside the DCTV Universe?