DCN has compiled a list of DC Comics titles and collectibles shipping to comic shops for July 13, 2016.
Check back every Friday with the DCN Pull Box to see all the cool new DC Comics titles and collectibles that will be available at your favorite local comic shop! So, what titles or collectibles will you be picking up this Wednesday? You can sound off in the comments section below! Click on Comic shop Locator to find the comic shop nearest to you!
COMICS
ACTION COMICS #959 $2.99
DARK AND BLOODY #6 (of 6) $3.99
DC COMICS BOMBSHELLS #15 $3.99
DETECTIVE COMICS #936 $2.99
EARTH 2 SOCIETY #14 $2.99
FLASH #2 $2.99
HAL JORDAN AND THE GREEN LANTERN CORPS REBIRTH #1 $2.99
LEGEND OF WONDER WOMAN #8 (of 9)  $3.99
NEW SUPER MAN #1 $2.99
NIGHTWING REBIRTH #1 $2.99
SCOOBY DOO WHERE ARE YOU #71 $2.99
WACKY RACELAND #2 $3.99
WONDER WOMAN #2 $2.99
DCN Pull Box Spotlight
NIGHTWING REBIRTH #1 $2.99
(W) Tim Seeley (A) Yanick Paquette (CA) Javi Fernandez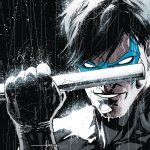 He's been Robin, Batman, a spy, a ghost. Now, Dick Grayson returns to Gotham City to reclaim the life that was taken from him. But when a new evil threatens those he loves most, Nightwing faces being torn away from home once again in order to destroy the dark force once and for all. Powerhouse artist Yanick Paquette (BATMAN, SWAMP THING) joins series writer Tim Seeley (GRAYSON, BATMAN & ROBIN ETERNAL) to return Nightwing to the DC superhero stage!
Variant Covers
Note: Variant Prices To Be Determined By Retailer
ACTION COMICS #959 (Ryan Sook variant)
DETECTIVE COMICS #936 (Raphael Albuquerque variant)
FLASH #2  (Dave Johnson variant)
HAL JORDAN AND THE GREEN LANTERN CORPS REBIRTH #1 (Cary Nord variant)
NEW SUPER MAN #1 (Bernard Chang variant)
NIGHTWING REBIRTH #1 (Babs Tarr variant)
WACKY RACELAND #2 (Kyle Baker variant)
WONDER WOMAN #2 (Frank Cho variant)
GRAPHIC NOVELS
AQUAMAN TP VOL 02 TO SERVE AND PROTECT $16.99
DARING ADVENTURES OF SUPERGIRL TP VOL 01 $19.99
DARK KNIGHT III MASTER RACE #5 COLLECTORS ED $12.99
DC COMICS BOMBSHELLS TP VOL 02 $16.99
DC ELSEWORLDS JUSTICE LEAGUE TP VOL 01 $34.99
SHERIFF OF BABYLON TP VOL 01 BANG BANG BANG $14.99
SUICIDE SQUAD TP VOL 04 THE JANUS DIRECTIVE $19.99
TALES OF THE BATMAN ALAN BRENNERT HC $29.99
TEEN TITANS GO TP VOL 02 WELCOME TO THE PIZZA DOME $12.99
WONDER WOMAN BY GREG RUCKA TP VOL 01 $29.99
MERCHANDISE/COLLECTIBLES
BATMAN PINK PENDANT TEETHER NECKLACE $12.99
DC BATMAN BLACK SILICONE HAND HELD TEETHER $6.99
DC BATMAN SUPERBIB 2 PACK $12.99
DC BOMBSHELLS 48 PIECE MAGNET Price Determined By Retailer
DC COMICS BOMBSHELLS HARLEY QUINN MOUSE PAD Price Determined By Retailer
DC SUPERMAN 3 PACK CLEAR TRAVEL BAG $12.99
DC SUPERMAN PINK SILICONE HAND HELD TEETHER $6.99
DC SUPERMAN RED SILICONE HAND HELD TEETHER $6.99
DC SUPERMAN SUPERBIB $8.99
DC WONDER WOMAN 2PK SMALL REUSABLE SNACK BAG $3.50
DC WONDER WOMAN LARGE REUSABLE SNACK BAG $4.99
DC WONDER WOMAN SUPERBIB 2 PACK $12.99
DC WONDER WOMAN YELLOW SILICONE HAND HELD TEETHER $6.99
KAWAII CUBES DC Price Determined By Retailer
KAWAII CUBES WB Price Determined By Retailer
POCKET POP SUPERMAN VINYL FIG KEYCHAIN $5.99
POP DC PEN TOPPER Price Determined By Retailer
SUICIDE SQUAD 144 PIECE BUTTON Price Determined By Retailer
SUICIDE SQUAD 48 PIECE MAGNET Price Determined By Retailer
SUICIDE SQUAD BUTTON 4 PK SET Price Determined By Retailer
SUPERGIRL SONIC BOOM 3D ART $14.99
SUPERMAN PLATE MELAMINE DISHWARE $6.99
ACTION FIGURES/STATUES
BATMAN ANIMATED JOKER JUMBO AF $90.00
BATMAN ANIMATED ROBIN JUMBO AF $90.00
DC SUPER HERO GIRLS NON CORE 12IN DOLL Price Determined By Retailer
DC SUPER POWERS FLASH JUMBO AF $90.00
DC SUPER POWERS WONDER WOMAN JUMBO AF $90.00
GUND DC ROBIN TEDDY BEAR 12IN PLUSH $22.00
GUND DC SUPERMAN PUPPY DOG 12IN PLUSH $22.00
GUND DC WONDER WOMAN RABBIT 12IN PLUSH $22.00
ROCK CANDY CLASSIC HARLEY QUINN FIG $10.99
SUPERMAN ANIMATED SERIES LEX LUTHOR RESIN BUST $59.99
WONDER WOMAN ART OF WAR STATUE BY AMANDA CONNER $80.00
CLOTHING
B V S BATMAN SYMBOL T/S LG $20.95
B V S BATMAN SYMBOL T/S MED $20.95
B V S BATMAN SYMBOL T/S SM $20.95
B V S BATMAN SYMBOL T/S XL $20.95
B V S BATMAN SYMBOL T/S XXL $23.95
BATMAN FRESH SIDE SNAP BACK CAP $29.99
BATMAN LOGO FRONTED 950 SNAP BACK CAP $27.99
DC POISON IVY BOMBSHELLS LADIES FLEECE ROBE $49.95
DK III FACE BY JOCK T/S LG $19.95
DK III FACE BY JOCK T/S MED $19.95
DK III FACE BY JOCK T/S SM $19.95
DK III FACE BY JOCK T/S XL $19.95
DK III FACE BY JOCK T/S XXL $22.95
DK III MASTER RACE BY KUBERT T/S LG $19.95
DK III MASTER RACE BY KUBERT T/S MED $19.95
DK III MASTER RACE BY KUBERT T/S SM $19.95
DK III MASTER RACE BY KUBERT T/S XL $19.95
DK III MASTER RACE BY KUBERT T/S XXL $22.95
FLASH TV SYMBOL SEASON 2 T/S LG $19.95
FLASH TV SYMBOL SEASON 2 T/S MED $19.95
FLASH TV SYMBOL SEASON 2 T/S SM $19.95
FLASH TV SYMBOL SEASON 2 T/S XL $19.95
FLASH TV SYMBOL SEASON 2 T/S XXL $22.95
SUPERMAN FRESH SIDE SNAP BACK CAP $29.99
SUPERMAN LOGO FRONTED 950 SNAP BACK CAP $27.99
ZOOM TV SYMBOL T/S MED $19.95
ZOOM TV SYMBOL T/S SM $19.95
ZOOM TV SYMBOL T/S XL $19.95
ZOOM TV SYMBOL T/S XXL $22.95
Please comment below and don't forget to like, share and follow us on:
Facebook: https://www.facebook.com/dccomicsnews
Twitter: @DCComicsNews
Pinterest: http://www.pinterest.com/dccomicsnews/
Tumblr: http://dccomicsnews.tumblr.com
Instagram: @dccomicsnews