This review contains no spoilers.
Writer: Bryan Hitch
Artists: Tony S. Daniel, Sandu Florea and Tomeu Morey
Summary
The Justice League must split up as earthquakes break out all around the world on every single fault line.
Positives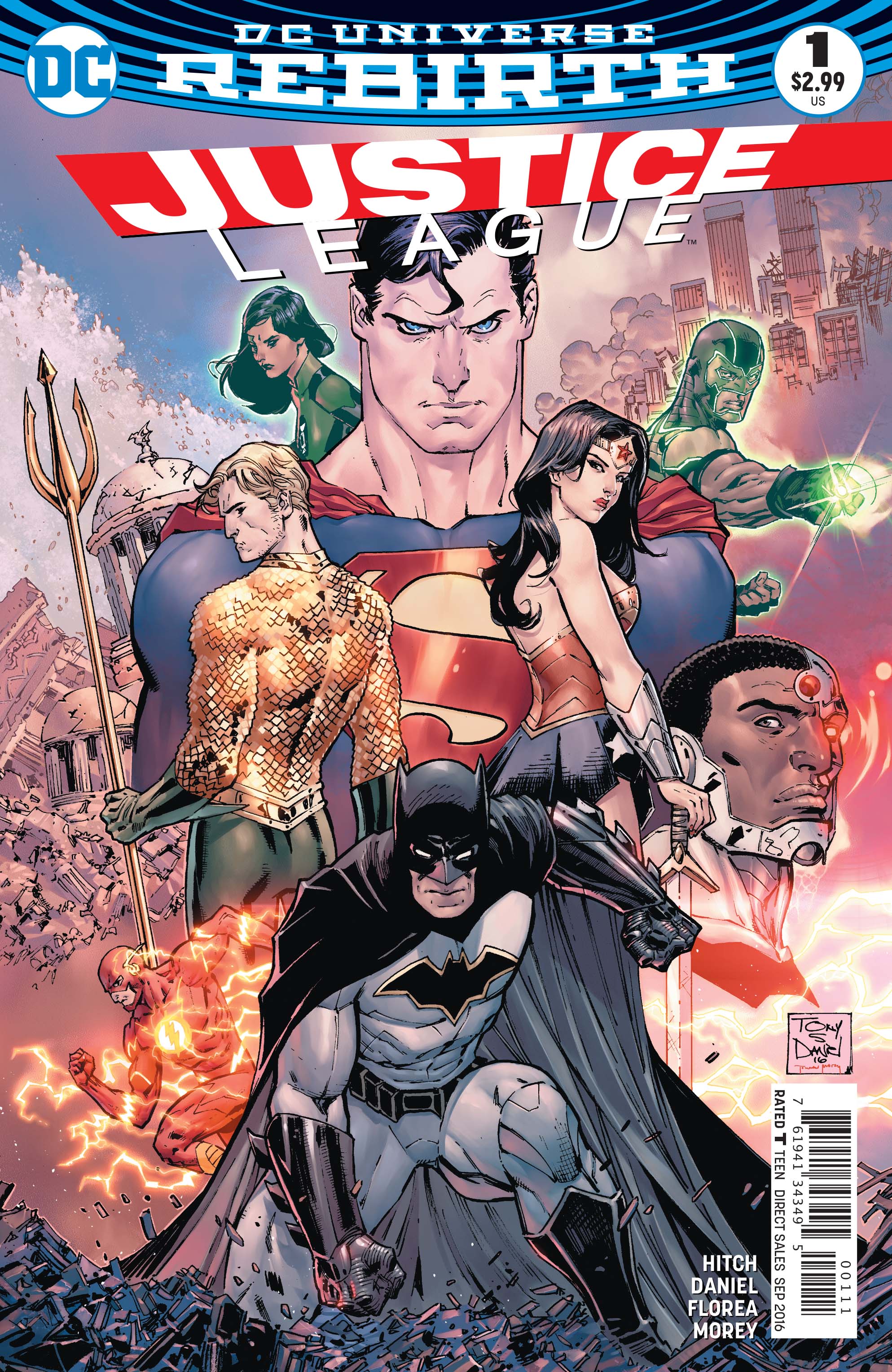 I really like the cover by Tony S. Daniel and Tomeu Morey. I appreciate that it ties in to the story with cities crumbling around the League. It's a cool image anyway but I always appreciate seeing the story represented on the cover. Beyond that, the Justice League looks really cool. It's a dynamic group shot that I would easily hang on my wall.
The art in the book itself is fantastic. The pencils are by Daniel while Sandy Florea does the inks and Morey colors the issue. This is a solid team. Their styles really blend together to create some of the coolest looking action in all of the Rebirth books so far. There's a level of detail to each hero's abilities and styles that makes them stand apart. There are also choices in panel layout that are really inspired. Superman is shown as if he being recorded by smart phones which is what is happening in the book. That was a neat choice and I think created a nice effect of how citizens see Superman.
Natural disasters are wonderful for stories. On one hand, it allows for some more awesome art. On the other, it is good for natural conflict. Natural disasters are not beings that can be reasoned with or punched into submission. It's quite fun to watch the heroes actually have to save people as opposed to just hitting a thing. There's also a natural horrifying tension that results from a natural disaster. I think Bryan Hitch conveys this quite well. The situation feels terrifying and overwhelming.
Another element is added to the story that also adds an element of tension and curiosity. I won't give it away but it is pretty creepy and in some cases, shocking. I cannot wait to see where this is going so I can figure out what is going on.
Negatives
I honestly don't really have any negatives. It is mostly action which I typically don't like. However, because the art is so good and Hitch does such a good job at conveying the tension, I had quite a bit of fun with this.
Verdict
This is a really fun book. It's not Earth shattering or groundbreaking but it is a good time. Hitch creates a wonderfully tense situation that is escalated by mystery with support from some really great art. I definitely recommend picking this issue up. It's a blast.