DCN has compiled a list of DC Comics titles and collectibles shipping to comic shops for July 27, 2016.
Check back every Friday with the DCN Pull Box to see all the cool new DC Comics titles and collectibles that will be available at your favorite local comic shop! So, what titles or collectibles will you be picking up this Wednesday? You can sound off in the comments section below! Click on Comic shop Locator to find the comic shop nearest to you!
COMICS
ACTION COMICS #960 $2.99
BATGIRL #1 $2.99
DEATHSTROKE #20 $2.99
DETECTIVE COMICS #937 $2.99
DOCTOR FATE #14 $2.99
FLASH #3 $2.99
FUTURE QUEST #3 $3.99
HAL JORDAN AND THE GREEN LANTERN CORPS #1 $2.99
HARLEY QUINN #30 $3.99
HARLEY QUINN & THE SUICIDE SQUAD SPECIAL ED #1 PI
NIGHTWING #1 $2.99
RED HOOD AND THE OUTLAWS REBIRTH #1 $2.99
RED THORN #9 $3.99
SCOOBY DOO TEAM UP #17 $2.99
SUICIDERS KINGS OF HELLA #5 (Of 6) $3.99
TEEN TITANS #22 $2.99
TITANS #1 $2.99
WONDER WOMAN #3 $2.99
DCN Pull Box Spotlight
TITANS #1 $2.99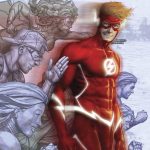 (W) Dan Abnett (A/CA) Brett Booth, Norm Rapmund
"REMEMBER THE TITANS" Chapter One
After an old ally returns to the team, the Titans set their sights on a dangerous enemy with the power to change reality itself! But the Titans have never faced a threat this massive before, and with so much on the line, will they be able to stand united as a team? Or will their past mistakes be their undoing?
Variant Covers
Note: Variant Prices To Be Determined By Retailer
ACTION COMICS #960 (Ryan Sook variant)
BATGIRL #1 (Francis Manapul variant)
DETECTIVE COMICS #937 (Raphael Albuquerque variant)
FLASH #3 (Dave Johnson variant)
FUTURE QUEST #3 (Karl Kerschl variant)
HAL JORDAN AND THE GREEN LANTERN CORPS #1 (Kevin Nowlan variant)
HARLEY QUINN #30 (Amanda Conner variant)
NIGHTWING #1 (Ivan Reis and Joe Prado variant)
RED HOOD AND THE OUTLAWS REBIRTH #1 (Bengal variant)
TITANS #1 (Mike Choi variant)
WONDER WOMAN #3 (Frank Cho variant)
GRAPHIC NOVELS
BATMAN DETECTIVE COMICS HC VOL 08 BLOOD OF HEROES $24.99
BATMAN DETECTIVE COMICS TP VOL 07 ANARKY $17.99
DEMON TP VOL 02 THE LONGEST DAY $19.99
DMZ TP BOOK 02 $24.99
HARLEY QUINN BOOK AND MASK SET $34.99
NEW SUICIDE SQUAD TP VOL 03 FREEDOM $16.99
NEW TEEN TITANS TP VOL 05 $19.99
RED THORN TP VOL 01 GLASGOW KISS $14.99
SUICIDE SQUAD THE SILVER AGE OMNIBUS HC $49.99
BOOKS
DC COMICS COLORING BOOK SC $15.99
DC SUPER FRIENDS LITTLE GOLDEN BOOK FAVORITES #2 $7.99
DC SUPER FRIENDS WONDER WOMAN & SUPER FRIENDS BOARD BOOK $7.99
MERCHANDISE/COLLECTIBLES
BATGIRL BOMBSHELLS 3D ART $14.99
DC BOMBSHELLS 36 PC STICKER ASST Price Determined By Retailer
HARLEY QUINN BOMBSHELLS 3D ART $14.99
POISON IVY BOMBSHELLS 3D ART $14.99
ACTION FIGURES/STATUES
DC COMICS BLUELINE SUPERMAN ACTION FIGURE $40.00
DC COMICS COVER GIRLS POWER GIRL STATUE $100.00
DC COMICS ICONS LEX LUTHOR STATUE $100.00
DORBZ SUICIDE SQUAD DEADSHOT VINYL FIG $7.99
DORBZ SUICIDE SQUAD ENCHANTRESS VINYL FIG $7.99
DORBZ SUICIDE SQUAD HARLEY QUINN VINYL FIG $7.99
NEW BATMAN ADVENTURES MASKED HEROES SET $31.99
POP FLASH ZOOM VINYL FIG $10.99
POP SUICIDE SQUAD EL DIABLO VINYL FIG $10.99
POP SUICIDE SQUAD HARLEY QUINN VINYL FIG $10.99
POP SUICIDE SQUAD JOKER SHIRTLESS VINYL FIG $10.99
POP SUICIDE SQUAD KATANA VINYL FIG $10.99
POP SUICIDE SQUAD KILLER CROC VINYL FIG $10.99
POP SUICIDE SQUAD RICK FLAGG VINYL FIG $10.99
VINYL IDOLZ SUICIDE SQUAD JOKER VINYL FIG $19.99
WONDER WOMAN ART OF WAR STATUE BY BRUCE TIMM $80.00
CLOTHING
BATMAN V SUPERMAN DISTRESSED SYMBOL T/S LG $19.95
BATMAN V SUPERMAN DISTRESSED SYMBOL T/S MED $19.95
BATMAN V SUPERMAN DISTRESSED SYMBOL T/S SM $19.95
BATMAN V SUPERMAN DISTRESSED SYMBOL T/S XL $19.95
BATMAN V SUPERMAN DISTRESSED SYMBOL T/S XXL $22.95
BATMAN V SUPERMAN SUPERMAN SYMBOL T/S LG (O/A) $20.95
BATMAN V SUPERMAN SUPERMAN SYMBOL T/S MED (O/A) $20.95
BATMAN V SUPERMAN SUPERMAN SYMBOL T/S SM (O/A) $20.95
BATMAN V SUPERMAN SUPERMAN SYMBOL T/S XL (O/A) $20.95
BATMAN V SUPERMAN SUPERMAN SYMBOL T/S XXL (O/A) $23.95
HARLEY QUINN & ZATANNA BY CONNER T/S MED $19.95
HARLEY QUINN & ZATANNA BY CONNER T/S SM $19.95
HARLEY QUINN & ZATANNA BY CONNER T/S XL $19.95
HARLEYS LITTLE BLACK BOOK BY CONNER T/S LG (O/A) $19.95
HARLEYS LITTLE BLACK BOOK BY CONNER T/S SM (O/A) $19.95
HARLEYS LITTLE BLACK BOOK BY CONNER T/S XL (O/A) $19.95
HARLEYS LITTLE BLACK BOOK BY CONNER T/S XXL (O/A) $22.95
HARLEYS LITTLE BLACK BOOK BY CONNER WOMENS T/S LG (O/A) $19.95
HARLEYS LITTLE BLACK BOOK BY CONNER WOMENS T/S SM (O/A) $19.95
HARLEYS LITTLE BLACK BOOK BY CONNER WOMENS T/S XL (O/A) $19.95
SUPERGIRL 3D SYMBOL T/S LG $19.95
SUPERGIRL 3D SYMBOL T/S MED $19.95
SUPERGIRL 3D SYMBOL T/S SM $19.95
SUPERGIRL 3D SYMBOL T/S XL $19.95
SUPERGIRL 3D SYMBOL T/S XXL $22.95
SUPERGIRL 3D SYMBOL WOMENS T/S LG $19.95
SUPERGIRL 3D SYMBOL WOMENS T/S MED $19.95
SUPERGIRL 3D SYMBOL WOMENS T/S SM $19.95
SUPERGIRL 3D SYMBOL WOMENS T/S XL $19.95
Please comment below and don't forget to like, share and follow us on:
Facebook: https://www.facebook.com/dccomicsnews
Twitter: @DCComicsNews
Pinterest: http://www.pinterest.com/dccomicsnews/
Tumblr: http://dccomicsnews.tumblr.com
Instagram: @dccomicsnews