[Editor's note: This review may contain spoilers.]
Writer: Benjamin Percy
Artists: Eleonora Carlini, Mirka Andolfo & Arif Prianto
Summary
Green Arrow and Arsenal have to move past their differences in order to stop the construction of the pipeline.
Positives
I like the cover by Otto Schmidt. Quite a bit of information is displayed which is cool. At first, it looks like Roy has just been hurt by Vertigo but there's a needle next him; that's a nice touch and a detail some might miss.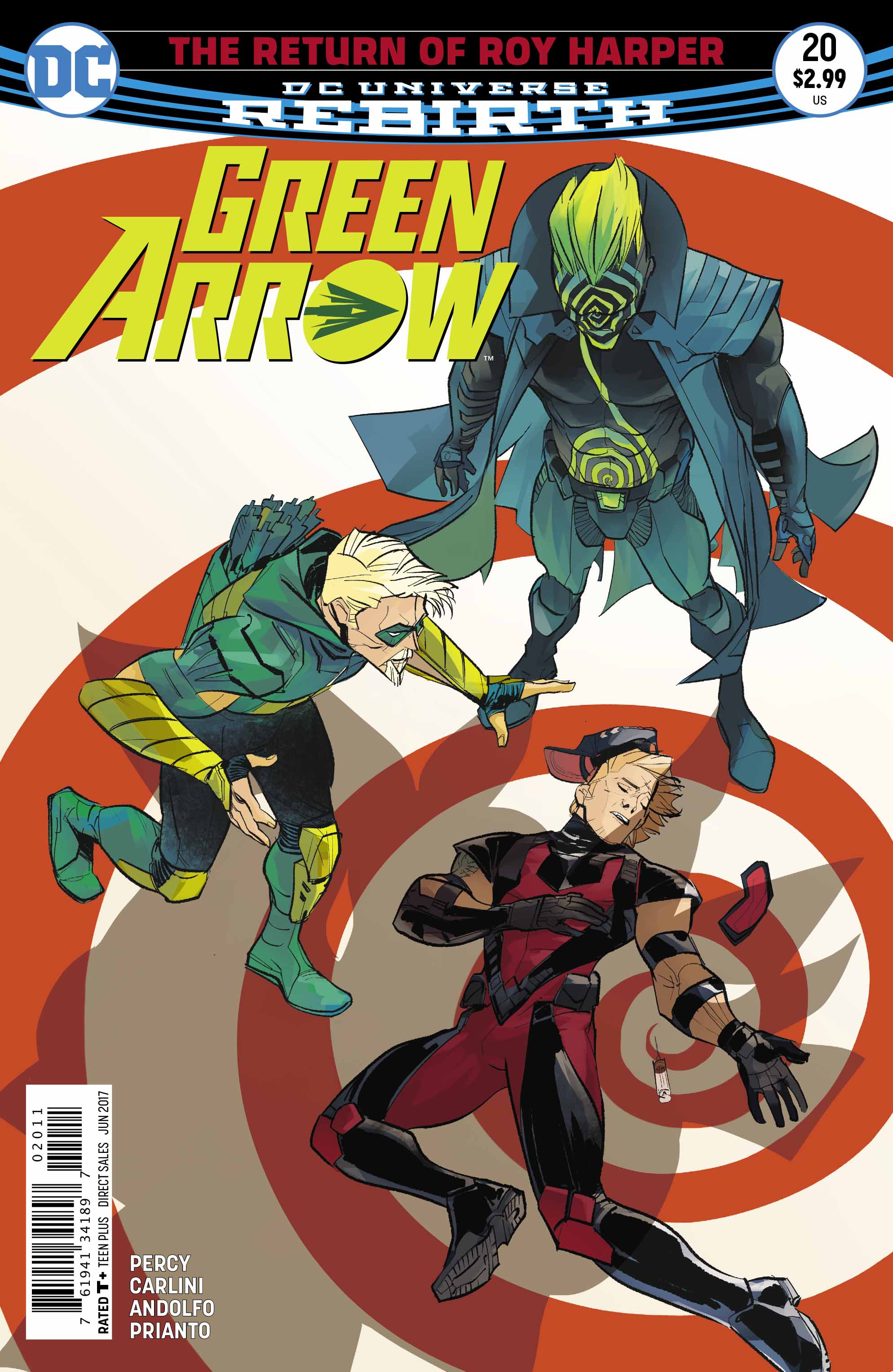 The art is by Eleonora Carlini and Mirka Andolfo with colors by Arif Prianto. It's solid work with expressive faces and nice looking action. The issue, and this story, has a western vibe that I like; there's some grain that looks good. There is also some creative panel layouts throughout especially when the book is mirroring events from the present and the past.
I like the dialogue between Ollie and Roy. The two making fun of each other's New 52 designs is pretty funny and plays naturally. The conversation makes the pair more endearing which is nice because the book also shows them at their lowest point in terms of their relationship. Hopefully, this means Roy's trucker hat might die soon.
Benjamin Percy is juggling the cast of characters well. There are a lot of elements and Percy knows when to use characters and when not to. This story is about Roy; it makes sense for Diggle and Emiko to be absent although I do hope Emiko and Roy get to meet. Black Canary is present but is mainly used for action which is fine especially since it's damn good action. I want a poster of Dinah riding in on a motorcycle while using the Canary Cry.
Verdict
This is another solid issue. I really wasn't liking Roy but this issue makes him more endearing. I feel like I understand this version of Roy in a way I haven't before which is nice. I still prefer Emiko as a partner but I'm more okay with Roy now. The art is really good and there's a lot of fun action and dialogue.