[Editor's Note: This review may contain spoilers]
Writer: Chuck Dixon
Artist: Graham Nolan
Colors: Gregory Wright
Summary
Bane has been captured to the mysterious Damocles and placed in a prison.  But why is he there?  What does Damocles want from him?  Bane will need to take things into his own hands to find out, and with the help of a surprise resident of this prison, perhaps they'll actually get some answers.
Positives
This was a great second issue.  It had action, surprises, it pushed the story along, and never once was I bored.  Dixon and Nolan are a perfect team, combining Dixon's deft hand in writing dialogue and story, and Nolan's amazing eye for great visuals.
There are several panels where there is absolutely no dialogue, yet you know exactly what is happening and can following along, being pulled from one panel to the next.  This is the sign of a great team, being able to take that written word describing a scene and paint the perfect set of pictures for the audience.
Unlike last issue, I didn't feel like there was any lag in this one at all.  It was perfectly paced, going from action to dialogue, from present time to some fantastically powerful flashbacks of Bane's childhood.  And I could've read another 20 pages of this.  When I got to the end, I was a little sad as there wasn't any more to read.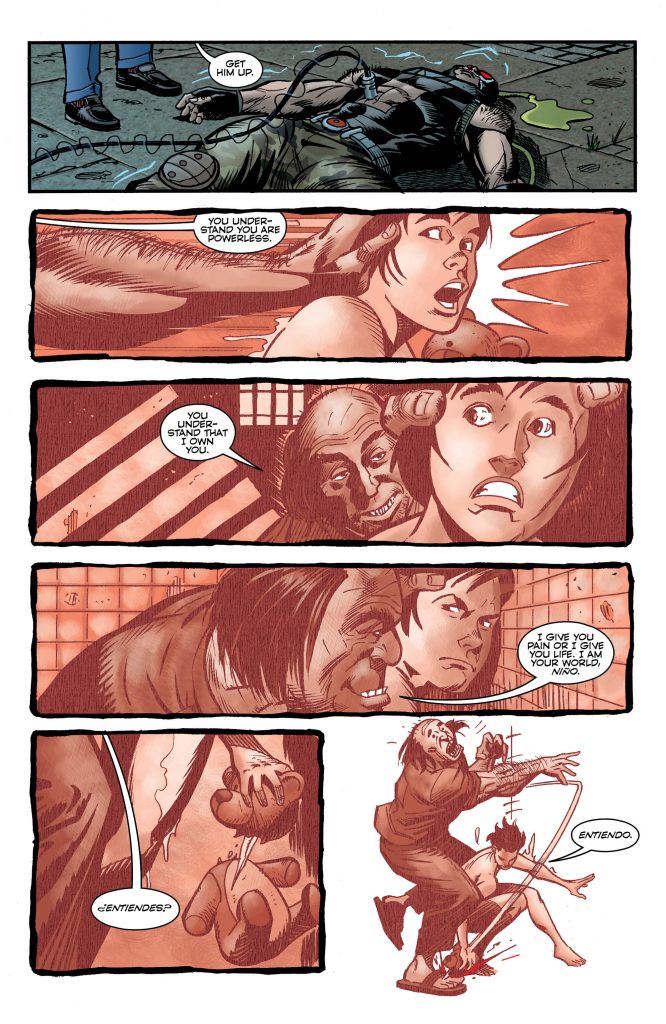 Now, let's talk a little bit about the actual content of this issue.  It was great seeing Bane using both is brain and his brawn together, which is what makes him such a formidable foe for Batman.  And speaking of Batman, I was really taken by surprise when Bane came to, only to discover that his long time nemesis, Bruce Wayne, was in the very same prison he was.  It seems Damocles captured Batman (he doesn't actually know Bruce's real name), after Batman attempted to take him down.  This just shows how good Damocles is and how much of a real threat his is, being able to take down both Bane AND Batman.
Seeing the two of them work together was great.  These two are so similar, yet so different.  They work perfectly together, you know, when they're not trying to take each other down.  They each have their own unique style of doing things; Batman's more subtle, whereas Bane is very straight forward.  It's definitely an interesting combination.
And that ending shot…wow!  I can't wait to see these two fully geared up, working together to get Damocles and discover who his "Dionysus" really is.
Negatives
The only real thing I could say as a negative was the lack of subtitles for the different language dialogue.  It wasn't really that big of a deal and didn't actually take away from the story, so it didn't affect my score.
Verdict
This was a fantastic issue and I just hope it continues to be as fantastic for the next ten issues.  This is a series that everyone should be reading, especially if you're a Bane fan.