[Editor's note: This review may contain spoilers.]
Writers: Scott Snyder, Rafael Albuquerque & Rafael Scavone
Artists: Rafael Albuquerque & Sebastian Fiumara
Reviewed By: Derek McNeil
Summary
In part two of "THE FIRST ALLY" Batman races to track down his new nemesis before another murder rocks Miami. But with old secrets revealing unsettling truths about his closest ally, what dark accords will the Dark Knight make in order to stop true evil?

Positives
Alfred's early life before being the Wayne's butler hasn't been explored much. It's been established that he has military training and also a background in the theater, but what little detail we do know was established pre-Flashpoint. I find it interesting that Alfred as a youth resented his father's position with the Wayne's, but somehow eventually found himself taking his father's place.
I had to laugh at Batman's chagrin at his inability to convincingly impersonate himself. After being told about the flaws in his Bruce "disguise," he responds pointedly that his Bruce Wayne is perfect.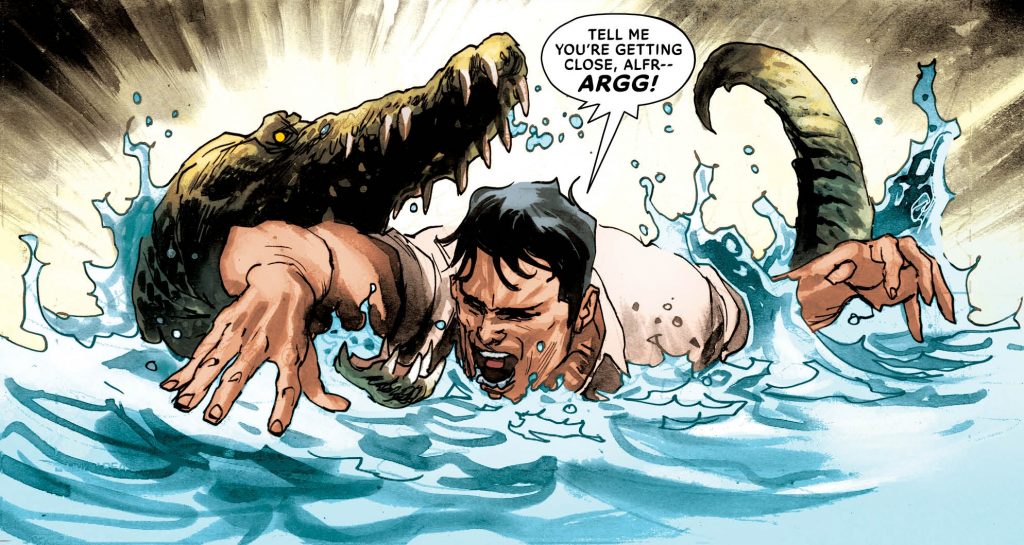 Also, Alfred gets somewhat philosophical about how Batman deals with death. "My son doesn't believe in death," he tells us. And that sums up the purpose of his Batman persona. Batman denies death. He strives to keep death from taking any more of those he loves or that he protects.
And I am very pleased to see Alfred's referring to Bruce as his son. Alfred raised Bruce after his parents' death, so the relationship is bound to be closer to father-son than the employer-servant relationship it is often portrayed as.
Negatives
Like the Duke Thomas backup story before it, the current backup storyline seems to be somewhat of a slow starter. It has potential, but it hasn't really done much to grab my interest so far. However, it's only the second installment, and has less pages than the main story to work with, so I am hopeful that it will hit its stride soon.
Verdict
This issue provides a unique look at Alfred's past contrasted against Batman's present. This is shaping up to be a great Batman story. The backup story seems a bit less exciting, but still is a solid story.