[Editor's note: This review may contain spoilers.]
Writers: Keith Giffen & J.M. DeMatteis
Artist: Scott Kolins
Reviewed By: Derek McNeil
Summary
It's all hands on deck for the final battle against the powerful entity who has been lurking underground and wreaking havoc on the entire city of El Paso. Will the combined efforts of a rejuvenated Blue Beetle, Ted Kord, Doctor Fate and even special guest star OMAC be enough to bring down this ancient menace? The outcome will signal a major turning point for Jaime Reyes and his friends and allies.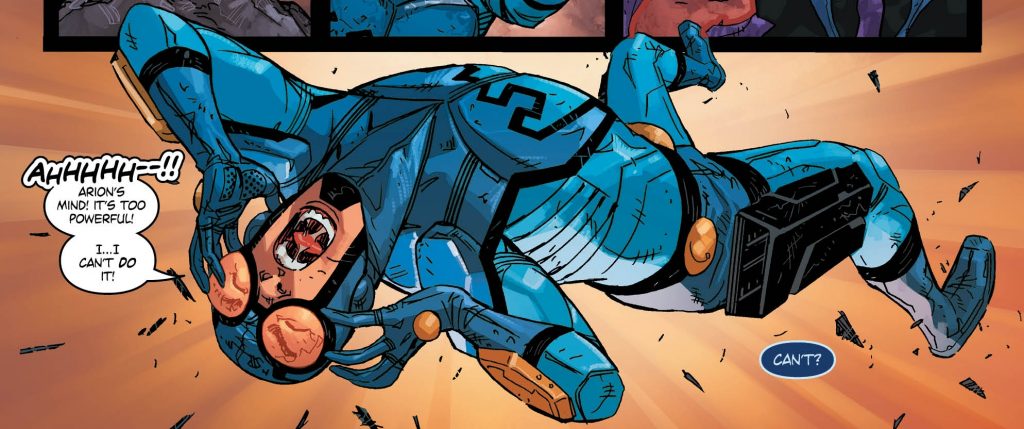 Positives
Well we have another member of the Justice Society restored to his classic form. Once again, the helmet of Fate is being worn by Kent Nelson. Also, Doctor Fate's costume is very close to the classic Golden Age version.
I noticed that Ted seems to be surprised to learn that Teri's from the 31st Century. That confirms that Ted is not the Ted Kord that appeared in Justice League 3000/3001. If it were, then he would know that Teri was from the future.
Also, I'm hoping that Ted's incipient heart attack prompts a cure for his heart condition altogether, which would allow him to resume a more active superheroic career. This cure could be a magical cure granted by Doctor Fate or maybe he could devise his own technological cure. Either way, it would be great to see the Ted Kord Blue Beetle back in action alongside Jaime.
Negatives
On that note: it's been great to see Ted's outfit being in use again, I'd rather see Ted wearing it. DC has multiple Flashes, thousands of Green Lanterns, and other characters sharing a superhero name – so there should be room in the DCU for two Blue Beetles. C'mon, let's make it happen, DC!
Verdict
I'll admit that I found the previous Blue Beetle titles a bit boring, but this title is anything but. Giffen and DeMatteis have made Blue Beetle an interesting and exciting character again. As such, it definitely fulfills the Rebirth mandate to make reading DC's comics fun again.