DC Comics's Dark Nights: Metal began with the release of its first issue in August to kick off the latest major event of the summer and fans of the title have helped to bring the issue to the top of the sales chart for that month. The title, along with other Batman issues, took the top three spots for the month according to the latest numbers released by Diamond Distributors.
Along with Dark Nights: Metal, issues #28 and #29 of the bi-monthly title Batman written by Tom King and drawn by Mikel Janin took the next two spots on the list with the rest of the top 10 being filled out by Marvel titles. According to the data, despite having the top 3 slots for most sold issues, DC ended up in second in both market share and unit share with a 28.18% dollar share and 31.09% unit share.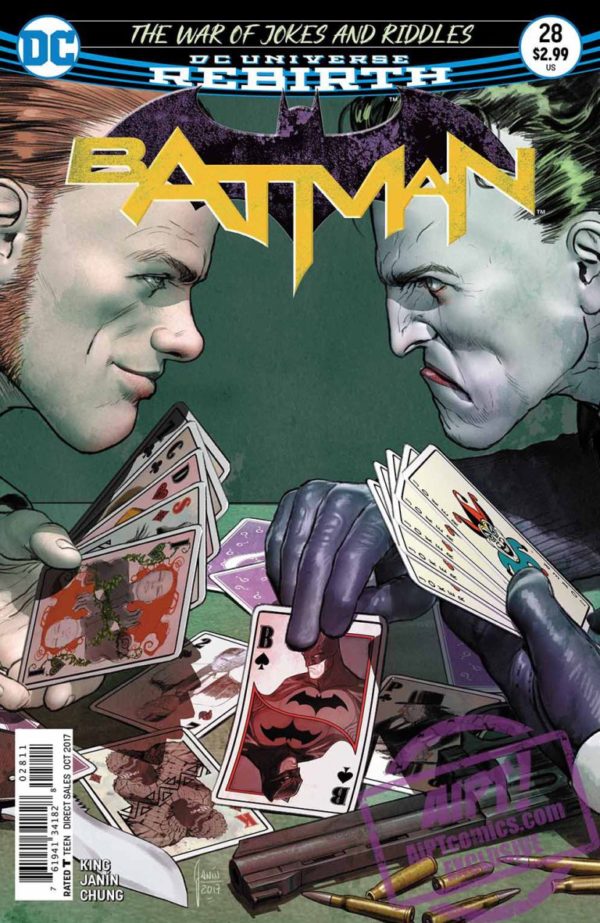 Overall, sales are down as compared to last year around this time with a 20% drop from 2017. However, that number does not tell the full story since sales in August of 2016 were some of the strongest ever for the industry in recent years. Compared to last year, August had a drop of 21% in dollars and 25% in units but there is more to this according to John Jackson Miller of Comichron. He states:
"August 2016 was a record month with more than 10 million comics shipped, and so the comparatives were fully expected; we have a period just before the beginning of two major events being compared with the heart of DC and Marvel's events from 2016. The resulting drop is significant in historic terms; June to August was the worst three-month comparative decline since likely September to November 1997, when 'Heroes Return' was comparing with 'Heroes Reborn.'

That said, this drop seems to have more to do with the unusual strength of the previous year's sales than underlying structural market factors; in 1997, the distribution system was reeling and accounts were being shed at a rate we do not see at this time. The brunt of the drop this month fell on DC, naturally — but on the other hand, August wasn't a bad month for DC, volume-wise, when compared with more normal recent months; its sales were actually higher than the last five-week pre-'Rebirth' month in 2016.

We don't know if 'Legacy' and Metal will be able to completely reverse 2017's fortunes versus 2016; the hole is a pretty big one (10.47 dollars and 6.76% units YTD). But we should start seeing a more even fight in the comparatives, and a better trajectory than we've seen in a while."
So overall sales remain normal for this time period but we would like to know about your spending habits when it comes to buying comics. Do you have a pull list you pick up every week? Are you a digital only purchaser? Do you only buy the essential graphic novels as they come out? We would like to know! Please let us know in the comments section below.