[Editor's note: This review may contain spoilers.]
Writer: Gail Simone
Artists: Aaron Lopresti, Matt Ryan & Wendy Broome
Summary
Conan the Barbarian discovers Wonder Woman as a captive, forced to fight in a gladiator arena.
Positives
I like the cover by Darick Robertson and Tony Avina. The rage on Wonder Woman's face is awesome, hilarious and terrifying all at once. The two titular characters look great and it's fun to see them side by side in battle.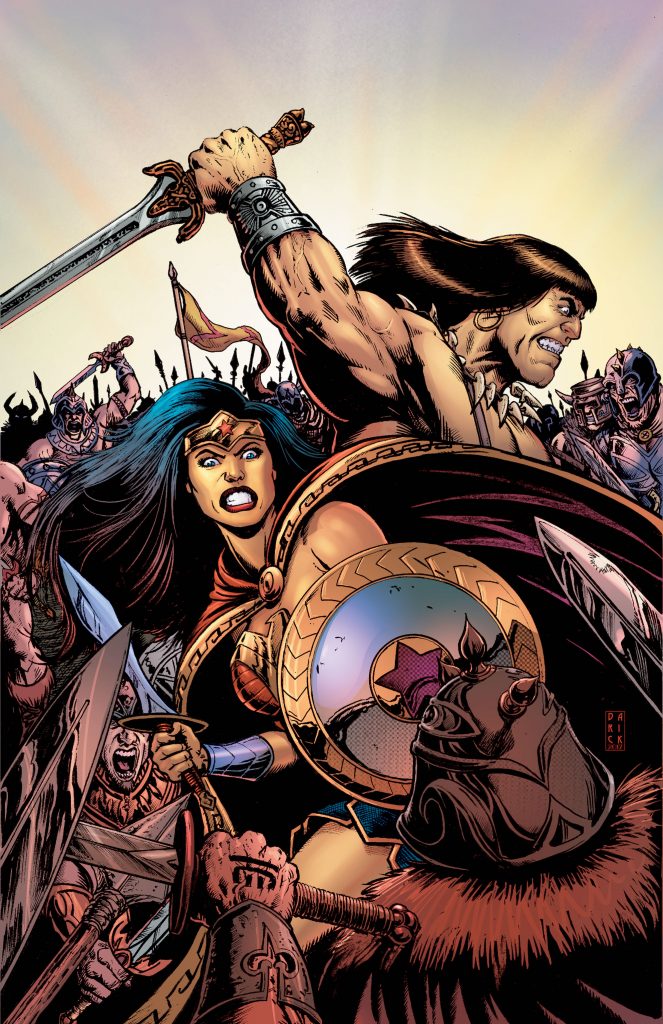 The interior art features pencils by Aaron Lopresti, inks by Matt Ryan and colors by Wendy Broome. The three do great work together; Lopresti's pencils are really impressive. Every character, even minor ones, have expressive and distinct faces. The backgrounds are good as well. The introduction to the adult Conan takes place on a mountainside and it looks gorgeous.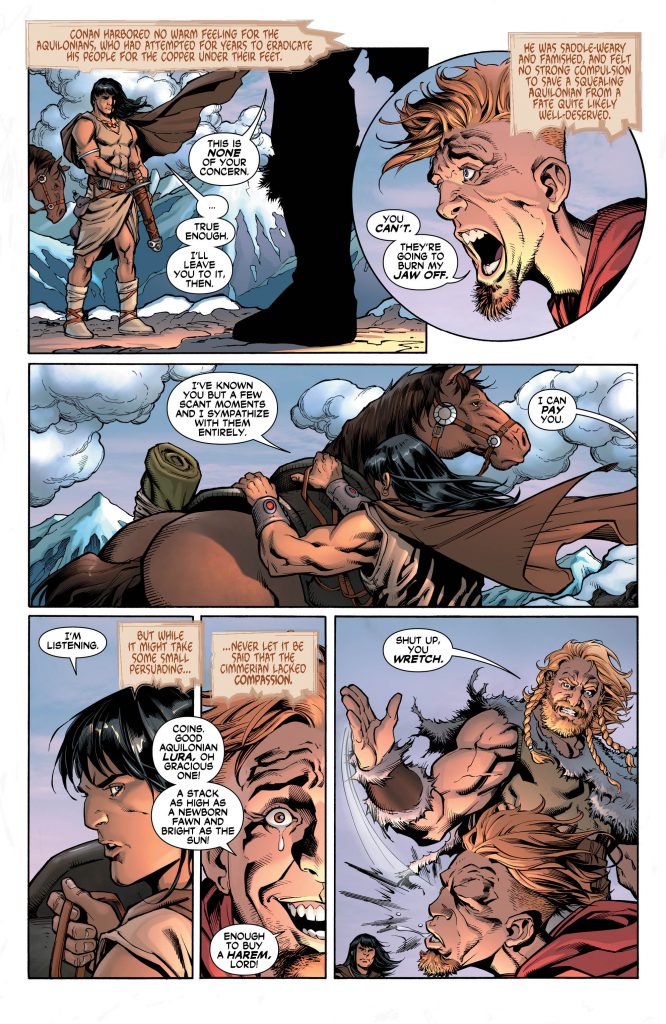 I love that, for this book, Wonder Woman and Conan simply exist in the same universe. Typically in crossovers, especially recent DC ones, writers feel the need to make it a multiverse story. I like the simplicity of this issue. It could still turn into a multiverse thing in a later issue but I like that Gail Simone doesn't waste any time in this first issue with complicated comic book science. We get what we want pretty much instantly.
There is a lot that Simone does with this first issue that I love. The mystery around Wonder Woman's current predicament is a riveting place to start. It's engaging to see Diana in the place we meet her with her memories out of whack. It also creates a nice set up because I cannot wait for Diana to inflict a lot of pain on this duke.
Additionally, I like the narration – and I usually hate narration. A lot of Simone's phrasing and word choices make it engaging; it enhances the experience which I don't think is the case with most use of narration.
Negatives
There are no negatives worth mentioning in this issue.
Verdict
This is a great start. The art is incredible throughout with several stand out moments of Diana in particular. Simone's introduction to this story is immediately interesting and fun and I cannot wait to see where she takes it next. I highly recommend reading this issue.