DC Comics News has compiled a list of DC Comics titles and collectibles shipping to comic shops for October 18, 2017.
Check back every Friday with the DC Comics News Pull Box to see all the cool new DC Comics titles and collectibles that will be available at your favorite local comic shop! So, what titles or collectibles will you be picking up this Wednesday? You can sound off in the comments section below! Click on Comic shop Locator to find the comic shop nearest to you!
COMICS
AQUAMAN #29 $3.99
ASTRO CITY #48 $3.99
BATMAN #33 $2.99
BATMAN THE DROWNED #1 (METAL) $3.99
BATMAN THE RED DEATH #1 2ND PTG (METAL) $3.99
BATWOMAN #8 $3.99
BOMBSHELLS UNITED #4 $2.99
FUTURE QUEST PRESENTS #3 $3.99
GREEN ARROW #33 $2.99
GREEN LANTERNS #33 $2.99
HARLEY QUINN #30 $2.99
INJUSTICE 2 #12 $2.99
JUSTICE LEAGUE #31 $2.99
MAD MAGAZINE #548 $5.99
MISTER MIRACLE #1 (OF 12) 3RD PTG $3.99
MISTER MIRACLE #2 (OF 12) 2ND PTG $3.99
NIGHTWING #31 $2.99
SUPER SONS #9 $3.99
SUPERMAN #33 $2.99
TEEN TITANS GO #24 $2.99
TITANS #16 $3.99
TRINITY #14 $3.99
WILD STORM #8 $3.99
WONDER WOMAN CONAN #2 (OF 6) $3.99
DCN Pull Box Triple Spotlight
BATMAN THE DROWNED #1 (METAL) $3.99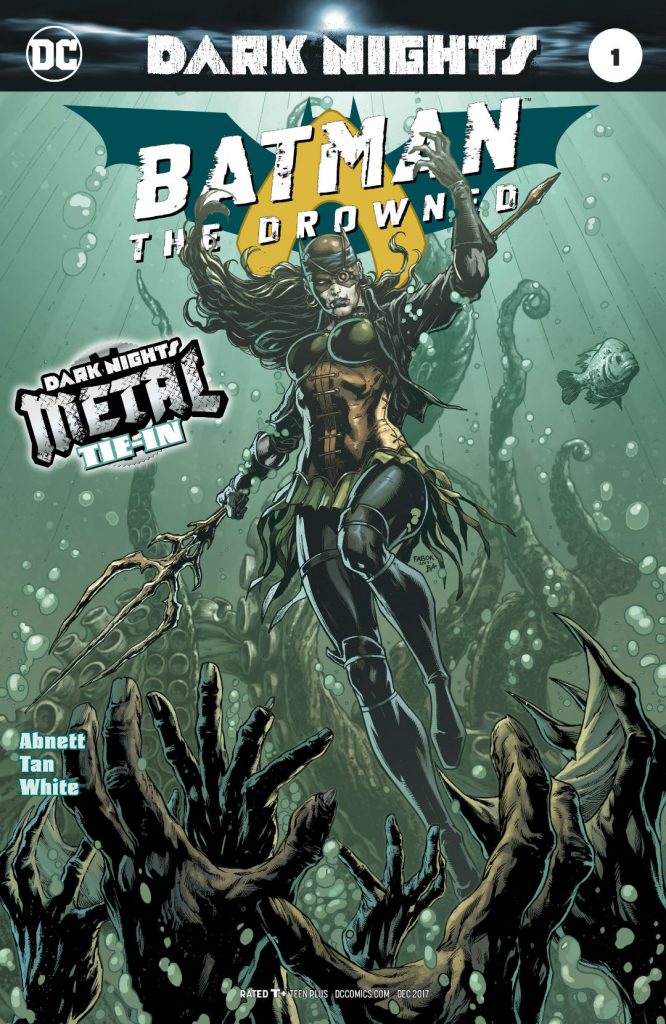 (W) Dan Abnett (A) Philip Tan (CA) Jason Fabok
As the events of DARK NIGHTS: METAL rock the DC Universe, the creatures of the Dark Multiverse stand ready to invade our world! How can even the World's Greatest Heroes stop a horde of deadly beings that appear to be powerful, nightmare versions of familiar figures? Find out in these special tie-in issues!
---
WONDER WOMAN CONAN #2 (OF 6) $3.99
(W) Gail Simone (A) Aaron Lopresti, Matt Ryan (CA) Darick Robertson
Diana has escaped the Cimmerian gladiator's arena, but she's exchanged that battleground for an equally dire fate. Now she's chained to Conan-the warrior who refused to fight-and they've been sold to a pirate's crew! When their ship founders in a storm, a leap into shark-infested waters seems like the safest course… Co-Published with Dark Horse Comics.
---
SUPERMAN #33 $2.99
(W) Peter J. Tomasi, Patrick Gleason (A) Doug Mahnke, Jaime Mendoza (CA) Jonboy Meyers
"IMPERIUS LEX!" Part One It's a game of thrones on Apokolips as the lords of the dreaded world battle each other to claim its rule. Lex Luthor is summoned back to the warring planet, and he will need Superman to help him reclaim a crown he did not ask for. Meanwhile, Lois is confronted by the Female Furies and Jon faces the Children of the Firepits..
---
Variant Covers
Note: Variant Prices To Be Determined By Retailer
AQUAMAN #29 (Joshua Middleton variant) $3.99
BATMAN #33 (Oliver Coipel variant) $2.99
BATWOMAN #8 (Michael Cho variant) $3.99
FUTURE QUEST PRESENTS #3 (Jill Thompson variant) $3.99
GREEN ARROW #33 (Mike Grell variant) $2.99
GREEN LANTERNS #33 (Brandon Peterson variant) $2.99
HARLEY QUINN #30 (Frank Cho variant) $2.99
JUSTICE LEAGUE #31 (Nick Bradshaw variant) $2.99
NIGHTWING #31 (Casey Jones variant) $2.99
SUPER SONS #9 (Dustin Nguyen variant) $3.99
SUPERMAN #33 (Jorge Jimenez variant) $2.99
TITANS #16 (Dan Mora variant) $3.99
TRINITY #14 (Bill Sienkiewicz variant) $3.99
WILD STORM #8 (Jim Lee variant)  $3.99
WILD STORM #8 (Bryan Hitch variant) $3.99
WONDER WOMAN CONAN #2 (OF 6)(Aaron Lopresti variant) $3.99
GRAPHIC NOVEL
GRAYSON THE SUPERSPY OMNIBUS HC $99.99
HARLEY QUINN A ROGUES GALLERY THE DLX COVER ART COLL HC $24.99
JLA THE NAIL ANOTHER NAIL DLX ED HC $39.99
SEBASTIAN O MYSTERY PLAY HC (MR) $29.99
SUICIDE SQUAD REBIRTH DLX COLL HC BOOK 01 $34.99
WILD STORM TP VOL 01 $16.99
WONDER WOMAN 77 BIONIC WOMAN TP $19.99
BOOKS
HARRY POTTER & PRISONER OF AZKABAN ILLUSTRATED HC ED $39.99
MERCHANDISE/COLLECTIBLES
DC COMICS BATMAN 16OZ TUMBLER W/ BLACK LID $18.99
DC COMICS SUPERMAN 16OZ TUMBLER W/ RED LID $18.99
ACTION FIGURES/STATUES
DC BATMAN UNIVERSE BUST COLL #1 BATMAN $24.95
DC SUPERHERO BEST OF FIG COLL MAG #40 HAWKMAN $17.95
DC SUPERHERO BEST OF FIG COLL MAG #41 BLUE BEETLE $17.95
DORBZ JUSTICE LEAGUE MOVIE AQUAMAN ARMORED VIN FIG $7.99
DORBZ JUSTICE LEAGUE MOVIE BATMAN TACTICAL VIN FIG $7.99
DORBZ JUSTICE LEAGUE MOVIE CYBORG VIN FIG $7.99
DORBZ JUSTICE LEAGUE MOVIE FLASH VIN FIG $7.99
DORBZ JUSTICE LEAGUE MOVIE STEPPENWOLF VIN FIG $7.99
MOPEEZ SUPERNATURAL CASTIEL PLUSH FIG $7.99
MOPEEZ SUPERNATURAL SAM PLUSH FIG $7.99
MORTAL KOMBAT KINTARO 1/4 SCALE STATUE $499.99
MOTU MUSCLE 4PK ORANGE VARIANT $18.00
MOTU MUSCLE FIGURE 4PK PURPLE VARIANT $18.00
MYSTERY MINIS JUSTICE LEAGUE MOVIE 12PC BMB DISP $7.99
POCKET POP JUSTICE LEAGUE MOVIE AQUAMAN FIG KEYCHAIN $5.99
POCKET POP JUSTICE LEAGUE MOVIE FLASH FIG KEYCHAIN $5.99
POP HANNA BARBERA BENNY THE BALL VINYL FIG $10.99
POP HANNA BARBERA BREEZLY VINYL FIG $10.99
POP HANNA BARBERA SNEEZLY VINYL FIG $10.99
POP HARRY POTTER SERIES 4 GINNY WEASLEY VINYL FIG $10.99
POP HARRY POTTER SERIES 4 HARRY W/ MARAUDERS MAP VINYL FIG $10.99
POP HARRY POTTER SERIES 4 HERMIONE W/ TIME TURNER VINYL FIG $10.99
POP HARRY POTTER SERIES 4 LUNA LOVEGOOD LION HEAD VINYL FIG $10.99
POP HARRY POTTER SERIES 4 PETER PETTIGREW VINYL FIG $10.99
POP HARRY POTTER SERIES 4 REMUS LUPIN VINYL FIG $10.99
POP HARRY POTTER SERIES 4 RON WEASLEY W/ SCABBERS VINYL FIG $10.99
ROCK CANDY TEEN TITANS GO RAVEN FIG $10.99
ROCK CANDY TEEN TITANS GO STARFIRE FIG $10.99
WONDER WOMAN MOVIE VINIMATE $9.99
CLOTHING
DC COMICS BATMAN JR SLEEVED COSTUME SUPERBIB $16.99
DC COMICS SUPERMAN JR SLEEVED SUPERBIB $16.99
DC COMICS WONDER WOMAN JR SLEEVED SUPERBIB $16.99
Please comment below and don't forget to like, share and follow us on:
Facebook: https://www.facebook.com/dccomicsnews
Twitter: @DCComicsNews
Pinterest: http://www.pinterest.com/dccomicsnews/
Tumblr: http://dccomicsnews.tumblr.com
Instagram: @dccomicsnews