[Editor's note: This review may contain spoilers.]
Writer: Kyle Higgins
Artists: Trevor McCarthy, Dean White
Covers: Trevor McCarthy
Summary
Dick Grayson goes to extremes to keep his son safe in the epic conclusion of the series.
Positives
This was a fantastic conclusion to such a great series. Higgins wraps up the final issue with the so much heart, passion, and heroism, that you hate to see this series come to an end. To often then not we may across a story arc or a mini series that just doesn't conclude as it should, or leaves it open for possible books. Not in this issue. Higgins wraps it up perfectly with so much heart and heroism, and actually concludes in spectacular fashion.
What I loved most about this issue is that you really didn't know how it was going to end. Would Kate Kane and the New Order capture Dick Grayson and his son, and keep outlawing powers in the world? Would Dick be able to escape with his son and keep him safe? And in between all this, you have the Titans, Lex Luthor and Superman trying to find a cure, and Dick and Cory's fractured relationship. What I can say is this, every question is finally answered in this incredible issue, and with all the usual drama and suspense we've come to expect in Higgin's fantastic storytelling.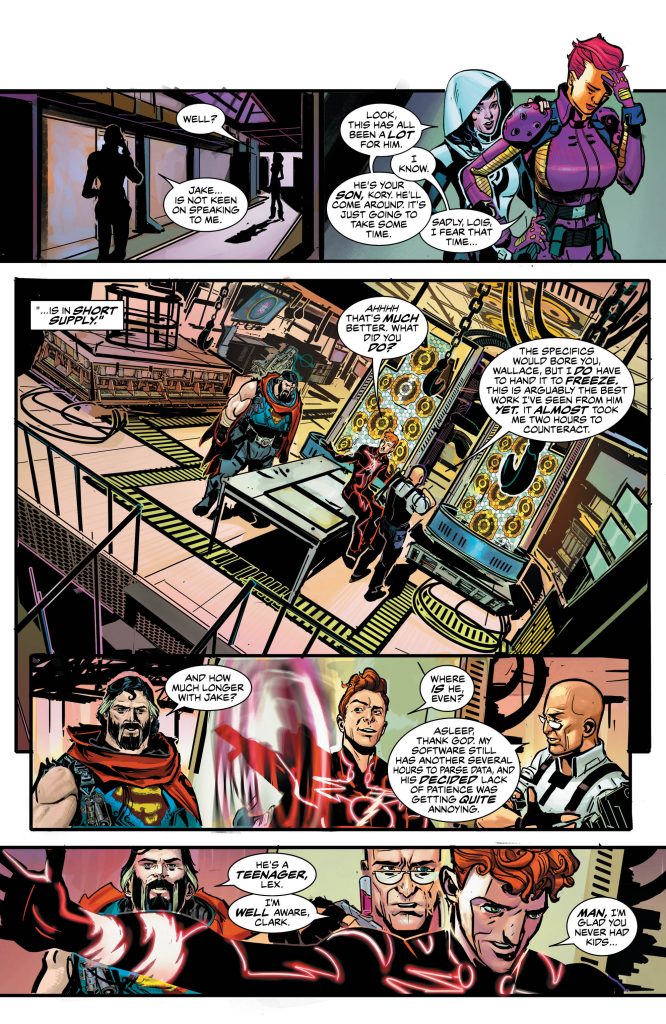 This issue had so much action it really makes you to anxious to see what comes next. Not so much that it takes away from the story, but just the perfect amount that it keeps the story flowing well.
The dialogue in this issue was just as great as the story, and really captures the essence of each character, and believe me, they're were plenty of them.
The art once again was blended perfectly with the story, with all the grey tones demonstrating a tired and older feel to the story. I felt however in this issue we did get a bit more color, which was a nice change of pace, and worked well when it was needed, especially in the action pages.
Negatives
There are no negatives worth mentioning in this issue.
Verdict
I can't really say enough good things about this series. Kyle Higgins, Trevor McCarthy, and Dean White should be congratulated for putting together a compelling, original, and heartfelt story that we haven't seen before. I hate to see it end, but I certainly love the way it did.