DC Comics News has compiled a list of DC Comics titles and collectibles shipping to comic shops for April 25, 2018.
Check back every Friday with the DC Comics News Pull Box to see all the cool new DC Comics titles and collectibles that will be available at your favorite local comic shop! So, what titles or collectibles will you be picking up this Wednesday? You can sound off in the comments section below! Click on Comic shop Locator to find the comic shop nearest to you!
COMICS
BATGIRL #22 $3.99
BATMAN AND THE SIGNAL #3 (OF 3) $3.99
BATMAN BEYOND #19 $3.99
DEMON HELL IS EARTH #6 (OF 6) $2.99
DETECTIVE COMICS #979 $2.99
DOOM PATROL #11 $3.99
FLASH #45 $2.99
HAL JORDAN AND THE GREEN LANTERN CORPS #43 $2.99
HELLBLAZER #21 $3.99
IMAGINARY FIENDS #6 (OF 6) $3.99
JUSTICE LEAGUE OF AMERICA #29 $2.99
MERA QUEEN OF ATLANTIS #3 (OF 6) $3.99
MOTHER PANIC GOTHAM A D #2 $3.99
MOTHERLANDS #4 (OF 6) $3.99
RAVEN DAUGHTER OF DARKNESS #4 (OF 12) $3.99
SCOOBY DOO TEAM UP #37 $2.99
SILENCER #4 $2.99
SUICIDE SQUAD #40 $2.99
TEEN TITANS #19 $3.99
TERRIFICS #3 $2.99
TITANS ANNUAL #2 $4.99
TRINITY #22 $3.99
WONDER WOMAN #45 $2.99
DYNAMITE ENTERTAINMENT
SHADOW BATMAN HC $24.99
SHADOW BATMAN HC ORLANDO SGN ED $69.99
DCN Pull Box Triple Spotlight
MERA QUEEN OF ATLANTIS #3 (OF 6) $3.99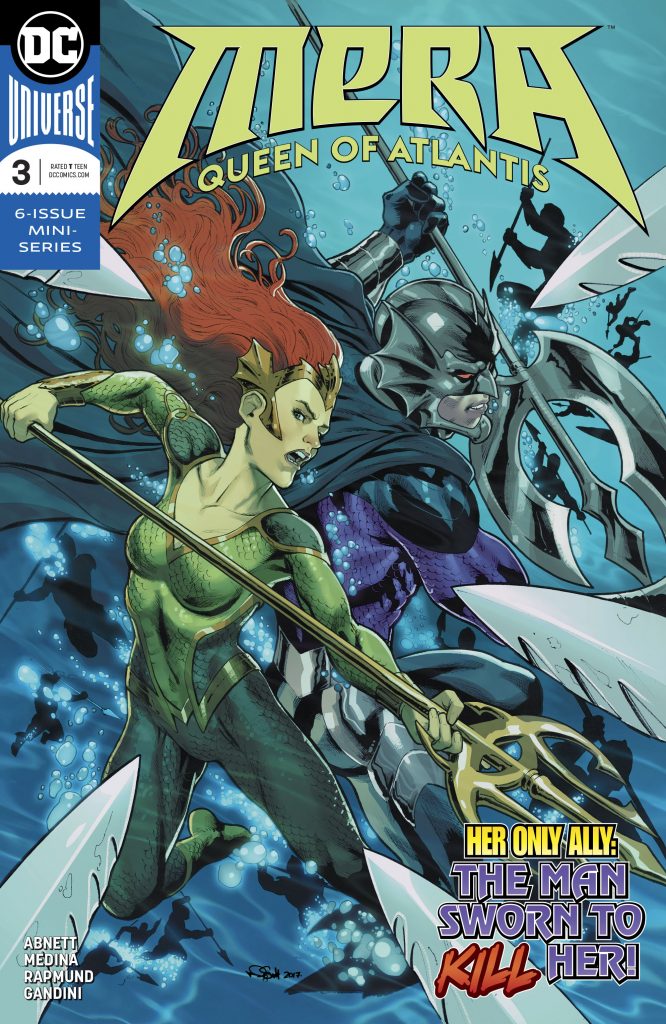 (W) Dan Abnett (A) Lan Medina (CA) Nicola Scott
After a brutal clash between Mera and Ocean Master almost costs Mera her life, Tula suggests that the three of them work together to save Atlantis – and recruiting an army will require a united front. Can Mera and Orm be united by a common enemy? Or will their hatred of each other be their undoing?
---
TERRIFICS #3 $2.99
(W) Jeff Lemire (A) Joe Prado (A/CA) Ivan Reis
"MEET THE TERRIFICS" part three! When will this superhero team bound by dark multiversal magic ever get any privacy? It certainly won't be today, because while Mr. Terrific feverishly works to free himself from Metamorpho, Plastic Man and Phantom Girl-but mostly Plastic Man-the team must also contend with the towering, rolling death-inferno that is the War Wheel.
---
WONDER WOMAN #45 $2.99
(W) James Robinson (A) Emanuela Lupacchino (CA) David Yardin
"AMAZONS ATTACKED" finale! It's all-out war for Themyscira! Jason's been handed a gift from the gods that could turn the tide… but how will he use it? And is this gift actually what he believes it to be?
---
Variant Covers
Note: Variant Prices To Be Determined By Retailer
BATGIRL #22 VAR ED $3.99
BATMAN BEYOND #19 VAR ED $3.99
DETECTIVE COMICS #979 VAR ED $2.99
DOOM PATROL #11 VAR ED $3.99
FLASH #45 VAR ED $2.99
HAL JORDAN AND THE GREEN LANTERN CORPS #43 VAR ED $2.99
HELLBLAZER #21 VAR ED $3.99
JUSTICE LEAGUE OF AMERICA #29 VAR ED $2.99
MOTHERLANDS #4 (OF 6) VAR ED $3.99
SUICIDE SQUAD #40 VAR ED $2.99
TEEN TITANS #19 VAR ED $3.99
TRINITY #22 VAR ED $3.99
WONDER WOMAN #45 VAR ED $2.99
GRAPHIC NOVEL
ABSOLUTE PREACHER HC VOL 03 $150.00
BATMAN TP VOL 05 RULES OF ENGAGEMENT REBIRTH $16.99
BUG THE ADVENTURE OF FORAGER TP $16.99
FLASH REBIRTH DLX COLL HC BOOK 02 $34.99
INJUSTICE 2 HC VOL 02 $24.99
INJUSTICE 2 TP VOL 01 $16.99
JSA THE GOLDEN AGE TP NEW ED $19.99
NIGHTWING TP VOL 05 RAPTORS REVENGE REBIRTH $14.99
SLEEPER TP BOOK 01 $29.99
BOOKS
DC COMICS VARIANT COVERS COMP VISUAL HISTORY $45.00
MERCHANDISE/COLLECTIBLES
BATMAN ANIMATED SERIES ARKHAM PINT GLASS $10.99
BATMAN ANIMATED SERIES BATFAMILY PINT GLASS $10.99
BATMAN ANIMATED SERIES BATMAN & JOKER PINT GLASS $10.99
BATMAN ANIMATED SERIES BATMAN & TWO FACE PINT GLASS $10.99
BATMAN ANIMATED SERIES BATMAN PINT GLASS $10.99
BATMAN ANIMATED SERIES CHRISTMAS PINT GLASS $10.99
ACTION FIGURES/STATUES
BATMAN BEYOND BATMAN VERSION 2 BUST $59.99
BATMAN TAS CLAYFACE BUST $59.99
BATMAN TAS KILLER CROC BUST $59.99
DC DESIGNER SERIES BATMAN BY MIKE MIGNOLA STATUE $150.00
JLA ANIMATED SERIES WONDER WOMAN RESIN BUST $59.99
METALS BATMAN ARKHAM KNIGHT BATMOBILE 1/24 VEHICLE $19.99
CLOTHING
Please comment below and don't forget to like, share and follow us on:
Facebook: https://www.facebook.com/dccomicsnews
Twitter: @DCComicsNews
Pinterest: http://www.pinterest.com/dccomicsnews/
Tumblr: http://dccomicsnews.tumblr.com
Instagram: @dccomicsnews