DC Comics News has compiled a list of DC Comics titles and collectibles shipping to comic shops for May 23, 2018.
Check back every Friday with the DC Comics News Pull Box to see all the cool new DC Comics titles and collectibles that will be available at your favorite local comic shop! So, what titles or collectibles will you be picking up this Wednesday? You can sound off in the comments section below! Click on Comic shop Locator to find the comic shop nearest to you!
COMICS
BATGIRL #23 $3.99
BATMAN BEYOND #20 $3.99
DETECTIVE COMICS #981 $2.99
FLASH #47 $2.99
HAL JORDAN AND THE GREEN LANTERN CORPS #45 $2.99
HELLBLAZER #22 $3.99
JUSTICE LEAGUE NO JUSTICE #3 (OF 4) $3.99
LOONEY TUNES #243 $2.99
MERA QUEEN OF ATLANTIS #4 (OF 6) $3.99
MOTHER PANIC GOTHAM A D #3 $3.99
MOTHERLANDS #5 (OF 6) $3.99
SCOOBY DOO TEAM UP #38 $2.99
SIDEWAYS #1 2ND PTG $2.99
SILENCER #1 2ND PTG $2.99
SILENCER #5 $2.99
SUICIDE SQUAD #42 $2.99
SUPER SONS #16 $3.99
TERRIFICS #1 2ND PTG $2.99
TERRIFICS #4 $2.99
WONDER WOMAN #47 $2.99
DCN Pull Box Triple Spotlight
BATMAN BEYOND #20 VAR ED $3.99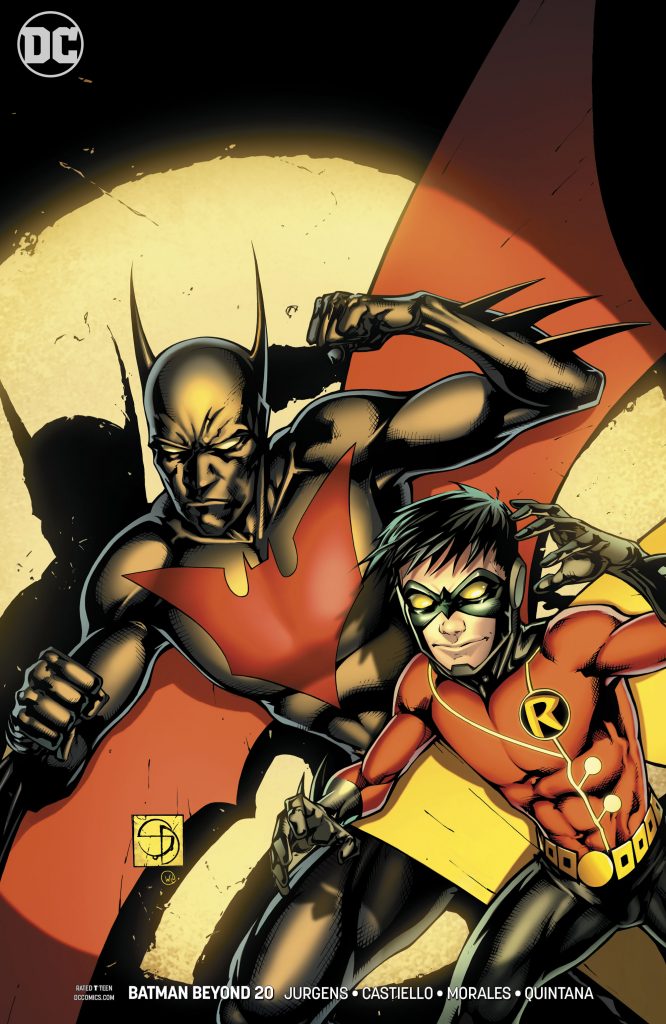 (W) Dan Jurgens (A) Marco Castiello, Mark Morales (CA) Shane Davis
"Target: Batman" part one! After his first outing as a vigilante, Matt is hungry for another chance to prove himself, but Bruce and Terry butt heads over what's next for Matt. Will Terry shut his brother down for good, or will the original Batman succeed in training him to become the latest Robin? Meanwhile, a hostage crisis turns deadly, and Commissioner Barbara Gordon has to sort out why the Jokerz are resorting to far more violent and extreme measures than ever before.
---
FLASH #47 VAR ED $2.99
(W) Joshua Williamson (A) Howard Porter (CA) Francesco Mattina
"FLASH WAR" part one! Barry Allen and Wally West… at war?! The long-rising tension between mentor and former sidekick is brought to a head when the Renegades of the 25th century come to claim Iris West for the murder of Eobard Thawne… but that's only the beginning of a plot that will change the future of The Flash forever! By the end, it will be Flash versus Flash in a mythology-shaking event!
---
JUSTICE LEAGUE NO JUSTICE #3 (OF 4) $3.99
(W) Scott Snyder, James TynionIV, Joshua Williamson (A) Marcus To (A/CA) Francis Manapul
Starfire makes a crushing discovery, Beast Boy uncovers a shocking betrayal, and Cyborg and Wonder Woman are forced to make decisions that will have devastating repercussions for all four teams… and potentially for those they left behind on Earth.
---
Variant Covers
Note: Variant Prices To Be Determined By Retailer
BATGIRL #23 VAR ED $3.99
BATMAN BEYOND #20 VAR ED $3.99
DETECTIVE COMICS #981 VAR ED $2.99
FLASH #47 VAR ED $2.99
HAL JORDAN AND THE GREEN LANTERN CORPS #45 VAR ED $2.99
HELLBLAZER #22 VAR ED $3.99
MOTHERLANDS #5 (OF 6) VAR ED $3.99
SUICIDE SQUAD #42 VAR ED $2.99
SUPER SONS #16 VAR ED $3.99
WONDER WOMAN #47 VAR ED $2.99
GRAPHIC NOVEL
LEGIONNAIRES TP BOOK 02 $34.99
SUPERMAN REBIRTH DLX COLL HC BOOK 02 $34.99
SUPERMAN THE GOLDEN AGE TP VOL 04 $24.99
SUPERWOMAN TP VOL 03 THE MIDNIGHT HOUR REBIRTH $16.99
WILD STORM TP VOL 02 $16.99
BOOKS
DC LEGENDS OF TOMORROW SEASON 1 & 2 T/C BINDER $29.99
DC LEGENDS OF TOMORROW SEASON 1 & 2 T/C BOX $3.99
ACTION FIGURES/STATUES
BVS DAH-002 DYNAMIC 8-CTION HEROES WONDER WOMAN PX AF $50.00
BVS DAH-003 DYNAMIC 8-CTION HEROES SUPERMAN PX AF $50.00
MOTU 3.75IN REACTION FIG WV 3 BATTLE DAMAGED HE-MAN $15.00
MOTU 3.75IN REACTION FIG WV 3 BATTLE DAMAGED SKELETOR $15.00
CLOTHING
ACTION #1000 LOGO T/S LG $19.95
ACTION #1000 LOGO T/S SM $19.95
Please comment below and don't forget to like, share and follow us on:
Facebook: https://www.facebook.com/dccomicsnews
Twitter: @DCComicsNews
Pinterest: http://www.pinterest.com/dccomicsnews/
Tumblr: http://dccomicsnews.tumblr.com
Instagram: @dccomicsnews