WARNING: THIS ARTICLE CONTAINS SPOILERS FOR BATMAN #48. DO NOT READ IF YOU DON'T WANT TO BE SPOILED.
***
Well then, it looks like Joker is getting ready for Batman and Catwoman's wedding the only way he knows how: by going on a unique and twisted killing spree in Bruce Wayne's name. Huh? But no one is supposed to know his secret identity! Well, the idea that this long-awaited marriage would send Joker off the deep end like never before came earlier this year when writer Tom King promised big things once Mistah J heard the news.
In DC Nation #0, Joker chose a random house in Gotham to wait for his invitation (along with the true owner). He claimed he finally received his invite to the joyous day–using any letter at all–and set off to find the perfect wedding gift. In Batman #48, Joker gets to show off his present, and surprise its murder.
Along with a sneak peek of the first few pages, there is a variant cover by Frank Cho. What's going to worry fans is Mikel Janín's cover art of Joker smashing chess pieces of the entire Bat-family. I mean, did you expect anything less from the Clown Prince? DC has already revealed that individual members of the Bat-family will be facing off against villains in some standalone comics leading up to the big day.
Damian Wayne got the first bit with Prelude to the Wedding, battling with Ra's Al Ghul. The issue concluded with the Demon's Head glimpsing the havoc The Joker is unleashing. And here it is, Batman, coming to the rescue.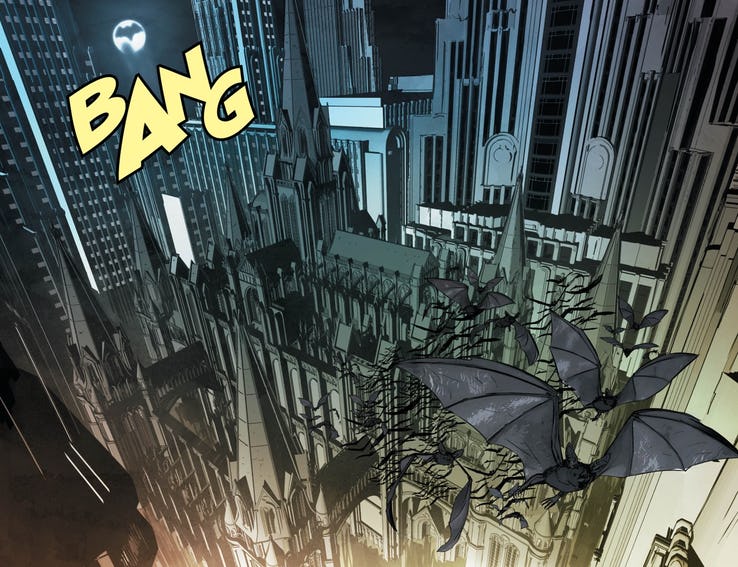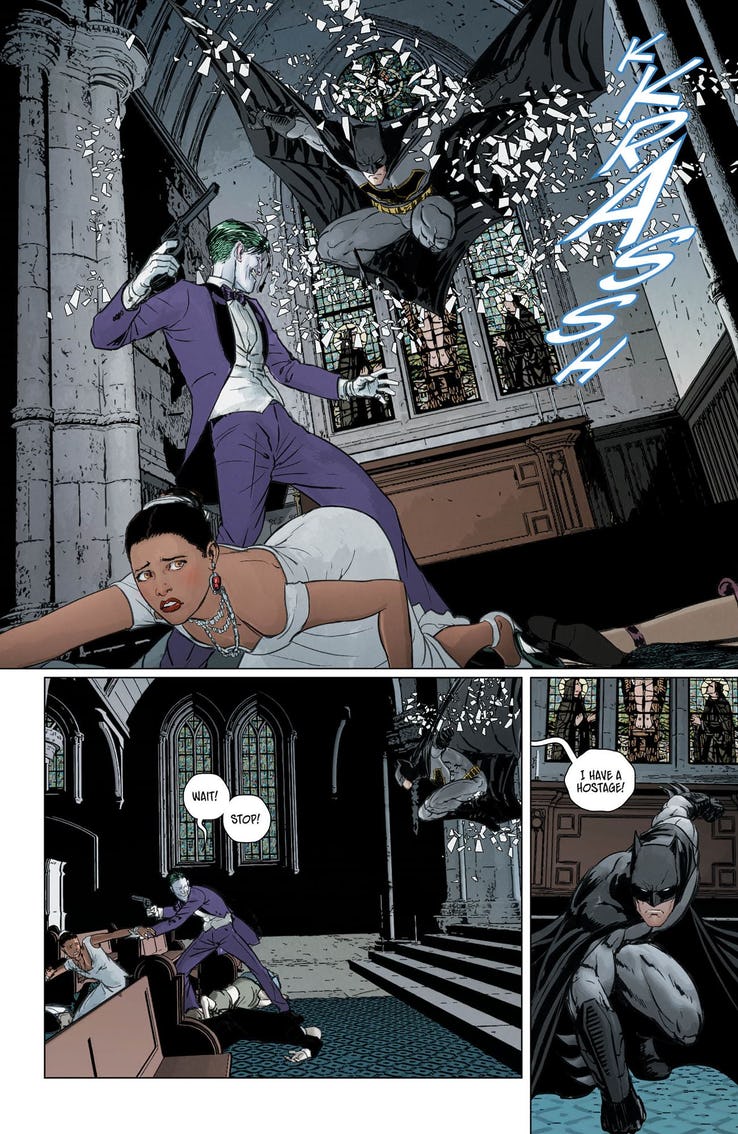 By this point, the sight of Joker singing the old 60s theme song is unforgettable and totally expected from Tom King. The preview doesn't reveal WHY Joker this wedding to destroy, all we know is you won't be able to say The Best Man sweetly ever again.  Check out the full synopsis below!
Batman (2018) #48

Published: June 6, 2018

Writer: Tom King

Art: Mikel Janín

Cover Artist: Mikel Janín

"THE BEST MAN" part one! Batman and Catwoman decide it might be better to elope rather than go through some big, stodgy wedding ceremony, but no sooner do they put their marriage on the fast track than The Joker appears! And when The Joker kidnaps the Caped Crusader, will he give his old foe a piece of his mind or bash in his brains?