DC Comics News has compiled a list of DC Comics titles and collectibles shipping to comic shops for July 18, 2018.
Check back every Friday with the DC Comics News Pull Box to see all the cool new DC Comics titles and collectibles that will be available at your favorite local comic shop! So, what titles or collectibles will you be picking up this Wednesday? You can sound off in the comments section below! Click on Comic shop Locator to find the comic shop nearest to you!
COMICS
BATMAN #51 $3.99
BATMAN SINS OF THE FATHER #6 (OF 6) $2.99
BATWOMAN #17 $3.99
BRAVE & THE BOLD BATMAN & WONDER WOMAN #6 (OF 6) $3.99
CAVE CARSON HAS AN INTERSTELLAR EYE #5 (MR) $3.99
DAMAGE #7 $2.99
DEATHBED #6 (OF 6) (MR) $3.99
FLASH #47 2ND PTG $2.99
FUTURE QUEST PRESENTS #12 $3.99
GREEN LANTERNS #51 $3.99
HARLEY QUINN #46 $2.99
INJUSTICE 2 #30 $2.99
INJUSTICE VS THE MASTERS OF THE UNIVERSE #1 (OF 6) $3.99
JUSTICE LEAGUE #4 $3.99
NEW CHALLENGERS #3 (OF 6) $2.99
WILD STORM #15 $3.99
DC COMICS NEWS TRIPLE SPOTLIGHT
JUSTICE LEAGUE #4 $3.99
(W) Scott Snyder (A/CA) Jorge Jimenez
What is hidden in the darkest depths of the ocean and farthest reaches of space doesn't even compare to the insidious secrets buried in the pasts of Flash, Green Lantern, and Martian Manhunter! While the rest of the League battles to save their friends before all of reality unravels, the citizens of Earth make a startling decision…to join the Legion of Doom!
---
INJUSTICE VS THE MASTERS OF THE UNIVERSE #1 (OF 6) $3.99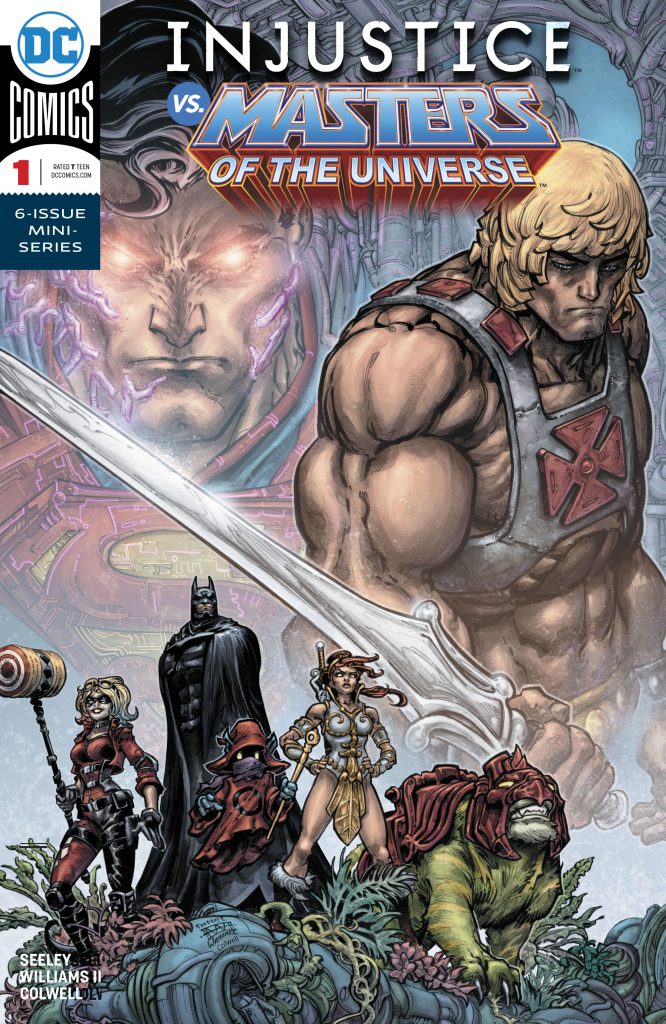 (W) Tim Seeley (A/CA) Freddie Williams II
Believing He-man and the Masters of the Universe defeated, a robotic impostor has seized control of Eternia-but not for long! After freeing his kingdom from this strongman's rule, Prince Adam learns not everyone is pleased to see the pretender deposed-but Adam knows the value of freedom. So when heroes from another dimension ask his aid in deposing a super-hero turned dictator, he agrees. Teaming up with Batman against the Superman of the Injustice Universe, He-man and his new allies face dangerous and familiar enemies in a battle where no world is safe!
---
BRAVE & THE BOLD BATMAN & WONDER WOMAN #6 (OF 6) $3.99
(W) Liam Sharp (A/CA) Liam Sharp
It's an epic battle for Tir Na Nóg in this finale, as King Elatha has opened its Causeways and both Fomorian and Dé Denann creatures are spilling into our own realm! Batman must go back to Gotham City to try to close the Causeways from the inside, while Wonder Woman will fight alongside King Elatha against his once-banished brother, Balor Evil Eye! Who will take the crown and rule Tir Na Nóg for eternity?
---
Variant Covers
Note: Variant Prices To Be Determined By Retailer
BATMAN #51 VAR ED $3.99
BATWOMAN #17 VAR ED $3.99
FUTURE QUEST PRESENTS #12 VAR ED $3.99
GREEN LANTERNS #51 VAR ED $3.99
HARLEY QUINN #46 VAR ED $2.99
INJUSTICE VS THE MASTERS OF THE UNIVERSE #1 (OF 6) VAR ED $3.99
JUSTICE LEAGUE #4 JIM LEE PENCIL VAR ED $3.99
JUSTICE LEAGUE #4 VAR ED $3.99
WILD STORM #15 VAR ED $3.99
GRAPHIC NOVEL
BATGIRL & THE BIRDS OF PREY TP VOL 03 FULL CIRCLE REBIRTH $19.99
BATMAN AND ROBIN ADVENTURES TP VOL 03 $24.99
FLASH BY GEOFF JOHNS TP BOOK 05 $24.99
FLASH THE SILVER AGE OMNIBUS HC VOL 03 $99.99
INVISIBLES TP BOOK 03 $24.99
SUICIDE SQUAD TP VOL 06 SECRET HISTORY OF TASK FORCE X $16.99
TITANS LAZARUS CONTRACT TP $16.99
WILDSTORM MICHAEL CRAY TP VOL 01 $16.99
BOOKS
OVERSTREET COMIC BK PG HC VOL 48 FLASH GREEN LANTERN $35.00
OVERSTREET COMIC BK PG SC VOL 48 FLASH GREEN LANTERN $29.95
MERCHANDISE
DC HEROCLIX BATMAN TAS BOOSTER BRICK $129.90
DC HEROCLIX BATMAN TAS DICE & TOKEN PACK $9.99
DC HEROCLIX BATMAN TAS STARTER SET $24.99
ACTION FIGURES/STATUES
DC BATMAN TAS FIG COLL SER 2 #2 SCARECROW $20.00
DC BATMAN TAS FIG COLL SER 2 #3 RIDDLER $20.00
DC BATMAN UNIVERSE BUST COLL #6 SCARECROW $24.95
DC BATMAN UNIVERSE BUST COLL #7 NIGHTWING $24.95
DC JUSTICE LEAGUE TAS FIG COLL SER 1 #1 SUPERMAN $20.00
DC SUPERHERO BEST OF FIG COLL MAG #60 MR FREEZE $17.95
DC WATCH COLLECTION W2 #3 WAYNE INDUSTRIES $34.95
DC WONDER WOMAN MYTHOLOGIES FIG COLL #1 CLASSIC WONDER WOMAN $20.00
GOTHAM CITY GARAGE SUPERGIRL STATUE $125.00
POP HARRY POTTER GILDEROY LOCKHART VINYL FIGURE $10.99
POP HARRY POTTER GINNY WEASLEY VINYL FIGURE $10.99
POP HARRY POTTER HARRY POTTER VINYL FIGURE $10.99
POP HARRY POTTER HERMIONE GRANGER VINYL FIGURE $10.99
POP HARRY POTTER NEARLY HEADLESS NICK VINYL FIGURE $10.99
POP HARRY POTTER RON WEASLEY VINYL FIGURE $10.99
POP HARRY POTTER TOM RIDDLE VINYL FIGURE $10.99
VYNL HARRY POTTER RON & HERMOINE VIN FIG 2PK $14.99
CLOTHING
BATMAN: VANITY T/S LG $19.95
BATMAN: VANITY T/S MED $19.95
BATMAN: VANITY T/S SM $19.95
BATMAN: VANITY T/S XL $19.95
BATMAN: VANITY T/S XXL $22.95
BATMAN: VINTAGE T/S LG $19.95
BATMAN: VINTAGE T/S MED $19.95
BATMAN: VINTAGE T/S SM $19.95
BATMAN: VINTAGE T/S XL $19.95
BATMAN: VINTAGE T/S XXL $22.95
DC BATMAN UTILITY BELT PX BLACK T/S LG $17.99
DC BATMAN UTILITY BELT PX BLACK T/S SM $17.99
DC BATMAN UTILITY BELT PX BLACK T/S XL $17.99
DC BATMAN UTILITY BELT PX BLACK T/S XXL $19.99
GOTHAM CITY ATHLETIC DEPT HOODIE LG $43.95
GOTHAM CITY ATHLETIC DEPT HOODIE MED $43.95
GOTHAM CITY ATHLETIC DEPT HOODIE SM $43.95
GOTHAM CITY ATHLETIC DEPT HOODIE XL $43.95
GOTHAM CITY ATHLETIC DEPT HOODIE XXL $46.95
GOTHAM CITY ATHLETIC DEPT T/S LG $19.95
GOTHAM CITY ATHLETIC DEPT T/S MED $19.95
GOTHAM CITY ATHLETIC DEPT T/S SM $19.95
GOTHAM CITY ATHLETIC DEPT T/S XL $19.95
GOTHAM CITY ATHLETIC DEPT T/S XXL $22.95
SUPERMAN HEAVYWEIGHT T/S LG $19.95
SUPERMAN HEAVYWEIGHT T/S MED $19.95
SUPERMAN HEAVYWEIGHT T/S SM $19.95
SUPERMAN HEAVYWEIGHT T/S XL $19.95
SUPERMAN HEAVYWEIGHT T/S XXL $22.95
SUPERMAN SHATTER SYMBOL T/S LG $19.95
SUPERMAN SHATTER SYMBOL T/S MED $19.95
SUPERMAN SHATTER SYMBOL T/S SM $19.95
SUPERMAN SHATTER SYMBOL T/S XL $19.95
SUPERMAN SHATTER SYMBOL T/S XXL $22.95
WATCHMEN RORSCHACH I T/S SM $19.95
Please comment below and don't forget to like, share and follow us on:
Facebook: https://www.facebook.com/dccomicsnews
Twitter: @DCComicsNews
Pinterest: http://www.pinterest.com/dccomicsnews/
Tumblr: http://dccomicsnews.tumblr.com
Instagram: @dccomicsnews