[Editor's note: This review will contain spoilers!]
Writer: Tim Seeley
Artist: Freddie E. Williams II
Colors: Jeremy Colwell
Letters: Wes Abbott
Summary
Thanks to insurgency, He-Man finds himself back in the Injustice universe where Superman rules all! Batman and his allies are making a plan to assault Superman at the heart of his regime, while across the universe Darkseid has begun an invasion of Eternia! What could the Lord of Apokolips want from this magical world?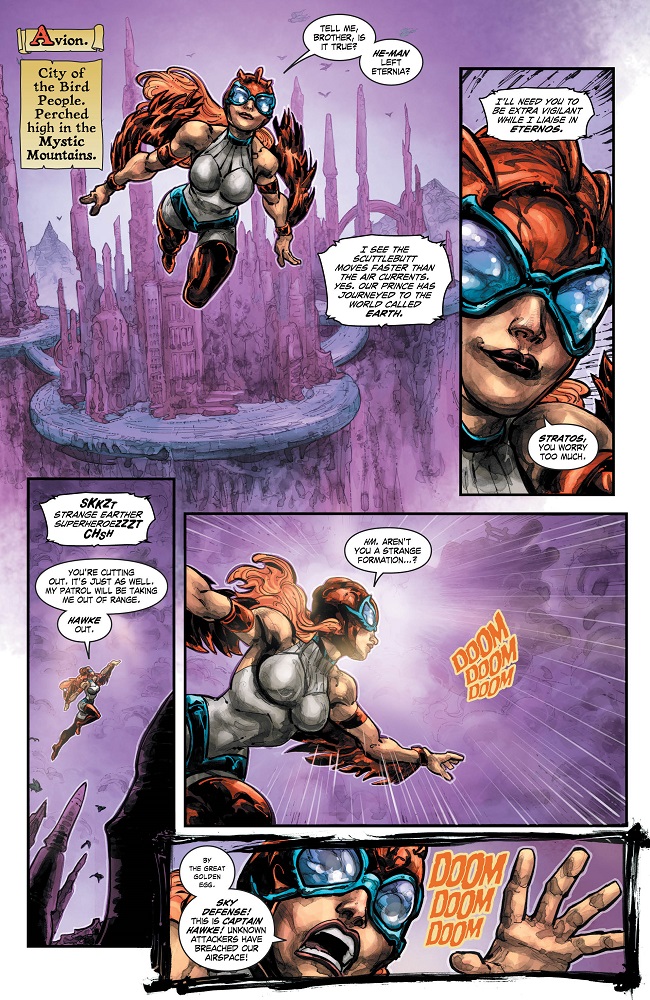 Positives
As usual in the Injustice universe, this book isn't short on action at all. Seeley immediately throws us in action as Darkseid has sent Steppenwolf and Granny Goodness with an invasion force to Eternia! With He-Man gone, only a handful of heroes can hope to stand against Steppenwolf and his parademon horde. Meanwhile on Earth, we find He-Man coming to grips with a world he doesn't know. Researching on Superman, He-Man finds it hard to believe that such a good person could turn so evil, but he sees proof of that evil while saving a innocent woman from Bane and Copperhead, both of whom are controlled by Wonder Woman. He-Man defeats Bane and Copperhead easily, but the fight gains a Brainiac-controlled Batman's notice, and that means Superman notices too.
Negatives
I have no complaints about this issue. Seeley's dialogue is great especially between He-Man and a potential suicide victim. This young woman was tired of leaving in a world ruled by the regime–and opted to kill herself. Thanks to being saved by He-Man she instead realizes her worth, and I hope we see her again in a later issue helping the team in some form. In my opinion she seems to have too good of a story for it to just be wasted in a single issue. Williams' artwork compliments the issue further by giving it so much detail. Everything from the emotions to the fight panels all come to life and makes Injustice that much enjoyable.
Verdict
Overall this book is a great read and I can't wait for the encounter between Superman and He-Man. However we have a captured Skeletor that's also been locked up in Superman's fortress. He's the one who's been locating magical items for Superman to lock up, however I feel that the depowered villain will somehow be the wild card in all of this. No one, including the Insurgency know of Skeletor's capture, and I believe his power would be invaluable against Superman. I'm definitely looking forward to the next issue!