This weekend marks the official launch of the highly anticipated DC Universe digital steaming service, and earlier this week they decided to run their beta version for those who have already pre-ordered the service.  The beta is limited, so those of us who have it haven't gotten the chance to see everything, but it did give us a great look at what to expect from the full version.
There are so many great reasons to sign up for this service, and below I list the TOP 10 Reasons to Subscribe to DC Universe.  So sit back and enjoy the ride into the wonderful world of all things DC.
10. EXCLUSIVE MERCHANDISE
Not only will you get all sorts of great content to watch and read (as you'll see below), there's also a new DC Universe Shop within the app where fans can purchase some awesome merchandise, like t-shirts, statues, mugs, phone cases, and more, with some items being exclusively sold through the app.  One of these exclusives is a new line of animated-style Justice League action figures, to complement the popular 6-inch Batman: The Animated Series figures the company has been making lately.
The first wave includes the full initial team line-up – Superman, Batman, Wonder Woman, The Flash, Green Lantern John Stewart, Hawkgirl, and Martian Manhunter – plus Aquaman, who was not a member of the team before they became Justice League Unlimited, but who did appear in several memorable episodes during the first two Justice League seasons.
9. DC COMMUNITY
In the all new DC Community section, fans can join other fans on a plethora of message boards covering all kinds of topics like comics, movies, TV, news, and more.  There's even a section called "Creators Corner" where fans can connect with DC talent.
DC Community shows trending discussions, popular tags, and even gives you the chance to create your own thread covering any topic that's rattling around in your brain.  Do you want to talk about the best Robin?  You can make a thread about it.  Do you want to discuss your love of the short-lived Birds of Prey TV series?  Go ahead!  The sky's the limit!
And DC has vowed to work hard on moderating these boards in order to make it the best possible experience for fans everywhere!
8. ENCYCLOPEDIA
This comprehensive encyclopedia breaks down your favorite characters (like Batman and Superman), as well as some you may have never heard of (like Chaselon and Ferro Lad), with great detail, giving an introduction and history to the character, their origin, powers, essential storylines, team affiliations, and appearances in other media.  Some characters are more thorough than others, but this encyclopedia will be always growing and expanding, so if there's some info you think is missing, you'll be able to submit it to be added.
There's also a tab labeled "Related Content" that brings up movies and TV shows, comics, and even trending discussions about that character within the app.  This is a great part of DC Universe as it will help to educate DC fans, new and returning, on the characters that live within it.
7. LIVE-ACTION FILMS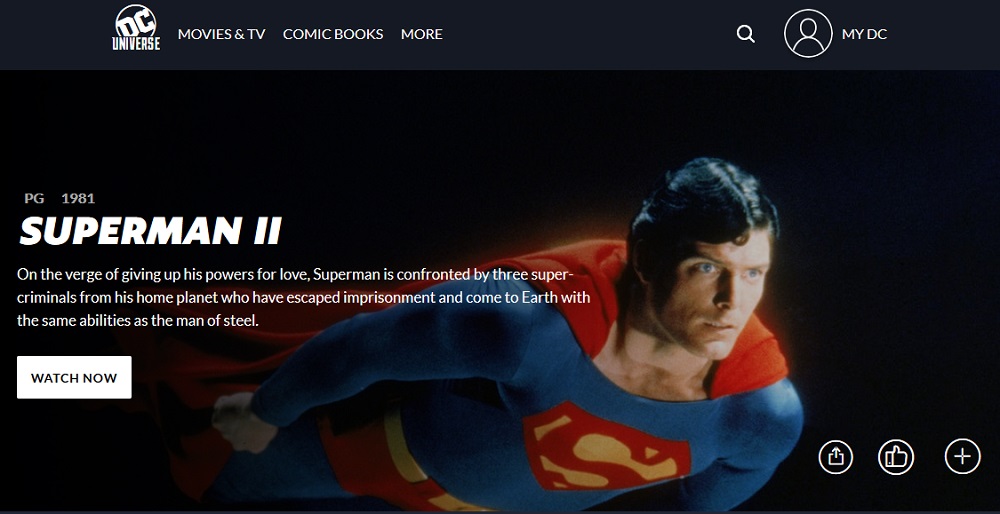 As someone who loves films (I even run my own film review site), the fact that the DC Universe app will include live-action films is something I was very happy to hear.  Now, from what we've been told, there doesn't seem to be very many live-action films available, at least not yet.  We'll have access to Superman 1-4, Batman (1989), Batman Returns, Batman Forever, Batman & Robin, Batman Begins, and The Dark Knight.
Now, this is a great, albeit small, selection of films, but I'm really hoping they will put more than just Batman and Superman movies up here.  Let's get films like V for Vendetta, Watchmen, A History of Violence, The Losers, Road to Perdition, RED, RED 2, Swamp Thing, Constantine, etc.  This would truly add some great value to the film library.  And who knows, maybe they already have plans to add some of these.  That would definitely push this farther up on my list.
6. ANIMATED FILMS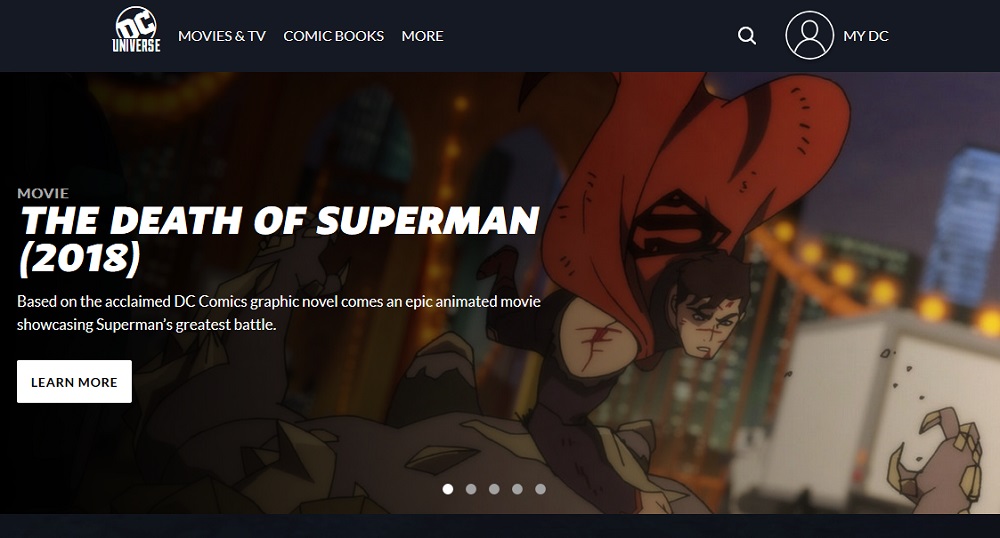 The catalogue of animated films based on DC properties is huge, with dozens of quality entries, from the 30+ DCUA (DC Universe Animated Original) films, to films like Subzero and Mystery of the Batwoman, and even the LEGO DC Super Hero films.
The DC Universe app will offer a large array of them, including some of my favorites like Justice League: War, Batman: Under The Red Hood, and even Batman: Mask of the Phantasm.  But what shocked me the most was that their newest animated film, The Death of Superman, is actually available to watch on the app, even though it's only been out for less than two months.  And with a 3-4 films release schedule every year just for the DCUA films, this library will continue to grow.
5. DC DAILY
Within the "News" tab is a section for the upcoming daily news show, DC Daily.  They recently did a live-stream (of which the video is available to watch on the app) breaking down what you can expect from DC Universe, while also introducing DC Daily and the hosts who will be bringing all the news to the fans.  The live stream was hosted by Kevin Smith.
There will be several great and knowledgeable hosts including Tiffany Smith (DC All Access), John Barrowman (Arrow, Doctor Who), Samm Levine (Freaks & Geeks, Inglourious Basterds), Harley Quinn Smith (Yoga Hosers), Sam Humphries (DC Comics Writer – Green Lanterns), Hector Navarro (DC All Access), Clarke Wolfe (Collider Movie Talk, Film HQ), Whitney Moore (Film HQ) Brian Tong, Markeia McCarty (DC Movie News), and John Kourounis.
DC Daily will be replacing DC All Access and will offer news related to the original series on DC Universe and other content that "ties back" to DC Comics and the DC Universe community. The program is scheduled to have the following segments: "Headlines", for daily news briefs; "Reports", for an in-depth interview or look at an upcoming book, film, or television series; and "Talk", for panel discussions.
4. LIVE-ACTION TV SERIES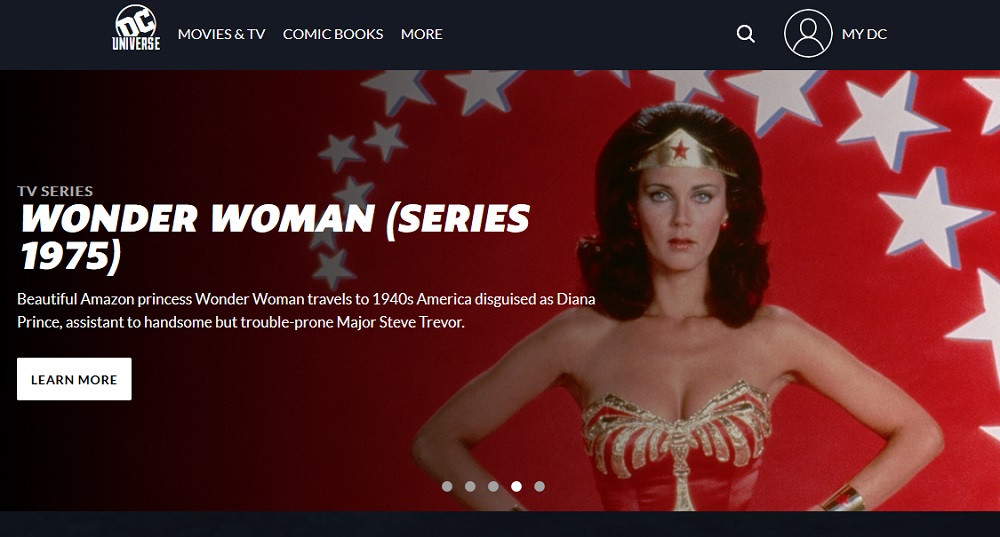 DC has some of the best live-action comic book TV shows out there, and a lot of them will be available to watch right through the app.  We'll get to see such shows as Wonder Woman, The Flash (1990), Birds of Prey, Lois & Clark: The New Adventures of Superman, and even more obscure titles like Human Target.
This would be a spot or two higher on the list if the current DC shows were included, like Arrow, The Flash, Supergirl, Gotham, and all of the others.  Hopefully, they'll eventually make their way to the app once their contracts with the other streaming services expire.
3. ANIMATED TV SERIES
I've got four words for you: BATMAN. THE. ANIMATED. SERIES!!!!
When it was announced that the greatest comic book TV series of all time was heading to DC Universe, I was ecstatic.  And to make it even better, it'll be released in fully remastered HD, and I have to say, it looks fantastic!
And if that's not enough for you, we'll also be getting a plethora of other great animated shows from the world of DC including Batman Beyond, Justice League, Justice League Unlimited, Batman: Brave and the Bold, Superman: The Animated Series, Static Shock, Teen Titans, Young Justice, and even the old Max Fleischer cartoons from the 1940's.  This is an amazing line up that will keep people busy binging for quite a while.
2. LARGE SELECTION OF COMICS
Unlike other streaming services, DC Universe will also offer a reading component through a large curated selection of some of DC's best comics.  You'll get to read classic stories like Action Comics #1, Detective Comics #27, and The Dark Knight Returns, as well as getting the chance to check out some more obscure stuff like Doom Patrol and New Gods.
And the built-in comic book reader is fantastic, particularly the panel-by-panel option, which allows you to become fully immersed in what you're reading, bringing these comics to life.
1. BRAND NEW EXCLUSIVE CONTENT
For me, the biggest reason I chose to commit to this service wasn't the past DC content, but instead all the future content that's on the way.  There's only so much previous content, so the fact that they're developing several new projects exclusive to DC Universe will keep me coming back for more.
Right now, there are four live-action shows and two animated shows in production, with many more to come.  I'm also hoping they will dive into original films for the app as well.  The shows announced so far are Titans (which will premiere at NYCC, and then hits the streaming service on October 12th, with new episodes each Friday), Doom Patrol, Swamp Thing, Stargirl, the Harley Quinn animated series, and the one many have been waiting for… Young Justice season 3 (titled Young Justice: Outsiders).
Titans follows young heroes from across the DC Universe as they come of age and find belonging. This gritty take on the classic Titans franchise finds Dick Grayson and a special young girl possessed by a strange darkness named Rachel Roth as they get embroiled in a conspiracy. They're joined by Starfire and Beast Boy to become a surrogate family and team.
Doom Patrol is a reimagining of one of DC's strangest group of outcasts: Robotman, Negative Man, Elasti-Woman and Crazy Jane. Led by the mysterious Dr. Niles Caulder they're called into action by none other than the ultimate hero for the digital age, Cyborg. These rejects band together on a mission that will take them to the weirdest and most unexpected corners of the DC universe.
Swamp Thing is a scary love story following Abby Arcane as she investigates what seems to be a deadly swamp-born virus in a small town in Louisiana but soon discovers that the swamp holds mystical and terrifying secrets.
Stargirl follows High School sophomore Courtney Whitmore who inspires an unlikely group of young heroes to stop the villains of the past. This new DC Universe series reimagines Stargirl and the very first superhero team, the Justice Society of America, in a fun, exciting and unpredictable series.
Harley Quinn tracks the lovable, raucous villain with a fractured psyche after she breaks up with The Joker and tries to make it on her own to become Gotham's main queen-pin.
Young Justice: Outsiders features the return of the fan favorite animated series with a huge cast of DC's most iconic young superheroes – plus brand-new characters, many of whom are just discovering their unique meta-powers and special abilities. Set against the backdrop of a rich, deep world that touches all corners of the DC universe, the season focuses on meta–trafficking, and an intergalactic arms race for control of these super–powered youths.
And there you have it folks, the Top 10 Reasons To Subscribe To DC Universe.  If you haven't already done so, be sure sign up and enjoy all of this wonderful content at your fingertips.  Head on over to the DC Universe site and sign up right now.  You can do the monthly subscription for $7.99/month or you can save some money and do the annual plan for only $74.99/year.
And be sure to share your experiences with the service in our comments section below or hit us up on Facebook or Twitter.