[Editor's Note: This review may contain spoilers]
Director: Brad Anderson
Writer: Akiva Goldsman
Starring: Brenton Thwaites, Teagan Croft, Minka Kelly and Alan Ritchson
Summary
New character Hawk has been captured by gun runners and is being tortured. But suddenly, the lights go out and Hawk's partner, Dove, appears and makes short work of the gun runners and rescues Hawk. It becomes obvious that being crime fighters for so long has begun taking its toll on the duo, particularly Hawk. Dove loves Hawk, but she remembers a time, four years earlier, when they fought side-by-side with Robin.
Dick Grayson knows he has to take Rachel someplace safe since a cop is the one who kidnapped her earlier. He decides to take her to see Hawk and Dove. When they get there, Dove is surprised to see him again. Rachel's mysterious powers reveal that Dick and Dove had a fling, years prior.
Dove asks for Dick's help on one last case. Dick reluctantly helps. Hawk and Dove are shocked to see how dark Dick has become while being Robin again. While Grayson and the others are away, Rachel discovers Dick's true intentions with her.
Once they return from the mission, Rachel, Dick, Dawn and Hank all get into an argument but are interrupted by a creepy family that have an agenda all their own.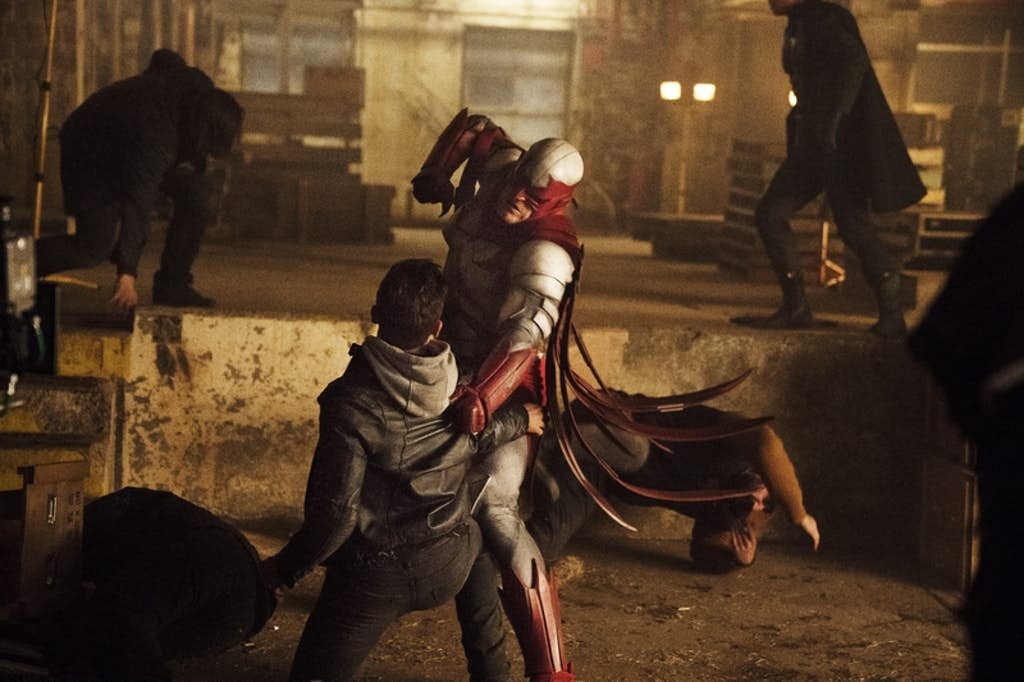 Positives
In this episode, we get to see Dick Grayson and Rachel's bond build. They each have a different idea as to what the next step is, but despite Grayson's reluctance, their relationship builds none-the-less.
Also, in this episode, we are introduced to two great, new characters, Hawk and Dove. The actors that portray these characters are so charismatic that I see myself wanting a Hawk and Dove spin-off show. The dynamic between Hawk and Dove is enough to drive the show, but the added tension with Dick Grayson really elevates things.
Negatives
Like the previous episode, this one is unnecessarily brutal. To be clear, I have no issues with violence in TV and I was never wanting a live action campy show to match the cartoon, but the violence in the series is too much. Just because they can do it, doesn't mean they should do it.  Geoff Johns has always said DC characters are supposed to inspire and I agree, so why is this show so dark? Why doesn't it inspire?  Perhaps it will by the time the season ends, but now it seems like it fits in the Batman v Superman: Dawn of Justice universe perfectly, which I thought they were trying to avoid.
Another issue I had with this episode is the convenient way the brutal family found Grayson and Rachel. Grayson never told his partner where he was and even if he did, once they got there, why would they ever think to go to the roof? A couple lines of dialogue could've resolved this, but as of now it is just a glaring flaw.
Verdict
This series has been really well done so far.  Even though I think it is unnecessarily dark and over-the-top brutal, it's still a great show. I wish I had the option to binge watch them all since it is a paid service, but at least it has me wanting to tune in next week to see what happens.
There is so much potential for this series based on what we've seen so far, it really has me excited to see where it takes us. And Brenton Thwaites is an excellent Robin that steals the show. I can already tell the moment he becomes Nightwing will be one of the greatest moments in comic book television history.