[Editor's Note: This review may contain spoilers]
Writer: Frank Tieri
Artist: Mark Tekeira
Colors: Jeremy Cox
Summary 
In Yellowstone Park, legends speak of a spirit bear referred to as "the Yogi," which few if any have actually encountered. Real or not, when a bear seems to have graduated from stealing picnic baskets to kidnapping actual campers, Ranger Smith decides it's time to stop this menace—so he calls on the services of Slade Wilson—a.k.a. Deathstroke—to get the job done. Plus, part one of a Secret Squirrel backup story written by J.M. DeMatteis.
Positives
Mark Tekeria's "reimagined" Hanna Barbera universe pays perfect homage to the cartoons of old.  Each character is given a twist and slight recognition without pounding you over the head.  The art work is fantastic and works well within Frank Tieri's story.  You get the subtle old story lines we are used to, but add the DC Universe to it and you have one great read.  Deathstroke actually is on the softer side in this tale when it comes to working with Yogi, however, don't let your guard down too long as the bar scene is worth the price of admission.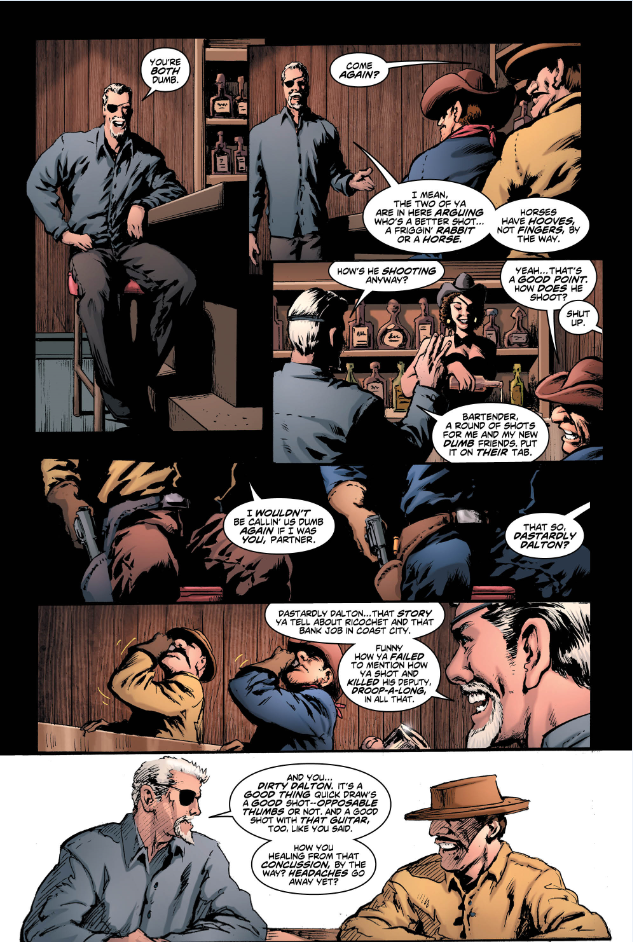 Negatives
The mashups keep getting better and better and hopefully will take off on their own as a monthly series.  The generation of Hanna Barbera characters have grown up and the humor has as well!  No negatives here, so let's ride these mashups as long as we can as it doesn't get any better than DC colliding with other Saturday Morning oldies!
Verdict
Each of these mashups remind us of why we love comics and when you blend characters from different universes, it reminds you of how much you love comics!