Editor: Damien K. Picariello
Writers: Damien K. Picariello, Alan I. Baily, Steven Johnston, William J. Berger, Ian J. Drake, Matthew B. Lloyd, Anthony Petros Spanakos, Daniel V. Goff, Mark D. White, Mohamad Al-Hakim, Christina M. Knopf, Salvatore Russo, Carolyn Cocca, Aidan Diamond
Reviewed By: Derek McNeil
Summary
In Politics in Gotham, scholars from a variety of fields—political science, philosophy, law, and others—provide answers to the question: "What does Batman have to do with politics?" Contributors use the Batman canon, from the comics to the feature films, to explore a broad range of issues in politics and political thought. What can Batman's role in Gotham City teach us about democracy? How do Batman's vigilantism and his violence fit within a society committed to the rule of law? What's the relationship between politics in Gotham and politics in our own communities? From Machiavelli to the fake news phenomenon, this book provides a compelling introduction to the politics behind one of the world's most enduring pop culture figures.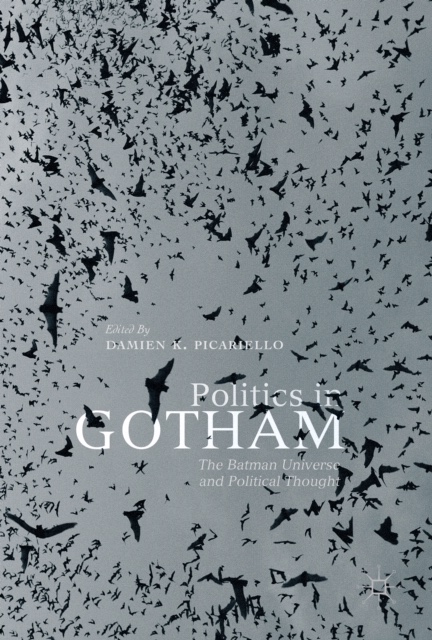 Positives
Batman, as fiction's foremost vigilante, poses some interesting questions about Gotham City's political structures that the comics and movies only touch upon briefly, or ignore altogether. How does the city government and the Gotham City Police Department function, given the presence of a self-appointed, yet extremely effective guardian?
This volume presents thirteen essays that delve deeper into some of these questions. Many of them look at Batman himself and how the politics of Gotham affect and are affected by the Dark Knight. Others focus on other characters from his world. One takes Scarecrow as a starting point to examine how fear relates to politics. Yet another uses Batgirl to illuminate the politics of feminism.
I like that the essays don't limit themselves to one interpretation of Batman. A number of the essays focus on the world of the Nolan trilogy of Batman movies, largely due to Nolan's choice to place Batman in a rather realistic setting. Batman and his foes are larger than life characters, but they battle in an intentionally realistic city.
Various comic versions of Batman and Gotham are examined as well. From Batman's origins in the Golden Age, up to the current Batman series written by Tom King. Frank Miller's seminal comic, The Dark Knight Returns is also referenced, as Miller also imbued the story with political subtext.
Given that these are academic essays, one might expect the language to be somewhat dense and hard to read if you're not accustomed to reading scholarly writing. However, many of the essays, though very intelligent, are written with a clarity that doesn't require a University education to follow.
However, some are a bit trickier and harder to follow than others if you aren't acquainted with academic writing, but are still worth the effort to work your way through – although you may require a dictionary to help with the occasional bit of scholarly jargon.
Negatives
The only drawback of this collection is that not all potential readers may be part of its intended target audience. If you're a Batman fan who just enjoys reading about Batman's adventures and have little care for the deeper political subtext and ramifications of those stories, then this probably isn't for you. However, if the idea of a political and philosophical examination of Batman and his city appeals to you, then this book would make a fine addition to your library.
Verdict
Politics in Gotham is a very thoughtful and thought-provoking series of analyses of political themes present in or implied by the Batman mythos. The idea of using Batman's world as a jumping point to explore various political topics is a brilliant idea and provides a fascinating and truly unique reading experience.