[Editor's note: This review may contain spoilers!]
Writer: Tom King
Artist: Mitch Gerads
Letters: Clayton Cowles
Summary
Awakening in a apparent slaughterhouse and held captive by Professor Pyg, Batman has to make a plan for escape before he's killed! But as the Dark Knight begins to make a strategy he begins to notice that something isn't exactly right here– someone else is behind this!
Positives
This story starts off with Batman being in a bad situation. Tied upside down by Professor Pyg, Batman awakes and gives himself time to assess the situation. Mitch's writing does an outstanding job of putting you directly in the Dark Knight's shoes. From what he smells and sees, and even his inner thoughts of dialogue, Tom King puts you directly in the mind of the Batman. As Batman attempts to make sense of his situation, he eventually escapes and begins to mercilessly pursue Professor Pyg. Suffering a fatal stab wound, the Dark Knight is still able to take advantage and overpower Pyg, but before Batman can actually apprehend him, something strange happens that makes you question if the entire issue is a dream at all!
Negatives
I have no complaints about this issue. Tom King only gives Pyg and Batman battling in a warehouse–nothing else. But with only those few pieces he manages to tell a great story. During Batman's inner dialog we find out about his pursuit of the truth behind Arkham Asylum, and the great lengths it's taken him so far. Bane runs the Asylum, Dick Grayson has been shot in the head, Catwoman left him at the alter–and Bane has been pulling the strings. Also throw in the fact that the cave was infiltrated by another Batman–Thomas Wayne! All these problems plus more have placed a heavy burden on Batman, and Mitch gives you a chance to see what he's going through firsthand. The ending of the issue is questionable though and I found myself wondering if the entire issue could possibly be a dream sequence of some sort.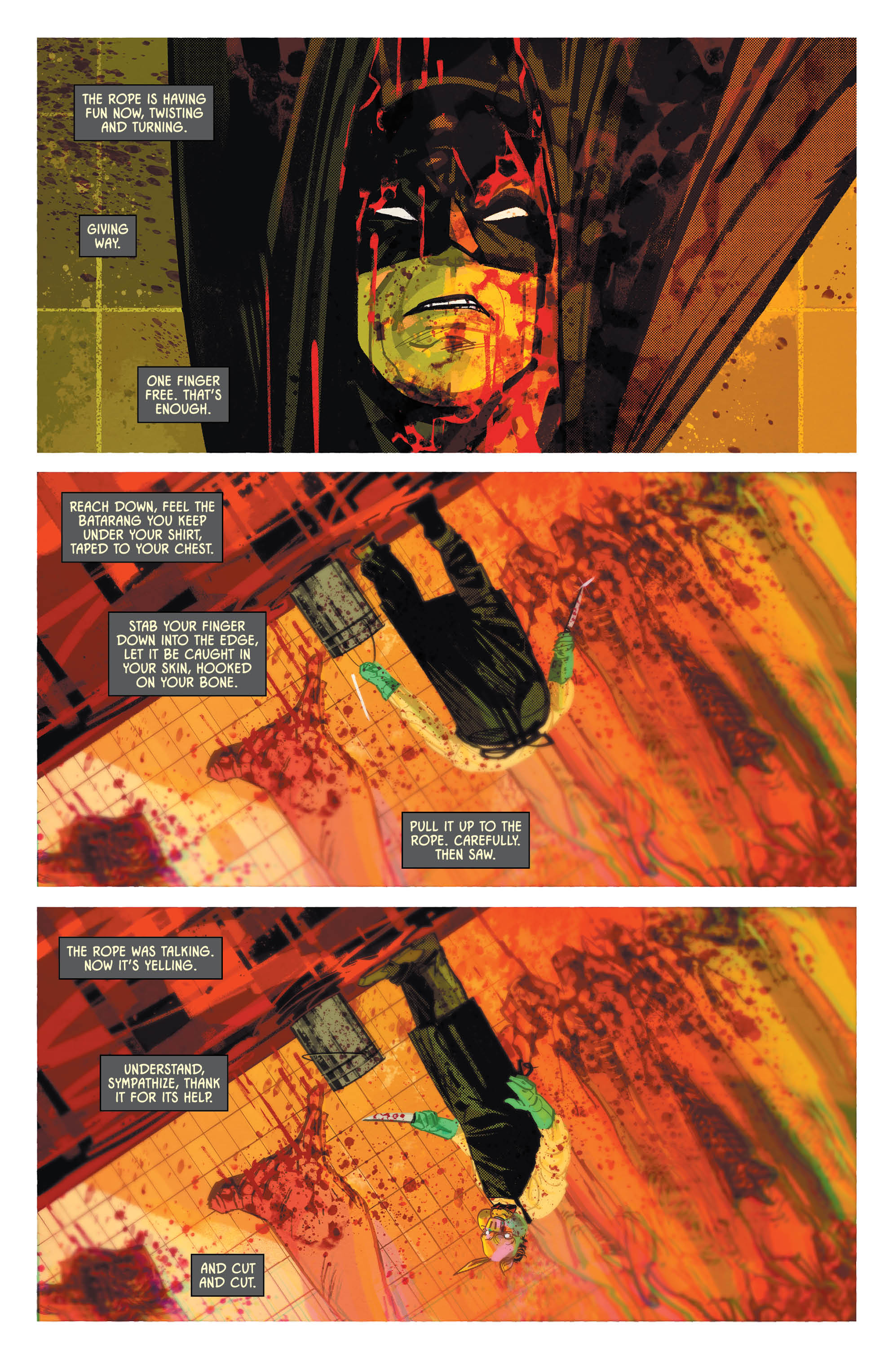 Verdict
Overall Batman #62 is a good read. It's dark and gritty and puts you directly in the mind of Batman right from the beginning. Mitch does a great job of matching Tom King's dark storytelling and dialog with incredible art from start to finish. Throughout the entire book King makes you wonder if it's all real at all– and Batman is just as clueless as the reader is. I'm definitely looking forward to reading the next issue!