[Editor's Note: This review may contain spoilers]
Director: Christopher Berkeley
Writer: Greg Weisman
Starring: Jesse McCartney, Nolan North, Stephanie Lemelin, Jason Spisak, Zehra Fazal, Troy Baker, Khary Payton, Alyson Stoner, Jason Marsden, Greg Cipes
Summary
Unleash of the Red Arrows! Nightwing continues his search for answers as the looming threat of missing identities continues to rile up the team. Seeking answers from Will, the head of a private security company filled to the brim with clone Red Arrows, Nightwing is hurled into a mission in exchange for truth, meanwhile Halo learns an important lesson of looking behind the heroes veil.
Positives
Sometimes it's not all glitz and glam being a super hero. With no major storyline push in this episode, it was a great way to show that sometimes you gotta do a little give and take to get what you want. Nightwing not wanting to take part in an impromptu security run with Will and the gang has to be for the greater good. It demonstrates how a hero like Nightwing is crunched sometimes by his limits, limits he shares with Batman, Tigress, and so many others with out powers.
The action was great and had some rather funny moments with Brick's gang and shots of the private security team in their best poses. Halo on the other hand must deal with being a new person essentially and not knowing of the world around her. Continuing a story from a previous season, Zatanna must still deal with the entrapment of her father. In his mercy, Naboo decides to allow Zatanna to see her father once a year for an hour and then depart, Halo and Tigress console the broken hero as she comes to terms with not seeing her father for another year.
Part of victory is loss. While our heroes won the battle of that episode a season ago, the pain and repercussions of victory are still here today. Halo learning of the world around her and her powers sets her up as a newborn coming into the world, and it's important not only for her but for the audience to learn of the pain these heroes suffer when the suit comes off, the day ends, and decisions come to a close.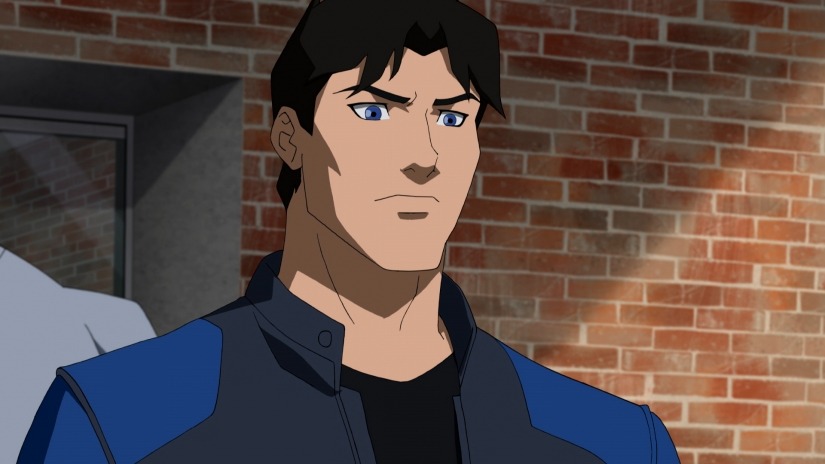 Negatives
Goode is not good. Young Justice has had great writers in the past that set up stories with shocking and out of nowhere twists. This season has been no different, however the Goode is almost certainly the end game tool of the Light which has been revealed far too obviously and quickly. Last season saw the soda Reach splash onto screen and had many shocked when at the end it was revealed to be the catalyst for the Light's ultimate attack, a reveal that shocked many and came out of nowhere with few hints and not a clear objective until the very end.
Goode bares a striking resemblance to the Mutant visors in Batman's The Dark Knight Returns already giving them a dark and ominous vibe.  It's clear these googles will play a major role in the final moments of the season, exactly what, we will see.
Verdict
We continue a strong push toward more episodes and revealing little by little what the actual narrative of the series is. While it's been slow, it continues to entice and draw the audience in for little tidbits of who is truly behind the veil. Are these new heroes trustworthy, can these new splintered teams survive and will we ever see our favorite kid speedster ever again? We'll just have to keep watching to find out!