[Editor's Note: This review may contain spoilers]
Writers: J.M. DeMatteis
Artists: Pat Olliffe & Tom Palmer
Colors: HI-FI
Letters: Travis Lanham
Summary
Things are coming to ahead as a smarter Scooby-Doo and Scrappy Doo have a conversation that has been a long time coming.  Recent events for Daphne and Shaggy come to a bit of a halt as Shaggy as he consoles Daisy over Rufus Dinkley's odd return.  And Quentin Dinkley is not helping things at all!   Daphne is torn between listening to a Nanite inhabited Freddy.  Love in the Apocalyptic nightmare is not in the cards lately for the gang!  All this and a freaked out Freddy warning of the appearance of "The Nanite King".  Not a good day for this new incarnation of Scooby-Doo and the Gang!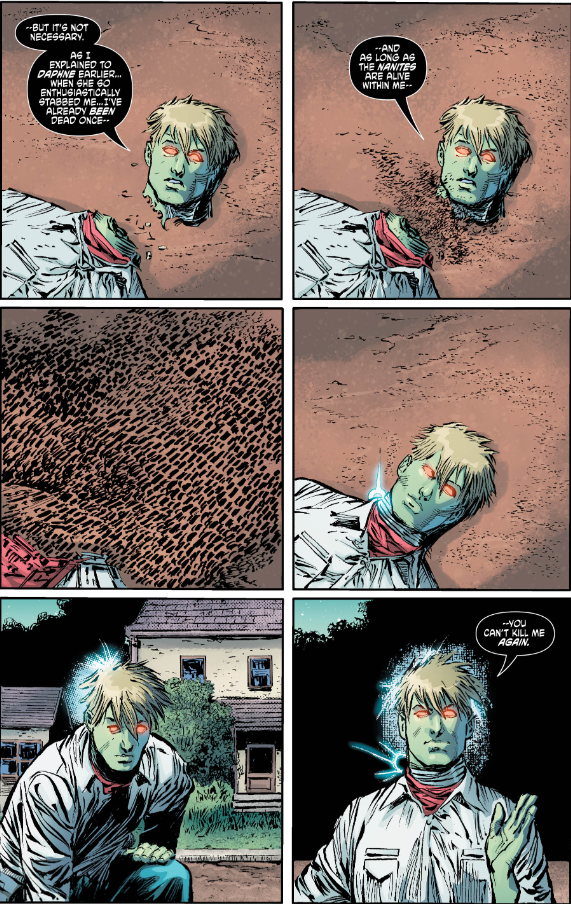 Positives
Things have been coming to a head in recent issues for the gang as Daphne is coming to grips that Fred is really gone, but the Nanites inhabiting his body are not through with Daphne's personal torture.  Fred's consciousness through the nanites is really taking its toll on Daphne!  Consequently, the appearance of Rufus and Quentin have really put things into awry for Daphne.  As she is the glue holding everything together, she not only gets the return of her relatives, but she has to deal with the possibility of Daisy yanking at Shaggy's protective instinct.  DeMatteis really does a good job of weaving in elements of the simpler times of Scooby-Doo and the gang and this new grittier story line that really has developed a strong audience.  As a newcomer to the series, this issue provided me an excuse to go back and acquire a few issues to get caught up!  An uber-intellectual Scooby is desirable, and needed in this Apocalyptic world!
Speaking of Scooby, his role as a mentor so to speak, rears its head in the sincere conversation he has with Scrappy!  We see a torn Scrappy-Doo in his allegiance to Quentin and his desire to remain loyal to the survival of the gang!  This is not your Saturday morning cartoon Scooby and the Gang!  DeMatteis has plopped the characters into a Walking Dead/Future Tech world that is both sophisticated and gives a Scooby crowd a new angle to both appreciate as well as to compare to other stories of the same nature going on in pop culture.
Negatives
As a new comer to the series, I had to back track as it's a bit hard to gain where the story line is.  However, DeMatteis writes a comic that is deep, but also inviting to catch up on!  I have taken the bait!  That being said, one needs to know going in that you have to back track to gain where the Gang has come from and how this current timeline is working!
Verdict
I'm hooked and I am in.  There is enough shreds of the Saturday Morning Gang I have known since I was a kid, and the re-imagining of characters is spot on!  Given the strong writing and a bit of fluff provided by Atom Ant "shorts" that have been peppering the comic, there is something for everyone!  I just wish Daphne had her old Fred!