[Editor's note: This review may contain spoilers]
Director: Rob Bailey
Writer: Tze Chun
Starring: Ben McKenzie, Donal Logue, David Mazouz, Robin Lord Taylor, Erin Richards & Camren Bicondova
Summary
With the creation of Haven as a safe place for refugees, Gordon hopes to stop the gang fighting in Gotham. Meanwhile, Selina is determined to find Jeremiah and she convinces Bruce to help her.
Positives
This episode is the proper introduction of Francesca Root-Dodson's Ecco who was almost entirely silent last season but now is the show's full fledged version of Harley Quinn even if the show runners are not allowed to call her that. Root-Dodson gives a fun performance and I like the design a lot.
The Mutants from Frank Miller's The Dark Knight Returns also feature in the episode and that's very cool. They look great and they completely fit with the tone and style of this show. I hope we get to see them.
Selina's story is the most compelling. Her desire for revenge, fueled by Ivy's plant, plays well in contrast with Bruce. She's losing control and Camren Bicondova is fantastic as usual.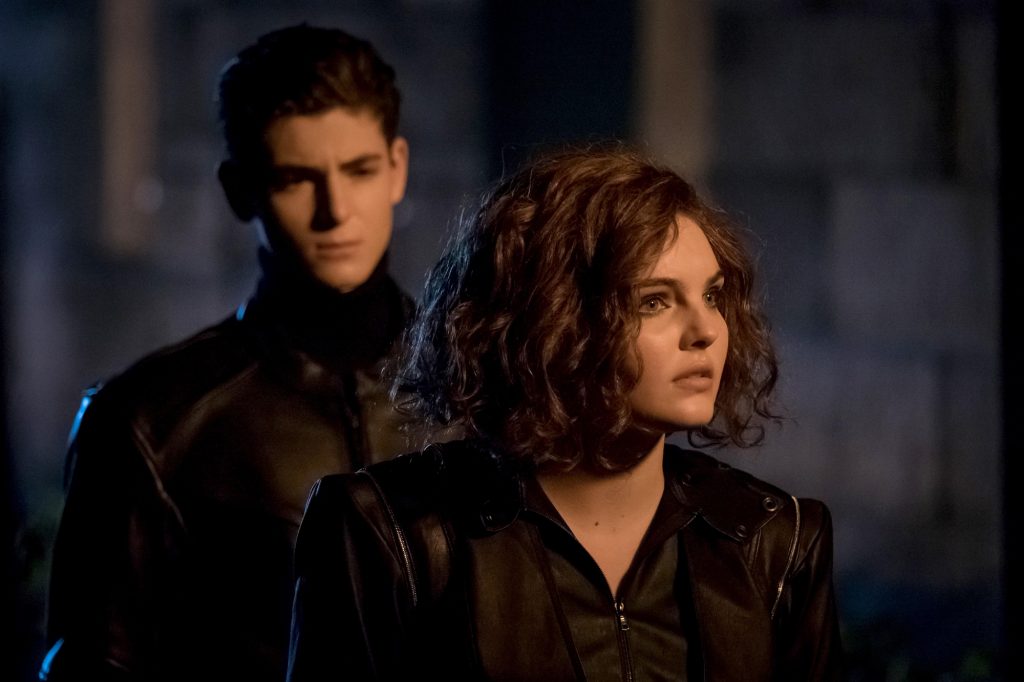 Penguin has a choir that follows him around singing about how great he is; I love this show.
The cliffhanger is amazing. It's a genuine surprise and I'm really happy the show went as far as it did. I can't wait to see what happens next now.
Negatives
The A story with Gordon facing off against Penguin at Haven is a little dull. It's not the worst but I wasn't super into it. An element I found to be bizarre was that Bullock went to get Barbara for help against Penguin when they realized he was coming after Haven. It takes Bullock and Barbara literally hours to get there; they can't be that far away. And by the time they do finally get there, the conflict has been resolved and it's the end of the episode. It's so weird.
There was a very strange choice during one of Bicondova's lines. She says that she hates a gun being pointed at her. And they directed her to hiss at the beginning of the word hate for a very long time. It's just awkward.
I understand that it isn't the writers' fault but is so weird that Ecco can't be called Harley Quinn. She is 100% Harley; there's nothing about her that isn't Harley. That cartoon won't air until after Gotham ends and the Birds of Prey movie isn't out until next year. There's no conflict and even if there was, I don't think anyone would care. It feels unfair to both Root-Dodson and Cameron Monaghan who are playing great versions of these characters that don't get the title for no reason.
Verdict
This is a solid episode. The A plot is a little dry but it's enjoyable enough. The highlight is Selina's story of hunting down Jeremiah. The weirdness of the show comes through a little more in this plot and it's just a lot more engaging. However, the ending is great and it will be fun to see where the show goes next.