[Editor's Note: This review may contain spoilers]
Writers: Sholly Fisch, Dan Slott, Barry Liebmann
Artists: Dave Alvarez
Colors: Digital Chameleon
Letters: Gabriela Downie, John Costanza
Summary
In "Home Planet" Charlie Dog and Marvin the Martian cross paths in an effort by Charlie to convince Marvin he is a better "alien's best friend" than Marvin's trusted K-9.  The grass is not always as green as it seems…neither is the martian dog.   In "A Few Important Words…." Daffy the Duck provides a bit of Shakespearean culture to the audience, but Foghorn Leghorn advises his feathery friend that uttering "MacBeth" on a theater stage is probably not the best strategy for anyone in theater!  And in "Bird's Eye View" our old friend the Road Runner "Plightus in Plain Sightus" is a thorn in the side of his constant adversary Wile E. Coyote "Schemious Off Screenious". Sight gags abound in this last story!
Positives
Fisch, Slott, and Liebmann return us to Saturday mornings with some retrospective tales that are light hearted and in the truest of Looney Tunes form.  Marvin the Martian faces Charlie the Dog in a rather funny tale where Charlie is seeking to replace K-9 as Marvin's pet.  Fisch provides Charlie as a hilariously "Bugs Bunny" type foil to Marvin and the story has a pretty clever twist!  Daffy and Foghorn "theater moments" offer advice from yesteryear with some clever sight gags.  And speaking of great art conveying the lost art of the funny papers we love on Sunday mornings, Slott's Wile E Coyote and Road Runner story is huge on art and funny, while being sparse on dialogue.  And in this medium, it works!  Great cover art as well!  Who doesn't love two puppies and a Martian?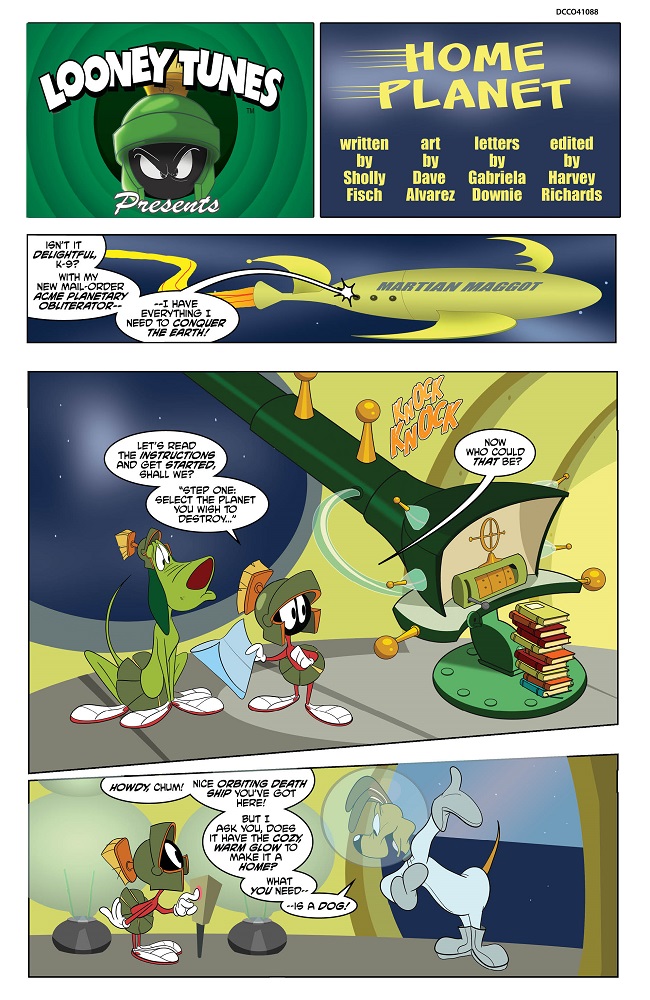 Negatives
I am not one to heap negatives on anything that screams Saturday mornings, a bowl of cereal, and cartoons of yesteryear!
Verdict
Again, Great stories, Great art, and always, the lighter side of Saturday morning cartoons that an older generation yearns for.  This issue was light hearted and provides some old standbys for delivering the laughs!   And this cover art looks great!  Young kids should get this and read with their parents and grandparents.