Last month, I had the pleasure of attending the Fathom Events double feature of The Death of Superman and Reign of the Supermen.  Following that screening, I wrote my review for Reign of the Supermen, which can be found HERE.
Now, with the film's Blu-ray release, I wanted to check out the special features and give them a review.  So, here we go.
[Editor's Note: This review may contain spoilers for the special features]
TRAILERS
When I first popped the Blu-ray in, two DC trailers played: Aquaman and Constantine: City of Demons.  This was a good set of trailers to start off the disc, as Aquaman has just recently become the highest grossing DC movie of all time.  And having another recent animated film's trailer was a good choice.
During New York Comic Con, I had the pleasure of attending the early screening of Constantine: City of Demons.  I had missed the CW Seed short episodes (that wound up as the first act of this film), so I went into it with no knowledge of what to expect.  This was a great animated film that almost no one talks about, so I was happy to see the trailer here.
Then, when opening up the special features, I noticed an option called "Trailers".  I assumed this would just be the two trailers I had already seen, but decided to check it out for myself, and I'm glad I did.  There were two different trailers here: Shazam and The Death of Superman.  I love the Shazam trailer, and rewatching it reaffirmed my anticipation for DC's next live action film.  And including the trailer for The Death of Superman makes total sense as this is the follow-up film, continuing the story it started.
FROM THE DC COMICS VAULT
This Blu-ray included two episodes from some DC animated shows.  The first episode was from Superman: The Animated Series, titled "Heavy Metal".  This is the debut of the character Steel.  John Henry Irons builds an armored suit and becomes the hammer-wielding superhero just in time to take on Metallo, who comes very close to killing Superman.
I thought this was a great episode to include with Reign of the Supermen, as the film also tells the origin of Steel, although, in a very different manner from this episode.  As soon as the episode started it was very noticeable that it wasn't reformatted for modern day widescreen televisions.  I wish this was something they had opted to do when deciding to include it in the special features.  It's also funny just how "90's" the music really was back then.  And I totally forgot that Malcolm McDowell voiced Metallo, which was a nice surprise.
The other episode was "Panic In The Sky" from Justice League Unlimited.  In this episode, after facing harsh rebuke from the peoples of Earth, the founding members of the League surrender to the authorities.  Meanwhile, Cadmus sends an army of super-powered clones, commanded by Supergirl's clone, Galatea, to attack the Watchtower.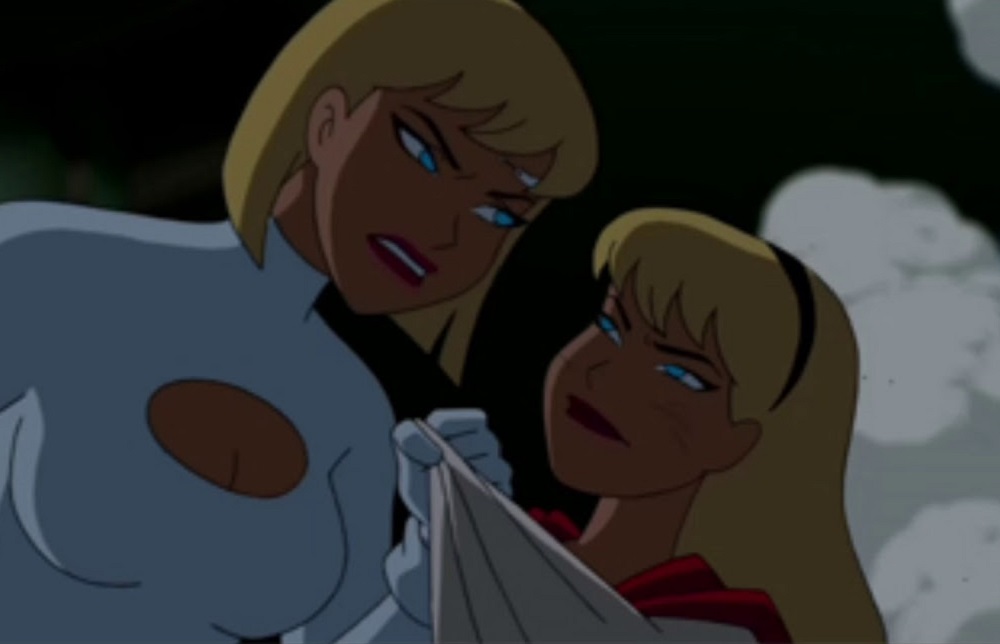 I really don't understand why this was the episode they chose to include.  There was very little connection to the film here, like there was in the other episode.  This episode did have Steel in it, but he wasn't the most central character.  It also included a clone of a superbeing (Galatea, clone of Supergirl), a selfish and devious plot by Lex Luthor, and Cadmus labs.  But that's where the similarities end.  Also, this was the third episode of a four episode story arc, and it ended on a cliffhanger with Brainiac revealing himself.  It was a very unsatisfying episode to watch as a standalone.
LEX LUTHOR: THE GREATEST NEMESIS
This was a great featurette that dove into the deeper aspects of Superman's greatest foe, Lex Luthor.  It's more of a psychological breakdown, as opposed to a history lesson, which I really liked.  We get to hear from people like Reign of the Supermen director Sam Liu, Superman: The Man of Steel artist and one of the architects of the "Death of Superman" storyline Jon Bogdanove, and former DC Editor (during "Death of Superman") and current Director of Animation for DC Entertainment Mike Carlin.
They talk about how Lex is a key figure in Superman's supporting cast, going so far as to call him Superman's Joker.  I had never really thought of him that way, but it's absolutely true.  I'm a big fan of the case study approach when talking about a character, as it provides a much deeper exploration, which most people don't give.
SNEAK PEEK AT JUSTICE LEAGUE VS. THE FATAL FIVE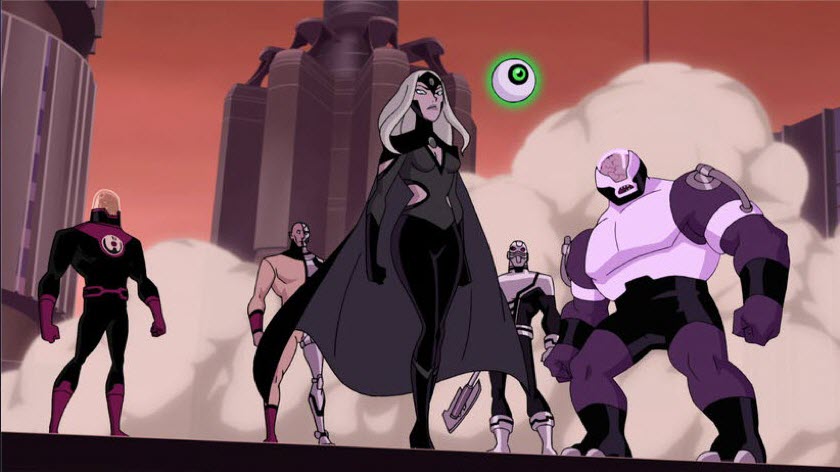 The final special feature is a sneak peek at DC's next animated film, Justice League vs. The Fatal Five.  Here's the official synopsis:  "Justice League vs. The Fatal Five finds the fate of the earth hanging in the balance when the Justice League faces a powerful new threat — the Fatal Five! Superman, Batman and Wonder Woman seek answers as the time-traveling trio of Mano, Persuader, and Tharok terrorize Metropolis in search of budding Green Lantern, Jessica Cruz. With her unwilling help, they aim to free remaining Fatal Five members Emerald Empress and Validus to carry out their sinister plan. But the Justice League has also discovered an ally from another time in the peculiar Star Boy — brimming with volatile power, could he be the key to thwarting the Fatal Five? An epic battle against ultimate evil awaits!"
When I first heard about this movie, I was really excited, mainly because of the inclusion of Jessica Cruz.  She has become one of my favorite Green Lanterns, so it is nice to see her getting some exposure.  I'm also excited for the Legion of Super-Heroes to get some screen time.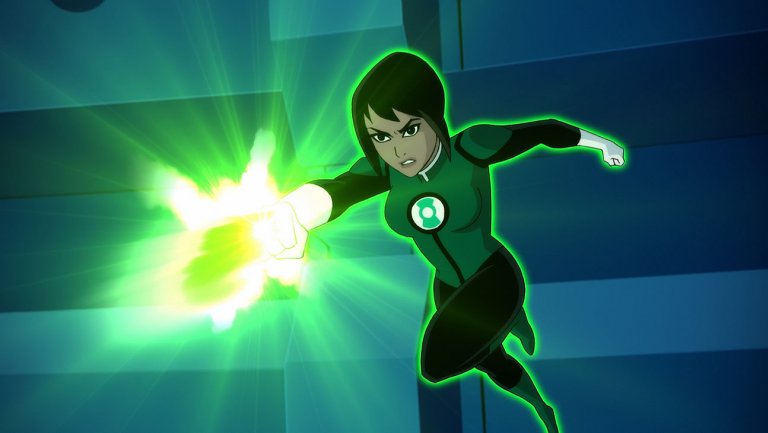 This sneak peek really dove into what we can expect from the upcoming film, getting some insights from executive producer Bruce Timm and director Sam Liu.  This really looks like it'll be a great introduction for the Legion of Super-Heroes into these films, and I loved how they described the portrayal of their two neural atypical characters being showcased – Star Boy and Jessica Cruz.
Justice League vs. The Fatal Five boasts an impressive cast, including DC animated veterans like Kevin Conroy (Batman), Susan Eisenberg (Wonder Woman), and George Newbern (Superman), who all worked together as these characters on Justice League & Justice League Unlimited.  We also get Game of Thrones star Elyes Gabel as Star Boy and Diane Guerrero as Jessica Cruz.  I hadn't realized that Diane Guerrero was voicing Jessica Cruz until I watched this.  I guess it just slipped by me.  She also happens to be playing another DC character, Crazy Jane, in the upcoming DC Universe original series Doom Patrol.
This film looks great, and I am excited to see it when it finally comes out on August 6, 2019.
Verdict
Overall, I enjoyed the special features on this Blu-ray.  The featurette and sneak peek were great and well worth the watch.  However, I was disappointed in the choice to include "Panic in the Sky" as one of the animated episodes from the vault.  I also wish there had been one or two more special features.  Even one of my least favorite of the recent animated films, Batman Ninja, had more features included, which I enjoyed more than the film itself.
SCORES
Reign of the Supermen
Special Features
Overall Blu-ray Score