[Editor's note: This review may contain spoilers.]
Director: Marcus Stokes
Writers: Jeane Wong and Rebecca Bellotto
Starring: Stephen Amell, David Ramsey, Emily Bett Rickards, Rick Gonzalez, Juliana Harkavy, Kirk Acevedo, Colton Haynes, Katie Cassidy Rodgers, Sea Shimooka, Audrey Marie Richardson, Ben Lewis, Andrea Sixtos, Joseph David-Jones, Kate McNamara, Liam Hall, Kelly Hu, Amy Gumenik, Parmiss Sehat, Adrian Paul
Summary
While Lyla and Diggle deploy The Ghost Initiative in a last-ditch effort to apprehend Dante, Oliver tries to bond with Emiko through assisting her with her mission; Felicity struggles with both Diaz's status and her own latest development.
Positives
Plot twists, unexpected casting, and the theme of family dealt with in parallel ways.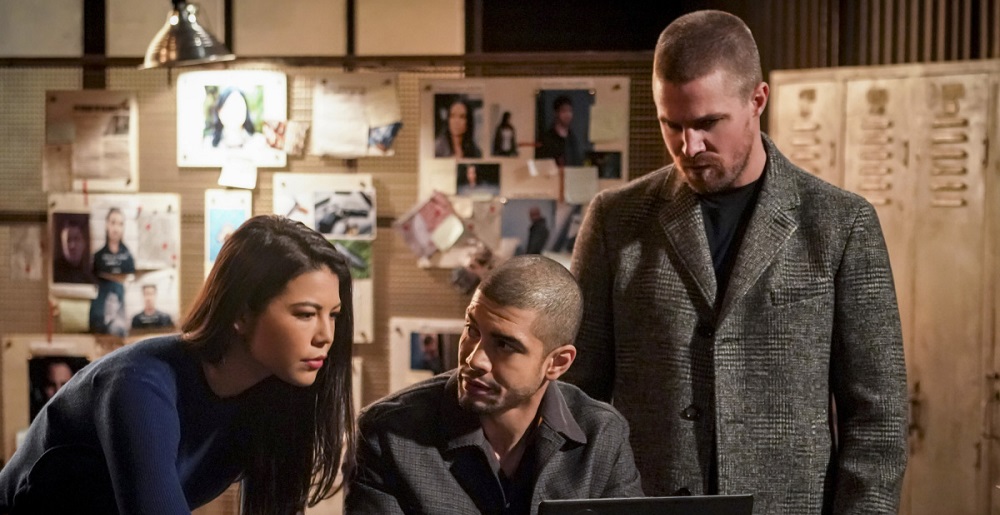 Stephen and Sea's chemistry as brother and sister is starting to develop rather well. Sea's pulling a lot of Amell's season one approach to Oliver in her characterization of Emiko Queen, which complements the writing. Emiko is driven, single-minded, closed off, and very distrustful of people. And, like her brother, she's made interesting friends in her training (more on that later). Like any older brother, Oliver is trying to use his own experience to make his younger sister's path easier, which, of course, crashes and burns via overreaching. The writers make good use of Rene as the middle man and Emiko's Diggle 2.0 aka the voice of reason. The part about how Oliver would've felt in year one if someone had yanked his dad's list out of his hands without his permission shows how insightful Wild Dog has become. Thankfully they didn't shove him aside after Oliver became aware of his connection to Emiko. The final conversation between the two on their miscommunication issues shows good sibling relationship-building, albeit potentially destined to fall (again more on that later.)
The title of the episode also refers to the parallel established in the Flash-forward sequences involving William Clayton and his newly-discovered younger sister, Mia Smoak. Good decision on the writer's part to show how closely-guarded Felicity's daughter is in the sense that even Connor was not aware of her lineage. Mia is the much-needed insight as to how future Felicity has turned out, depicted as deeply paranoid and suspicious. This paranoia is also evident in Felicity's choice of format of evidence in the low-tech choice of a mini cassette and the whole cube-within-a-cube-within-a-cube gag with the Rubik's (the HARDEST toy to master for some people, I might add). The apartment scene between William and Mia was needed to both get their viewpoints on Oliver's legacy, and show how alike they are in spite of differences in upbringing. It's also needed to show a discrepancy of events. Adult William claims that Oliver never reached out to him after he went to live with his grandparents; in present-day, Oliver's filled his son's voice mailbox with calls trying to reach him. In the end, like Oliver and Emiko, the children of The Green Arrow complement each other through their connection to their mom.
The present-day Felicity and her pregnancy concerns are the seeds that the audience needs in order to understand the possible catalyst for future Felicity's spiral to the dark side. Emily's scenes are made all the more surprising when her character is played off of her new "bestie" Laurel Lance, who's uncharacteristically supportive. It's fascinating watch this budding friendship that initially began with Felicity's vendetta against Diaz, a subject that again brings them together. Katie again manages to show softness behind Earth-2 Laurel's biting tone, which is matched in perfection by Emily's Felicity holding back a mountain of rage at the news involving Diaz and her nonchalant way of setting up that bomb to blow in his head. The fact that Laurel's supportive of ensuring Felicity's pregnancy goes well, and her basic knowledge of what she should be doing, also brings up possible future threads for the writers to explore. How does she know all this? Did she do research on Felicity's behalf? Or did she…? Time will tell. Her scenes with Stephen are A-rating as always as husband and wife still do their dance-around-the-issues, but this time with more transparency. Oliver again shows growth by putting his wife's feelings first regarding getting involved in A.R.G.U.S.'s mission, as does Felicity show growth by having Diaz at gunpoint but rising above her demons. You feel the love and you get that exhilarating joy when she finally breaks the good news to Ollie about the newborn on the way. Emily, for the record, is adorable as a pregnant Felicity Smoak sitting cross-legged on the counter eating ice cream.
Oliver and Felicity's happiness is appropriately paralleled (sorry if I'm overusing that word) with the situation at A.R.G.U.S. regarding Lyla and Diggle. Their Hail Mary pass with the Ghost Initiative is going sour with news that Lyla may lose her position because of this. David has good moments that show John has learned in the past year about what he values most and where his priorities need to be. As hard as they are, the writers go to great lengths to remind the audience that Diggle through his choices that he values family above all else, and that includes his original bond with Oliver and Felicity. Audrie does a great job conveying the conflict Lyla is faced with regarding this fine line that she backed up in order to nail the elusive Dante and end the corruption at A.R.G.U.S.. What works is that after the big reveal and final confrontation is the twist of the knife; a potential source of said corruption is dispatched yet given a hero's sendoff while Lyla's head is still bound for the guillotine. Having Diggle willing to have his career ruined to keep his wife in that chair is a clever way of bringing him back to Team Arrow full-time and speaks to his character.
Now on to the twists. So…Adrian Paul is Dante? Personally, I could not have been more stunned they cast him in that role. For those who are too young to remember, Paul starred as Duncan MacLeod in the "Highlander" TV series based off of the Christopher Lambert movie. He's since used his gained knowledge of swordsmanship to teach others in his international classes known as "The Sword Experience." I cannot think of a better actor that can complement Stephen in both performance and fight choreography. At best, he's on the same level as Manu Bennett in that regard. Plus, the writers are smart to not only NOT make him a throwaway character to give Lyla and Diggle something to work on together, but to make him more connected to Oliver through Emiko. The show needed someone that could instill fear even in The Dragon (poetically dispatched, by the way), and believable enough to be behind The Longbow Hunters. Paul's delivery is on a different level of chill regardless, and not hearing him get winded makes him all the more intimidating with the knifework. It's the escalation that Oliver needs now that he's in a relatively good place right now. The use of daggers are a dead giveaway in retrospect; they are Dante's weapons of choice and Emiko's choice during training (nice season one parallel with the tennis balls). He is Emiko's mentor, and the battle for her soul will make for a great way to close out the season.
Negatives
The biggest waste of time, I find, is the Ghost Initiative, cleverly name dropped as "Task Force X" by our favorite b**** with wi-fi. You have some of the top Arrow villains going all the way back to season one indoctrinated, and all you get are a few training scenes and a five minute fight sequence? And, in the final attempted takedown, why would you only have Diaz involved? All of these combatants are fully capable to be effective in the field without trademark weapons. Plus it would've been fun to have seen Oliver interact with them in the field, especially Kane Wolfman (Liam Hull), aka Slade Wilson's son, and China White (Kelly Hu), the first comic-inspired big bad he's fought against. Oliver's new deputized status in Star City would have been a perfect point of contention to play with. Smoke screen has to be effective or it's just candy fluff, and the latter is what we wind up with. Also, what's this about John Diggle being Connor's "adopted" father? They're biologically related, so how does that work?
Verdict
I'm trying to ignore the waste of talent in the Ghost Initiative scenes and instead focus on the awesomeness of a strong casting choice for Dante, great brother-sister moments in present and future sequences, and the level of excitement in the revelations that Arrow is known for. The writers were smart to make use of the Dante character in a way that extends his relevancy to the Queens beyond Ricardo Diaz. I'm really looking forward to how the latter half of the season plays out and what we will find regarding Future Felicity. See you guys next week!
Rating: