[Editor's Note: This review may contain spoilers]
Writers: Adam Glass and Christopher Priest
Artist: Bernard Chang
Color Artist: Marcelo Maiolo
Letterer: Rob Leigh
Summary
"The Terminus Agenda" – Part One. I've been looking forward to this story for a looooong time. Deathstroke and the Teen Titans have a history that goes back over half of my lifetime, so getting a crossover featuring DC Comics' greatest assassin, and the latest iteration of their ultimate teen super-team has me pumped. Yeah, baby. Let the fireworks begin!
Positives
So, so many. Adam Glass and Christopher Priest are two incredibly talented writers. Glass has made me fall in love with characters that have only been around for the last few months – his creations – as much as I already adored the core team. He's made me feel that D'Jinn, Roundhouse and Crush deserve to be Teen Titans, just as much as Robin, Red Arrow and Kid-Flash do.
Priest has been writing comics gold since I was a teen, if not longer. His work on Deathstroke is what makes that book a success, in my humble and honest opinion. Under a lesser writer Slade Wilson could be a two dimensional killer and nothing more, but Priest has made him deep, fallible and human. This is character I should hate, yet I actually feel for him.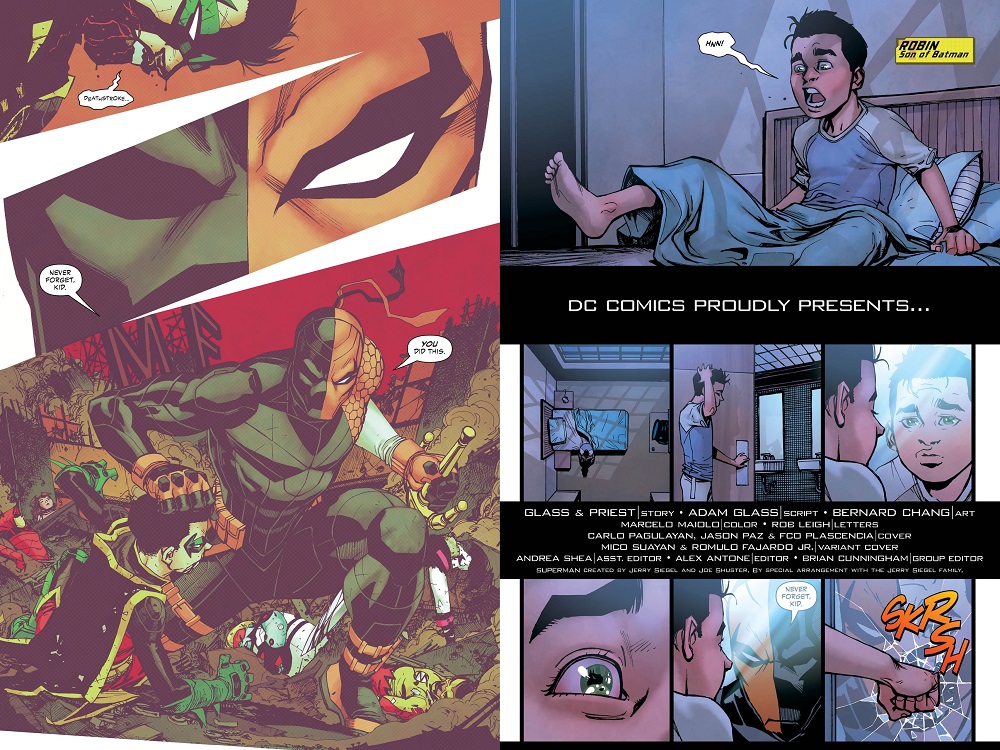 The art more than lives up to the writing. From the low contrast intro pages of Robin's nightmare, to the beautifully rendered sequence that follows, line artist Bernard Chang and colorist Marcelo Maiolo prove they are forces to be reckoned with. Look at page two! No fighting, no villains, no threat no danger… but a truckload of emotion. Robin's face as he awakens, his reflection; the light from the window across his bedroom, shining off the glass and reflected in his eyes. Gorgeous.
Action fans, worry not. A scene in the barber shop, later in the book, highlights exactly just how awesome Deathstroke is, due to both great writing, and top level art. Rob Leigh's lettering is also first rate. Slade telling his own story and telling us just how awesome he thinks he is, is magic. Leigh's careful placement of the text, littered around the carnage, was beautifully handled.
Negatives
This issue could, perhaps, have had a touch more action, but I didn't feel it was necessary. This is, after all, just the first chapter of a crossover. I'm sure that adrenaline junkies will get their fill of fisticuffs over the coming weeks.
Verdict
Consequences. That's what I'm looking forward to, yet at the same time dreading. For the last few months I've been expecting the other shoe to drop, when it comes to Robin's illegal incarceration of several villains. Another team-member discovers his secret in this issue, so I'm wondering how long it will take before it's no longer a secret at all.
As someone who reads and collects Teen Titans and Deathstroke, I'm beyond excited to see what the fallout from all this is going to deliver.
Deathstroke #42, here we come.
Images Courtesy Of DC Entertainment
//pagead2.googlesyndication.com/pagead/js/adsbygoogle.js (adsbygoogle = window.adsbygoogle || []).push({ google_ad_client: "ca-pub-9882021783221697", enable_page_level_ads: true });