Director: Patia Prouty
Writers: Sarah Tarkoff and Elizabeth Kim
Starring: Stephen Amell, David Ramsey, Emily Bett Rickards, Rick Gonzalez, Juliana Harkavy, Sea Shimooka, Katie Cassidy Rodgers, Jamey Sheridan, Kacey Rohl, Adrian Paul, Miya Cech
Synopsis: Laurel confides in Oliver regarding what she knows about Emiko; Emiko's past is revealed as her present-day allegiances are tested and confirmed; Laurel's extreme measures as D.A. causes Dinah to question whether she truly is reformed.
Positives:
Trying to get over the mind blowing revelations in this episode. The writers are on their A-game this week! All right, y'all, I'm centered, so here we go.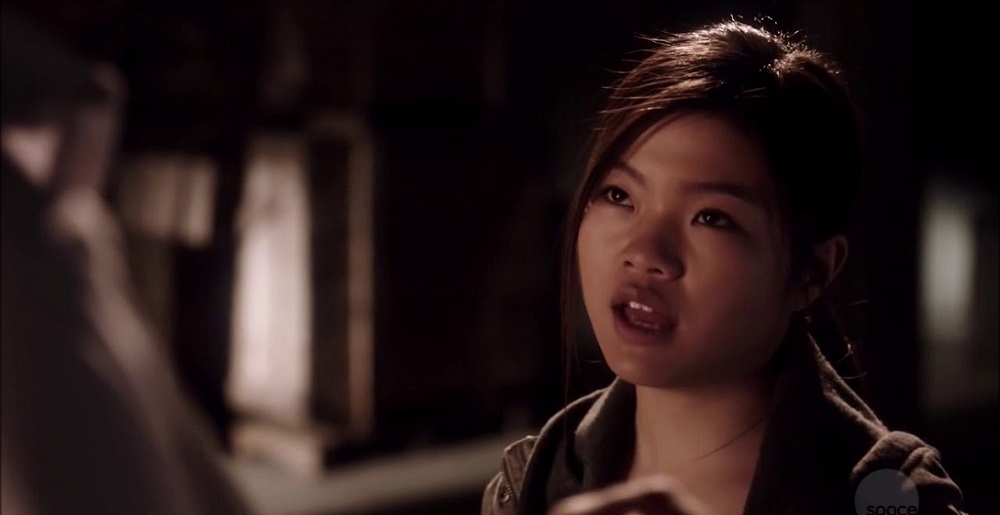 With the inclusion of Emiko Queen and Dante, both characters who had a massive spotlight in the recent DC Rebirth run on Green Arrow, the concept of the Ninth Circle was bound to be around the corner. But let's focus on Emiko. Sea's performance is exactly what the character needs to fully imagine Emiko's personality: enigmatic, committed, and focused.
For her flashbacks, seeing Robert Queen's rejection of his second family was as necessary to drive home the source of her pain as it was witnessing the Queen's Gambit sinking way back in the pilot. What works is her ability to appear as the wayward sister under duress, then do a complete 180 into a vindictive, unforgiving individual. The writers' direction to have her lure Ollie in so completely until she had what she wanted is brilliant and more multifaceted than her comic counterpart's turn. She is very much the mirror to Oliver in her level of conviction. The writers never fail to deliver shock factor in their character development. To both reveal Emiko is not Dante's subordinate but rather the reverse, and she had prior knowledge to the Circle's involvement in the sabotage of The Queen's Gambit COMMISSIONED BY MALCOLM MERLYN (still retraining his culpability in that tragedy) was a masterstroke. Sea's expressionless look at the blueprint burning is very telling. This is a woman who was tired of being shoved aside by a man who wanted nothing to do with her or her mother. A man she considered warning, but failed to give her any incentive to do so. Her chemistry with Adrian Paul works in the difference in emotional expression; Dante is honed and centered, never raising his voice, while Emiko still has moments of imbalance. It's a parallel to the sibling relationship with Oliver through training. By raising the level of crimes Emiko has committed as a member and now leader of the Ninth Circle makes it a monumental challenge to put this character on the path to redemption. Perhaps her soft spot for Rene, who is more shaken than Oliver by this deception, is her only salvation. She could have killed him in that last fight, but she chose to spare him instead. Out of everyone on Team Arrow, she has had a connection with him, and that is a double-edged sword that has yet to be put in play. No one knows Emiko is the actual leader of the Ninth Circle yet; the fact that Oliver believes her to be just a cultist follower under Dante is just as dangerous as a bow in her hands. Good choice of child actor to portray young Emiko; from confused and heartbroken daughter to hardened delivery girl of the streets (Frank Bertenelli knew the Circle?!), Miya has great acting range.
Jamey's return as Oliver's father in flashbacks reinforces the duplicitous nature of Robert, which has mostly been told in retrospect conversations and post-mortem videos and letters. His ability to convey a heinous decision under a veil of sincerity enhances the gravity of his crimes against Emiko and her mother. It's one thing to see Jamey in vague sequences with Stephen conveying his guilt over his life's choices. Seeing them in action is a different story. Child abandonment and neglect are more human sins that grip the viewer a little more tightly than an earthquake machine or job layoffs. The lunch meeting with Emiko is interesting because you see a child eager to earn her place in her father's graces, and the latter only partially acknowledging her efforts. He seems to have little care for what happens to Emiko; instead of showing any encouragement or support, he reminds her of the order of things he's set. The writers had to get across that entitlement in a manner that was both subtle but blunt to both Emiko and the viewers and they succeeded. Jamey's delivery of these lines work in that his tone of voice never changes. His tone is that of sincerity, which betrays the harshness of his words. The fact he's oblivious to how hard things have been for Emiko and her mother suggests he's unaware that Walter never received that letter requesting financial support. Robert's sin of abandoning her daughter is compounded by the fact he sends her straight into the arms of the Ninth Circle, and himself straight into Hell. The black envelope isn't a focal point until that moment that Emiko attempts to tell her dad what Malcolm has planned, but stops herself thinking he doesn't deserve it. Malcolm may have commissioned the bombing, but it was Robert's own arrogance that signed his death warrant.
The redemptive path Laurel has been on these past few months was cleverly kept without disruption because the writers obviously had plans to shake things up. Juliana and Katie have great chemistry together as frenemies, the former holding the latter's feet to the fire as she promised. The fact that the SCPD and Team Arrow are in a delicate balance that's still easy to tip makes Dinah more committed to ensuring Laurel doesn't screw it up. While her real identity is not known, to the public Laurel Lance was once the Black Canary and is now Assistant District Attorney bound by the law to follow the rules. This is not the case of a split personality; this is a woman who was once a cold-blooded killer that had caught a lucky break, a fresh start, that she may not have deserved. The interrogation scene with Hernandez works in that Dinah is watching Laurel's approach very closely.
Having Laurel almost flip out on him when he insults Quentin's memory was just what the writers needed to make Laurel's later denial of any wrongdoing more suspect. Her retaliation to Dinah, venting her frustrations at trying to prove herself, reveals under that composed demeanour is a person who feels persecuted and pressured regardless of her efforts. Dinah's bias against Laurel because of Vinnie's death also works in favour of The Ninth Circle's screw job. Framed for murder and exposed in the media, Laurel is basically punished by Emiko, who puts forth the notion that she may have set her free from her "cage." In reality, the maneuver have produced a very relevant distraction for Team Arrow to deal with, and it will be interesting if this "lost canary" can find her feet again.
The attention to The Archer Program – given its relevance in the flash-forward sequence – is enhanced by both Felicity's advances and the Ninth Circle's interest. Extending this surveillance tech from Team Arrow software to public seems like a natural progression given its effectiveness. She really has come a long way from being the IT girl located 18 flights of stairs down from the top floor of Queen Consolidated. The return of Alena from last year, given her murky past with Kaden James, is a surprising choice for Felicity to make as CTO, albeit needed for levity. Redemption is definitely in the Star City water it seems. Alena is very much the parallel to Felicity, right down to her current job at Tech Village, so their personalities are very complimentary. Kacey and Emily have great comedic chemistry together. However, the discussion as to what to do when there is no DNA sample on file leads into potential ethical boundaries to be crossed. Not that Felicity has been averse to hacking into satellites and police databases in the past, but given where Archer is headed, could Alena's involvement be what sparks that dark future for Smoak Technologies? Further, can the overeager Alena be fully trusted?
Now we come to the man himself. Since finding out about Emiko, Oliver thought that he'd been making progress with building a rapport with her. The chemistry between Stephen and Sea as brother and sister shows noticeable difference during the training sequence. Their fight choreography together is excellent both as just sparring partners and full-blown adversaries. His conveyed outrage and her complete heel turn in the bunker had the right intensity. A shocker was when Oliver put her in his trademark neck-snapping maneuver. The maneuver that made Arrow stand out in the pilot eight years ago has become a statement as to how far he's willing to go. Putting that move in this fight, and seeing Emiko's expression of fear, leaves one to wonder Oliver's level of rage and betrayal. His heart-to-heart with Diggle after the fact made the most sense since John had gone through that two years ago with Andy. Only now it's a straight role reversal that leads to the same result: Emiko has to be stopped moreso than be redeemed. As an older brother myself, I can't give up on any of my siblings either regardless, so I get Oliver's desperation to atone for his family's crimes. But there is a measure of growth that's occurred; it's no longer a cut-and-dry approach to righting his father's wrongs. Emiko's situation is multifaceted, and therefore more difficult to resolve. She's had eight years with the Ninth Circle, and has clearly embraced their ways. But could there be a situation like Black Siren, in that because she's embraced the darkness, she doesn't see any other way? Is that what Oliver himself sees? Time will tell, and the clock is running considering she has the drones, the gas, and quite possibly soon The Archer Program as well.
Negatives:
Jamey's lack of a beard. It seems like facial hair is the hardest thing to maintain in this series, since we've seen cases where Stephen has had to shave for the flashback sequences and he's only got a five o'clock shadow in some scenes. Sorry, we noticed!!. I highly doubt Robert could sprout a full beard in the course of a day before boarding the yacht. Then there is the question of Talia teaching Ollie Tae Kwon Do; these two were together in Russia for a short time, so where did she find the hours needed to instruct him?
Final Verdict:
I give this a solid 5 out of 5 this week. Awesome writing and pitch-perfect performances from all parties involved. The latter half of the season has become very engaging and the inclusion of Dante and The Ninth Circle heightens the stakes. As I said the writers hit their mark yet again this week and I look forward to how they handle the potential fall from grace for Laurel Lance. See you guys in two weeks!
Rating: