In 2012, I was 32 years old, and up until that point in my life I had never invested my time to watch a TV show. A life long DC fan, a life long, super invested Batman fan. I've written plenty on the Dark Knight, it's now time to pay homage to another character that has had a great impact on my life.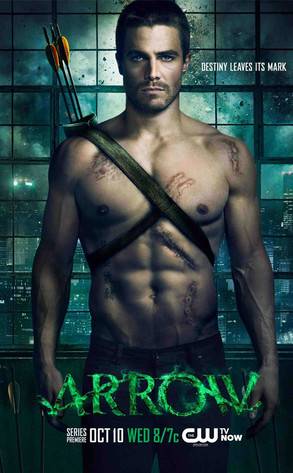 It was October 2012 and I was in the middle of a five week holiday with my family in which we travelled across Canada and the USA, coming from Melbourne Australia. It's a long trip, with over thirteen hours on a flight just to get to L.A.  We were staying on Broadway in downtown Manhattan, and I was getting up early each morning to go for a run. I was running through time square at around 7am and remember seeing this huge CW/DC Comics billboard. It was massive, so big it stopped me in my tracks. I looked up at this dark gritty image of "Arrow" starring Stephen Amell. I will confess, and you will probably laugh at me, but at that point I had no idea who the Green Arrow was. The billboard, which had shades of the Dark Knight, sparked my curiosity, so I took a photo of it and kept going on my run. Getting back to the hotel, I looked up who the Green Arrow was and immediately drew parallels with the Batman. It had begun.
Fast forward to March 2013. I found myself back in the USA again, but this time I was on a business trip and the Arrow advertising was definitely main stream, a fit-looking guy named Stephen Amell in a dark green hood consumed me. Looking him up on the internet and seeing trailers for the pilot, I was immediately hooked. A sucker for a good training sequence (nothing beats the Rocky 4 training sequence), and being into fitness myself, I immediately had a connection to both the character and the actor. On the plane back to Australia I managed to get my hands on the first 16 episodes of Arrow season 1 and got through them all before landing back home. I knew that for the first time in my life there was a TV show that I was going to invest in.
Having come off the Christopher Nolan era of Batman films, the dark realistic gritty tone of a man doing everything in his power to execute what he believes is the right thing to do was evident. Two heroes, two men, no super powers, no special abilities, they both had their wits, their training, their focus and dedication. I was drawn in so fast, and became invested to the point where I started to modify my own training program to challenge what I witnessed Stephen Amell do in season one.
At the point of season one concluding, I officially had two favourite DC Heroes and my passion for pop culture had shifted. I was so heavily focused on everything Batman, yet all of a sudden I needed to make room for the Green Arrow, or as we called him back then, "The Hood". I remember the early criticism of the CW "stealing" or "taking" concepts, characters, and ideas from the Batman Universe and using it as a driving force for the show. It was such a smart idea at the time to take DC's premium product in Batman and implement shades of that into the show. It was a way to capture a big part of the DC market and it worked with early ratings rising week after week for the first two seasons.
For me, and probably the wider audience as well, the show peaked at the end of season 2 with the Arrow taking on Deathstroke. A genius move from the CW to strongly focus the second season on a basic yet effective concept of the "good guy vs bad guy". I remember we stopped what we were doing during the day (while at work) to watch the finale of season 2 and the epic battle sequence that really pushed the envelope for a super hero TV show. That last episode of season 2 was nothing short of brilliant.
Arrow, over the years, has been such a big part of my life, an emotional investment that added another dimension to my hobby and love of pop culture. Week after week, waiting for the next episode to be released, watching the character evolve and also Stephen Amell evolve as a celebrity. Stephen Amell as a man, his down to earth approach, engagement with his fans, much like others, drew me in. The manner in which he took the time to connect with his audience, engage us on social media and develop that relationship was an extra part of the experience over the years that I think places Arrow in a category of its own. What the show lacked in later seasons, Amell made for with his fan engagement, his constant and tireless efforts to raise money for charity, and his appearances at pop culture events year after year. Prior to Arrow, I had never donated a dollar to any charity. Over the years I have donated plenty to his F*** CANCER campaigns getting my hands on great gear that I was proud to wear in the streets of Melbourne.
The biggest moment and impact on me (without knowing what will happen in 2020) was the battle between Oliver Queen and Ra's Al Ghul. Another season consumed with a villain from the Batman Universe, I really enjoyed the CW's take on the League of Shadows. To my surprise, that season received a lot of criticism and I think this came down to the fact that the fans were constantly comparing what they saw to the persona experienced in the Batman comics, and for me this was going to be an unfair comparison. Given the budget, writing style, and the fact that there was always going to be differences, I think that season was executed on a level that far exceeded what we had experienced in a superhero TV show to that point. To end the mid way mark of that season with Oliver Queen falling to his death and Stephen Amell tweeting saying "it had been a good ride" just left us all gasping for more. I remember being reduced to tears in how that epic battle concluded, a fight between a legend and an up and coming hero still finding his place in the world. A battle Oliver Queen was never going to win. With all the memes drowning the internet soon after, I remember making my own. I pulled together a still image of Arnold Schwarzenegger screaming into the camera and with that I added the words "Oliver, get to the pit". Posting it on Stephen Amell's Facebook page grabbed his attention and soon after I had a notification on my phone that he liked it. I was over the moon!!! Total Geek out moment!
Relive the epic battle that consumed my imagination and captured my heart!
The #Olicity sub story to the show took our hearts and either drew us closer to the show, or created resentment. There wasn't really anything in between, I think that part of the show that was described by a lot of fans as a "dip" was a necessary component of the five year story. A lot of fans at times forgot that unlike most other shows, the CW had a five year story planned upfront which would have dictated the high level direction of Oliver's journey . While the detail wasn't laid out from inception, the love story between Oliver Queen and Felicity Smoak was part of a necessary evolution. One which we are seeing an extension of now in season 7.
Throughout the years DC Comics News (our staff and myself) have been lucky enough to interview key actors in the show. Our interview with Katy Cassidy, Echo Kellum, Kirk Acevedo, John Barrowman (which to this day was the best time I have ever spent conducting an interview), and the roundtables at SDCC '16 and '17 were moments that really allowed us to understand key insights to the show and personal insights from the cast. We have in turn shared this with our fan base, and for me personally, the show provided me with opportunities I am truly grateful for. If you haven't experienced the above interviews, take some time out, they are very entertaining.
John Barrowman is hands down one of the nicest people you could meet, a hug to finish off our interview in 2016 was fitting.
Make no mistake, Arrow set the tone for the next evolution of comic book TV shows, as it was the launchpad that gave us the broader Arrowverse, and without their acknowledgment, provided a point of reference for the Netflix marvel TV shows. By no means am I comparing them, but we should land on the sentiment that Arrow definitely created a new trend. Stephen Amell is Oliver Queen, the Hood, The Green Arrow. I will never forget being at SDCC 2015 seeing Amell come out on stage in his new Green Arrow costume, launching what was then the comic book adaption costume that was going to be introduced for the upcoming season. There have been so many highlights, so many fist pumping moments, so many emotional moments, so many heart capturing moments. In a time where people find it easier to pick holes and drive negative sentiment online, and even though the show has not been perfect; I am declaring the show a success. A modern adaption of an iconic character coupled with a brilliant man in Stephen Amell that took his fan base on an all consuming journey. Like they say, nothing lasts forever, and sometimes good things have to come to an end. The end is not here yet, but as Amell said, this is the beginning of the end.
Thank you to the CW, to Stephen Amell, the cast and crew, you have given us something truly special and I personally will be forever grateful.