[Editor's Note: This review may contain spoilers]
Director: Wayne Yip
Writer: April Fitzsimmons
Starring: Brendan Fraser, Matt Bomer, April Bowlby, Diane Guerrero, Joivan Wade, Hannah Alline, Timothy Dalton, Alan Tudyk, Riley Shanahan, Matthew Zuk, Jon Briddell
Summary
Each member of the Doom Patrol has something very important they have to work through, so instead of communicating with each other, the team splits the party and goes their separate ways.  Cliff and Rita attend Bump's funeral for a chance to see Cliff's daughter Clara, Cyborg and Jane attempt to find Flex Mentallo in hopes of locating the Chief, and Larry finally starts to face his past with John Bowers head on.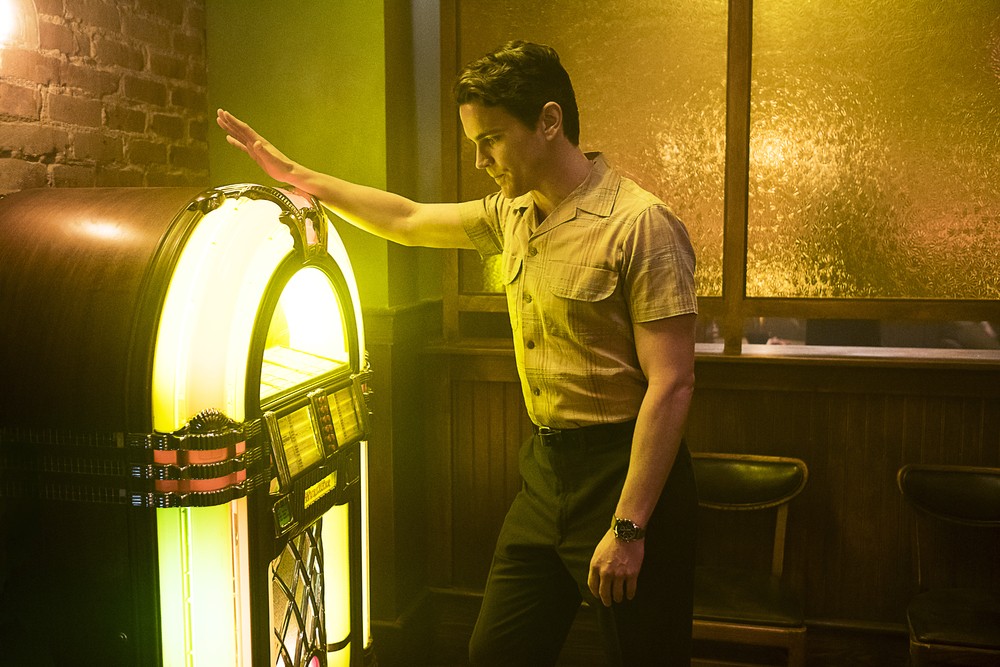 Positives
Doom Patrol episode 11 is a great look at the strength it takes to confront one's past.  By now everyone has picked a favorite character on the Doom Patrol.  The show achieves an incredible balance among the 5 stars, but every episode will be more important for a one or two characters than for the rest.  In "Frances Patrol," Larry Trainor (Matt Bomer) is the star of the show.  The majority of his scenes are either on his own or with John Bowers (Kyle Clements), and yet he's able to hold every one of them keeping our eyes glued to the screen as he experiences powerful dreams of what his life could have been.  Larry sees the happiness he's afraid of having, the truth he's afraid of admitting, and the love he's afraid of sharing, and it puts them in such a vulnerable state that viewers won't be able to help sympathizing with.  It's only fitting that he had to deal with his issues alone because, in the traditional sense, he is the most alone.  The other members of the Doom Patrol rarely give Larry a second thought, and when they do, he refuses to let them in to what he's feeling.  Over the course of this show, we have seen Larry develop into someone who is more comfortable with himself, with what he's become, with Rebis, and with his feeling for John, but we haven't yet seen him come to terms with what it means to be a gay man.  Larry is now most nervous about how being labeled as gay will affect others' perceptions of him, and coming to terms with that is another big step in a long journey of healing.  When he finally sees John in the real, present day, they have a beautiful, sad, and incredibly healing.  John Bowers is a completely original character in a show base off of Grant Morrison's Doom Patrol comic run, and he is one of the best original additions to a comic book adaptation.  He has added so much to the show's messaging about how it's okay to be different, normal is overrated, and to Larry's character in general.
Robotman also has quite the journey at Bump's funeral with Rita at his side.  It's ultimately Cliff's decision to go and try to see his daughter, but he never feels ready.  Backed by Rita's attempt to prepare him through the only way she knows how, theater metaphors, Cliff cannot yet cope with his own emotions.  The scenes down in Florida are played off as humorous, but they are actually incredibly sad.  The way he chooses to help his daughter is very stereotypically masculine thinking.  Instead of an open, honest, and vulnerable confrontation, Cliff avoids direct communication at every turn and instead latches onto an object and an action that he think will "win" he approval instead.  It's a very common and very flawed way of thinking that is portrayed extremely well in this episode.
Finally, Cyborg and Jane look for Flex Mentallo while Vic is trying to deal with the software inside of him that may have a mind of its own.  They make for a very unlikely duo that works unexpectedly well.  Perhaps the idea that Jane always have to be aware of her own head space and the many people inside of her, while Cyborg has never really explored what's inside of him.  Nevertheless, these three adventures make for a thrilling, funny, and heartfelt episode.
Negatives
Cyborg and Jane's art did not feel very fulfilling.  The series has done extremely well balancing all five characters in the past, but in this episode, it feels as though Cyborg and Jane are simply given an assignment that sets up future events.  Cyborg's inner struggles are incredibly worthwhile, but their brief search for Flex Mentallo feels incredibly ridiculous when it all plays out.
Verdict
Doom Patrol continues to be a must watch show for everyone out there whether they are comic book fans or not.  It speaks to universal heart and truth in ways few shows ever manage to reach.