Review: YOUNG JUSTICE #5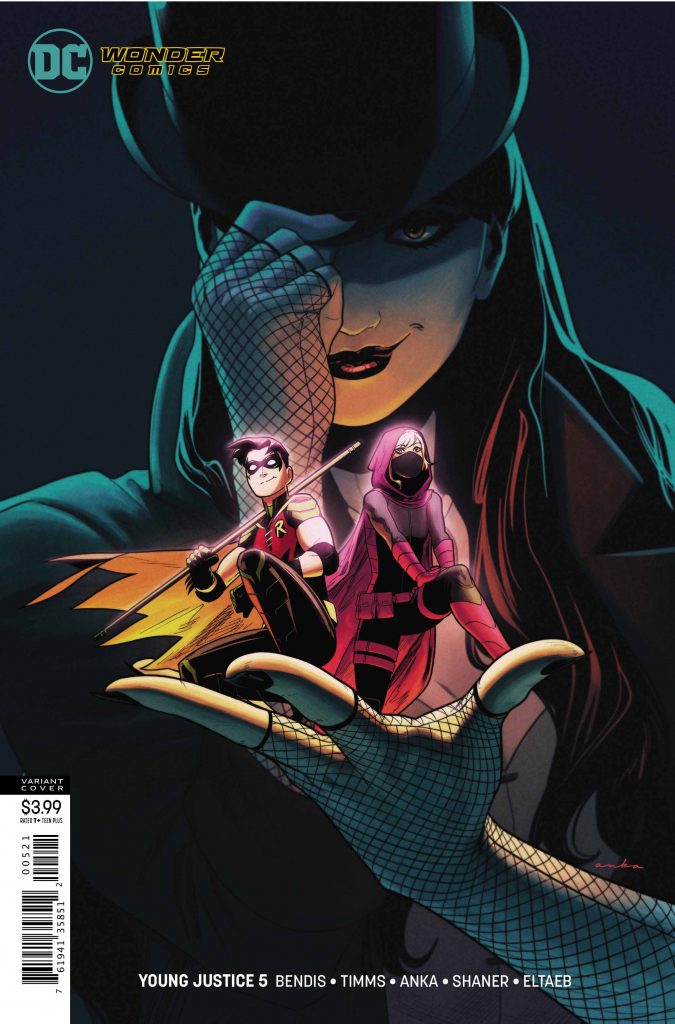 [Editor's Note: This review may contain spoilers]
Script: Brian Michael Bendis
Art: John Timms, Kris Anka, & Evan "Doc" Shaner
Colors: Gabe Eltaeb
Letters: Wes Abbott
Reviewed By: Ari Bard
Summary
With four issues completed in Brian Michael Bendis's Young Justice run, one question is on everyone's minds: How does everyone in Young Justice remember each other?  Well that question is finally answered in issue #5 through the eyes of Tim Drake before Gemworld's invasion.  Tune in for the answers you've been looking for!
Positives
The new Young Justice team has experienced a lot in four short issues.  Forces initially beyond their understanding brought them together as they were transported to Gemworld.  Slowly but surely, as they fight alongside one another and learn more about the reasons that brought them all to Metropolis that fateful day, a tightly bonded team is beginning to form.  As they break out of Lord Opal's prison the team becomes fully united and you can see the bonds forming.
Brian Michael Bendis, John Timms, Kris Anka, Doc Shaner, Gabe Eltaeb, and Wes Abbott, have begun a story of youth that is true whether you're on Earth or Gemworld. It is grand, energetic, and has laid the foundations for a team that can have fun while saving the world.  We've seen their introductions in Metropolis, what Cassie Sandsmark has been up to, Connor's new life, and Amethyst's role as princess of Gemworld.  Now its time to see how Tim Drake remembers his old team, and what he's been up to since leaving Wayne Manor.
Issue 5 slows things down a bit as Kris Anka and Doc Shaner come aboard and bring each character's personality to life.  Each issue contains a spectacular trait usually only found in a #1.  There are grand entrances, dynamic introductions, and answers to questions readers want to know.  There's always something new.  Bendis's Young Justice references continuity while remaining packed with youth, and it avoids getting bogged down from the crises and the problems.  It's refreshing, easy to read, and finally puts some joy back into saving the world.
Positives Cont.
The issue finally tackles a question readers have had since #1: How does everyone in Young Justice remember each other?  Bendis starts to answer this question in a way that ties the series to continuity while remaining youthful and cognizant of what this book has to say.  The last time we saw Tim Drake was largely in Tynion's Detective Comics run where he had to fight his future self.  The Batman of Tomorrow tried to kill Kate Kane, almost destroying Gotham and the Bat Family, and Tim Drake needed a break.
Now he just wants to avoid becoming that monster, so he turns to respected mentor Black Canary.  Black Canary refers Tim to Zatanna, who can find the answers he needs in Tims own mind, and in doing so unlocks memories of the old Young Justice team.  It's a beautiful, youthful, and very intimate moment.  Tim and Stephanie are rightfully terrified.  They don't want to follow the paths that have been set for them, and they want to know that there is a way out.  As they stumble through asking for help it's adorable to see their support and love for each other.  It's young love in comics at it's finest and without distractions; something we rarely see.  Reader's won't help but chuckle as they confront Zatanna without even knowing the right question to ask.  Magic terminology is flying left and right, and Tim and Steph just want everything to be okay.  Luckily for them, the future looks bright.
Positives Cont.
It's intimate character moments like this one that give the book a refreshing youth rarely seen within Marvel or DC.  Bendis's mastery of young characters comes through loud and clear.  He writes the grand, joyous, team moments and the smaller, intimate, individual moments with such grace and innocence.  It feels as though the words are the page are coming from a thirteen year-old, not a 51 year-old.  That is a rare quality to possess.
Through elements like tail length, word balloon structure, and font size, Abbott hits a home run in making each character's dialogue unique.  Bendis's script provides a seamless narrative of sweet and fulfilling moments between characters while Timms, Anka, and Shaner enhance each character in unique ways.  Timms provides the blockbuster action.  Every character has a cinematic aura that commands presence and exudes power in battle.  Shaner provides an epic flashback that surrounds the reader with a fun, simpler time.  The smiles on their faces and spry action poses are wondrous.  Anka provides the core innocence with what is essentially young love in art form.  His signature style is perfect in the intimate moments between Tim and Steph as Zatanna breaches Tim's mind in order to help him unlock the truth.  You see these teens in three different modes exploring complex emotions with maturity and poise.  That's what this series is all about.
Eltaeb's coloring fits exceptionally well with Timm's action-packed style.  The palette contains a fantastic mix of colors and textures that fits the issue nicely.  All of the ominous blue-gray panels of dread to the brighter blue and pink hues of victory contribute enormously to the fight against Lord Opal.  Abbott applies the finishing touch to every panel by adding small flairs to each character's dialogue.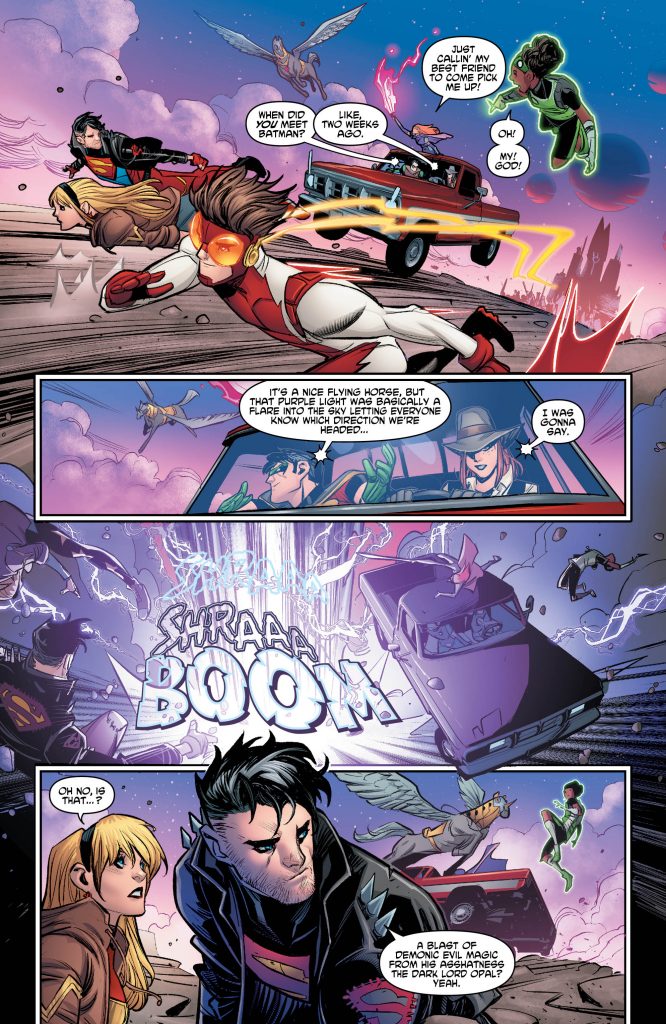 Negatives
While Eltaeb's colors work great with Timm's work, they fall a bit short with Anka's.  Timm's line work is superb in this issue, and Eltaeb's colors fully enhance that and further add to the terrifying foe Young Justice has to face.  Anka, however, uses a lot less lines.  His style is alot more bare and more vulnerable. The texture to his work is so smooth and free flowing, and it's difficult because it put's a lot of weight on the colorist to match that.  Eltaeb's work didn't always come through on those pages, particularly on the closeups of Tim and Steph's faces.  With less black and fewer lines to match the shading, some of the panel's fell a bit short.
Verdict
Young Justice #5 is full of youth and joy.  Readers will tear up at the sweet young love present in the issues while finally getting answers to the questions they've been looking for.  Every issue feels new and refreshing while always building a little more of its own corner in the DCU.  Brian Michael Bendis along with John Timms, Kris Anka, Doc Shaner, Gabe Eltaeb, and Wes Abbott have created an issue you don't want to miss.