Review: DCeased #1
[Editor's note: This review may contain spoilers]
Writer: Tom Taylor
Artists: Trevor Hairsine & Stefano Gaudiano (pg. 1-6, 15-26), James Harren (7-14)
Colors: Rain Beredo
Letters: Saida Temofonte
Reviewed by: Danny Saab
Summary
The long awaited series DCeased from New York Times best selling author Tom Taylor has finally arrived! In it's inaugural issue, we see Darkseid manipulate the anti-life equation. In doing so, he unleashes a techno-organic virus upon the Earth, and possibly, the universe.
Positives
Tom Taylor certainly did not disappoint in this first issue. From the opening pages, we're hooked in the mystery surrounding Darkseid's invasion of Earth. The tyrannical ruler of Apokolips has always wanted to conquer Earth and destroy the Kryptonian that lived there, however this time wasn't the case. His reasons were certainly quite interesting and different, and made for fantastic storytelling.
As a fan of Tom Taylor's writing from Injustice: Gods Among Us, I have always admired his realistic and human approach to storytelling. I went into this book hoping for the same style of writing; where no hero or villain would be safe, and there would be no limits as to where he could take the story. Right from the first issue, we get a brutal interrogation panel from Apocalypse, and a few bloody heroes that got infected. He certainly didn't hold back, and I absolutely enjoyed it.
The reason behind the virus and how it was dispersed was very interesting as well. As anyone would agree, social media is the biggest form of communication in the world, and to use it to disperse the virus was an ingenious was of getting it to millions of people around the world within minutes, further increasing the odds that our heroes will not be able to save the day. How do you stop a virus moving that fast?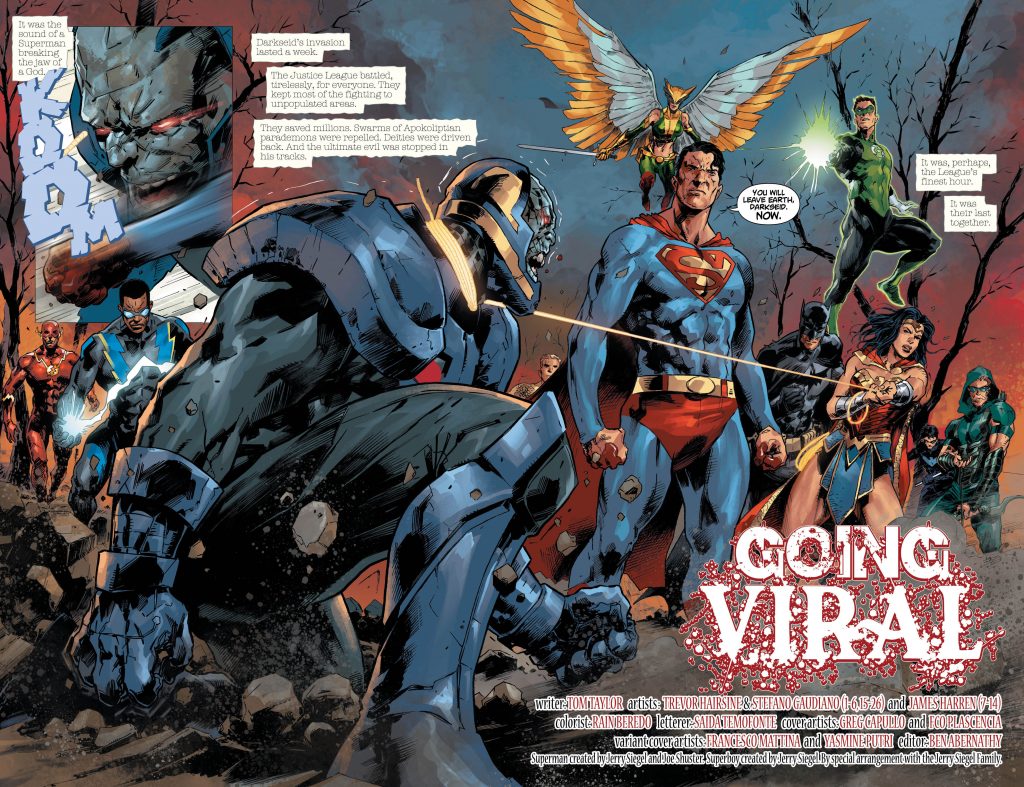 Positives Cont.
Another component I really enjoyed in DCeased #1 was how authentic the characters were. Batman being Batman and purposely hiding a GPS tracker within Cyborg, unknowing to Cyborg of course. Green Arrow being Green Arrow, stating the obvious in a rather sarcastic tone, and so on. The characters felt incredibly genuine.
As great as the story, it was complemented by beautiful artwork. All three artists did a great job and having a transition in art style (with different artists) from the pages on Earth to Apocalypse was great. I didn't feel taken out of the story, only felt like I was somewhere new.
As mentioned earlier, this was a long-anticipated series, and as highly anticipated series' go, we're treated to a multitude of DCeased #1 variant covers. Be it a variant cover, or the original amazing cover by Greg Capullo, good luck choosing just one as they are all stunning and terrifying!
Negatives
No real negatives to mention, except maybe difficult it would be to choose between the different variant covers.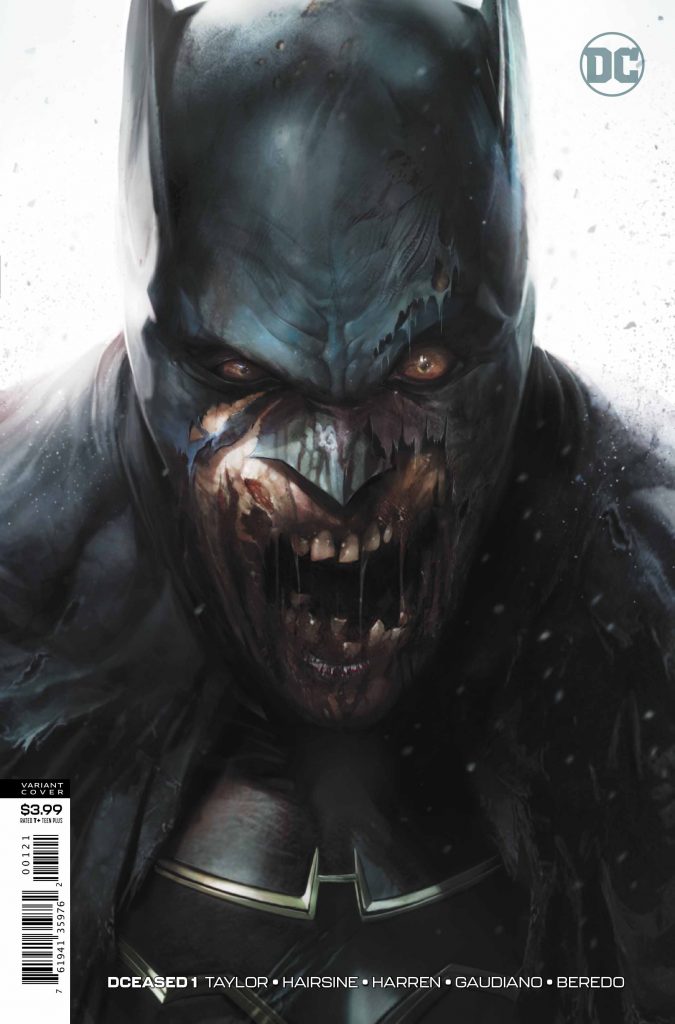 Verdict
DCeased #1 was an amazing start to this six issue series. Tom Taylor did not disappoint, and sets up a terrifying journey to come for the DC Universe.