Review: AQUAMAN #49
[Editor's Note: This review may contain spoilers]
Writer: Kelly Sue DeConnick
Pencils & Inks: Viktor Bogdanovic
Addtl. Inks: Jonathan Glapion, Daniel Henriques, Ryan Winn
Colors: Sunny Gho
Letters: Clayton Cowles
Reviewed by: Cameron Tevis
Summary
Aquaman #49:  Aquaman knows the dangers of obtaining more knowledge about his past from Mother Shark but he insists anyway. Mother Shark indulges his request and begins telling Aquaman all about Mera.
Mother Shark explains to him that Mera comes from the prison colony of Xebel. The people of Xebel hated the Atlanteans and planned to use her to assassinate the ruler of Atlantis. However, instead of assassinating him she fell in love with him.
Mera also became queen of Atlantis. But in doing so, she took the new responsibility seriously. As a result, she questioned her place with Aquaman. She was told she needed to marry, but not Aquaman. But above all, she revealed that she was pregnant.
The news of her pregnancy rattles Aquaman. For the first time he realized his adventures saving the planet could kill him and keep him from his family. He felt he needed to think about things alone. This did not sit well with Mera.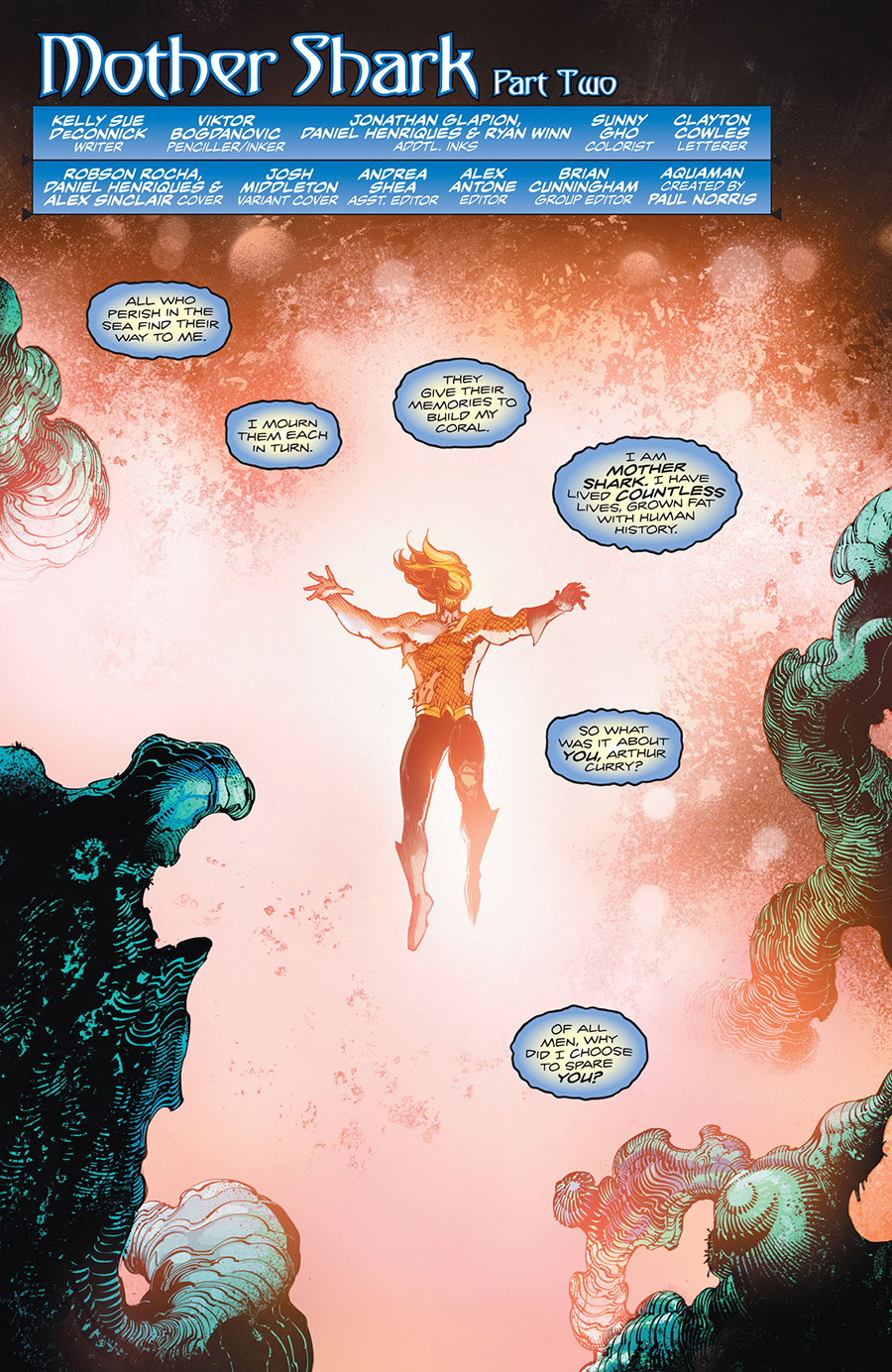 Positives
Like last issue, it was nice to get nostalgic over the past of the characters. Mera takes center stage and since she's been sorely missed the last few issues, it is a welcome appearance.
Viktor Bogdanovic artwork is the high point of this issue. He is an artist to keep an eye on.
Negatives
Except for the art, the entire issue is one negative after another. Aquaman acts like a spineless, idiot of a character who lacks any masculinity at all in this issue. Worst of all, he seems to disregard Mera's concerns as if he doesn't really care what she has to say. This is far from the hero we have come to love.
In the issue DeConnick pushes a feminist agenda, but by the end seems to contradict her own cause.  She begins by pointing out that being a female ruler and a male ruler are unjustly viewed differently and implies it's harder for women. First of all, this came across forced and out of place. In writing, you can create new cultures, so why does an advanced nation like Atlantis have to have the same problems in their culture as the surface world. Maybe as a writer use Atlantis to show an example as to how the world could be rather than talk about how it is perceived to be.
But what makes it laughable is the ending, which has the worst characterization yet. When Aquaman needs to get away to think about his new role as a father, Mera gets angry and accidentally kills him. Therefore, immediately after pointing out the inequality of women in leadership roles, DeConnick indicates that Mera has no self-control because of her emotions. If she can't have the self-control to be with someone, she loves without killing them when she's angry then how can she lead a nation?  This actually gives justification for people to perceive women and men leaders differently.
The entire thing is ridiculous, out of character and negates the message.
Verdict
This title has taken another step backwards with Aquaman #49. Not only does it portray Aquaman and Mera completely out of character, it fails to support its own social justice cause.
To be fair, the upcoming issues may counter that point and actually have cause for what happened. But until that moment arrives, the issue contradicts itself.
I keep hoping to love this comic book's new direction, but it just seems to get worse.