Review: Scooby-Doo! Where Are You? #99
[Editor's Note: This review may contain spoilers]
Writer: Paul Kupperberg and  Sholly Fisch
Artists: Fabio Laguna, Horacio Ottolini and Walter Carzon
Colors: Silvana Brys and Heroic Age
Letters: Saida Temofonte and Travis Lanham
Reviewed by: Carl Bryan
Summary
"I told them I didn't need a personal TRAINer." –  Shaggy yelling at Scooby-Doo while running from a train.
An overnight ride through the mountains on a vintage train. An assortment of weird and eerie passengers. And an elusive ghost that stalks the train at night. Can Scooby-Doo and the gang untangle the baffling mystery to figure out which passenger is behind it all before they reach their station and everyone leaves? Or will things just keep getting "Muddier on the Disoriented Express"?
In "Over the Boardwalk", Scooby-Doo and the gang travel to Coney Island to discover that "monster" developers are behind an escapade to frighten tourists.  And it could've worked if not for those darned kids!
Positives
Scooby-Doo Where Are You?  has finally found a great addition to its formula.  The titles of the story are popular "tongue in cheek" word play that adults can appreciate.  The stories provide enough clues that both adults and children who are getting into reading can both find challenging and amusing.  And the references the characters make are both pop culture gems and "Groan…this is so played out!".  And Paul Kupperberg and Sholly Fisch do a wonderful job in being both clever and entertaining while not taking these characters too seriously!
I love the return to Shaggy and Scooby-Doo eating a LOT!  They arguably should never be drawn without a supreme type sandwich in their hands or running away from a ghostly encounter!
However, it is real funny to see the gang using their cell phones.  That would not have been part of my Saturday morning cartoons!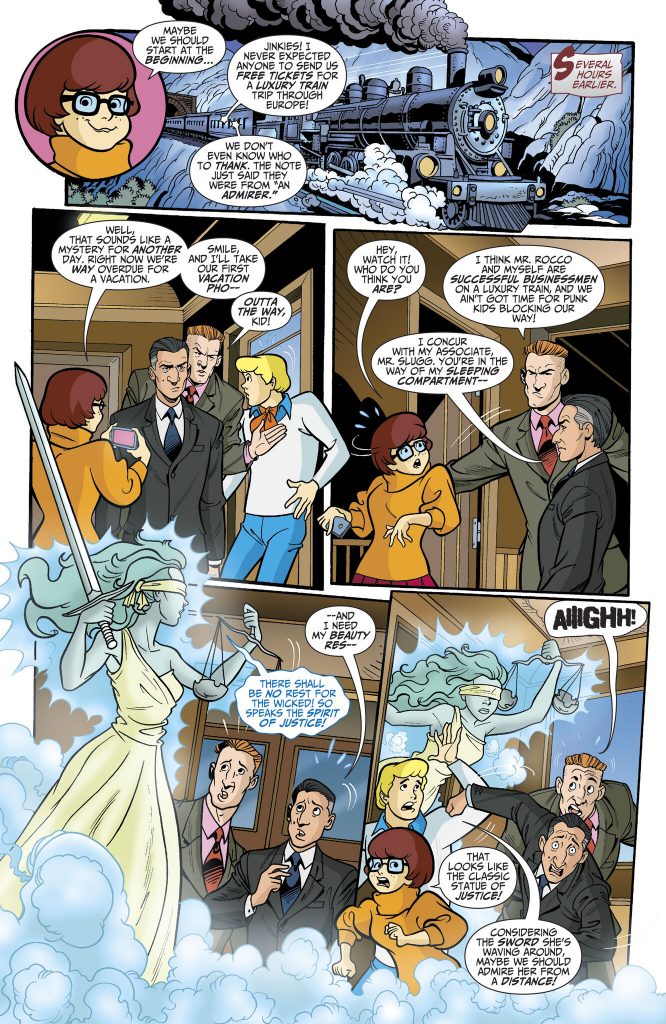 Negatives
Movie stereo types abound in this type of series as it is grounded in the late 1960's.  So bank robbers look like the old suited bank robbers and carnival workers look like the stereotypical carnival worker (if there is such a thing anymore).
Verdict

I think it is great that DC is carrying a line for it's junior audiences.  Scooby-Doo, Where Are You?, Scooby-Doo Team-Up, Looney Tunes  and Teen Titans Go!  It's great as a parent to see that kids have a place to go for some fun and some challenging reading and sleuth skills.  And the artists make these characters so "traceable" that you can see how these books become the building blocks to a new age of fans, artists, and writers!