Review: Looney Tunes #250
[Editor's Note: This review may contain spoilers]
Writer:  Scott Gross
Artist: Omar Aranda,  Scott Gross,
Colors:  Heroic Age, David Tanguay

Letters:  Gabriela Downie, John J. Hill, Dezi Sienty
Reviewed by: Carl Bryan
Summary
Three Looney Tunes tales accompany this issue.  In Foggy at the Bat  , The Toonville Nine are down with two outs remaining, and EggHead and Granny are next in the line up, but Foghorn Leghorn awaits his final at bat.  Will the the Great Foggy strike out or will he save the day?  Settle back with your peanuts and cracker jacks for a day at the park.
Speaking of a park, in Extreme Dork Daffy Duck and Porky the Pig find themselves at a skate park where Daffy takes a tumble and invents a new skateboard move.  It's a social commentary for the ages about what influences each generation.  Daffy's up to a new scheme despite Porky trying to be the voice of reason.
In The Day Derby Almost Died, Lola and Bugs Bunny reminiscence about the yesteryear sport of Roller Derby.  Lola finds they have to compete for rink time from a bunch of bullies  It's the Eight-Wheel Heels against the Air Raid Sirens.
All the big names are dropping in on this issue of Looney Tunes.
Positives
Foggy at the Bat is a great homage to "Casey at the Bat".  From the illustrations of a yesteryear baseball game reminiscent of the time of Abner Doubleday to the poetic manner in which the story is written, this is a great tribute in time for baseball season.  And it is a perfect commentary on being a good teammate.  This can be  a great discussion point for any parent reading this comic with their son or daughter.
Extreme Dorks is another social commentary on ageneration influenced by social media posts.  What appears to be popular among the skate board community may be simply an accident or lack of skill in a particular sport by Daffy Duck.  It's a marrying of two worlds of social media influenced skateboarders and adult characters attempting sports they may not have the skill set in.   The tongue in cheek commentary about how Daffy's influence comes from an accidental brush with fame and fortune due to a "skate move" that was really nothing more than an accident – priceless.  I don't know if Millennials will find it insulting or whether older generations will simply shake their head in agreement.
Finally, Derby Days is a "Be Like Mike" story where "It's gotta be the shoes!"  Holy Space Jam on skates.  It's a great highlight story for combating bullies.
All three stories are a perfect sports issue of Looney Tunes and contain a host of characters for readers to enjoy!
Negatives

None in this issue as all the heavy Looney Tunes hitters (pun intended) come out to play in this issue!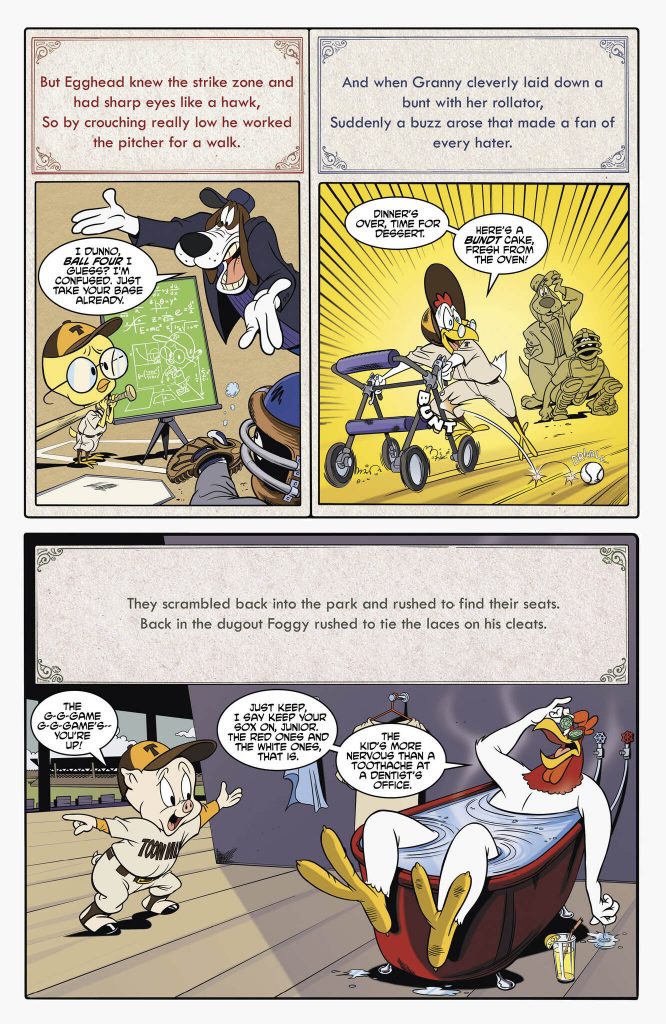 Verdict

The art work in Foggy at the Bat is worth the price of the comic alone!  And the sports issue is a perfect way to introduce team work, attempting a new sport, or cherishing the history of sport gone by.  Pick it up as you will be glad you did!