Review: Batman Universe #2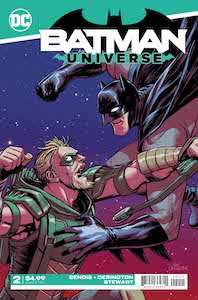 [Editor's Note: This review may contain spoilers]
Writer: Brian Michael Bendis
Artists:Nick Derington
Colors: Dave Stewart
Letters: Joshua Reed
Reviewed by: Seth Singleton
Summary
The quest for the secret of the stolen Fabergé egg and its buyer continues as Batman teams up with Green Arrow against the Riddler, then travels to Gorilla City. But is the egg's strange energy adversely affecting the Dark Knight's mind? These stories were originally published in BATMAN GIANT #5 and 6.
Positives
Classic lines and great colors from Derington and Stewart give this story a timeless feel.
Even the best card players have a tell. When something is interfering with that trademark sign a master detective like Batman will notices. Especially when Edward Nigma uses old riddles. He's too proud to appear so lazy in front of The Dark Knight. It's a professional expression of compassion from Batman. His interjection cuts off Green Arrow's mocking derision to sound like an old friend. Even a worried one at that.
So, who could be putting the Riddler through his paces and endanger his life in a series of poorly planned events?
Spoiler!
That would be Vandal Savage. I know this is old news for anyone who read The Batman Giant series containing this original story.
I love the globetrotting in this issue. After picking up in Amsterdam, the story follows a lead into Gorilla City. Batman and Green Arrow are persona non grata. Batman says it was Aquaman's fault. The gorilla king claims Aquaman put the blame on Batman. But, the story is the appearance of the Riddler in the Hall of thrones.
There is a note with the Riddler. All of the evidence points to Superman. But in a flash of light Batman is surrounded by Hawkmen. Batman is not in Gorilla City anymore.
Negatives
The Fabergé egg feels like a cliche. Fans of Pulp Fiction might groan at this one. Even the the alien origin and strange effect it has on people around it feels forced.
Verdict
I like a good mystery, but I wish it was not following a cliche through a series of scenic backdrops. Locations are great when they drive the story. It will take time to see if the destinations are more than just eye candy. I like the pacing and overall story are fleshed out with developments and dialogue.