Review: SKYWARD Vol.3: Fix the World
[Editor's Note: This review may contain spoilers]
Writer:  Joe Henderson
Artists: Lee Garbett and Antonio Fabela
Colors: Antonio Fabela
Letters: Simon Bowland
Reviewed by: Carl Bryan
Summary
"The Sky kills.  That's why everyone moved to the cities so there would be something to hold onto." -Willa.
Willa's faced terrifying storms, giant man-eating bugs, a deadly rebellion and a whole lot of heartbreak… but nothing can prepare her for this. It's time for Willa to fulfill her father's last request. Time to fix the world. SKYWARD, VOL. 3 collects the conclusion of the hit series from writer Joe Henderson (showrunner of Netflix's Lucifer) and artist Lee Garbett (Lucifer, Loki: Agent of Asgard). Collects SKYWARD #11-15
Positives
As a reviewer, I am still miffed that I did not discover this wonderful premise earlier as well as this comic.  Willa is the perfect sound of reason in a time where cities are in turmoil due to not having gravity.  And the overarching crisis of agriculture versus urban life.  The city needs food yet finds itself in a moral struggle in allowing the farmers to use land they can cultivate to feed the masses.  And if they go to where all the land is, then they may float off into space.  It's a perfect conundrum and one in which you can wonder why it was never thought of!  The story telling is simplistic and full of "Aha" moments and you find yourself wondering why this has not been explored  before in any genre of reading!
It's a love story in the midst of a war.  And while it may seem cliche, it works very well.  It's about fear, and how humanity can over come it.  And its about hope and empathy!  And making the world the best it can be!
The main villain, Roger Barrow, will draw your full ire when you read this trade paperback.  He is the wealthy snob that makes your skin crawl.  But Lilly, Willa's mother, is the perfect role model in this comic!  And her appearance in Issue # 11 is nothing short of a pick up in this story!
Great job Lee Garbett and Antonio Fabela.  It must be difficult to draw each panel with the effects of no gravity.  To have to "float" everyone in each panel is to be commended!  By the scenes below, you can sense the panic of floating into space among all the debris and other people.  It's a sense of "air drowning" if there is such a thing, and the artists give you a sense of floating to one's doom!
Negatives
I hate that this is the culmination of the series.  By breaking up the power couple of Willa and Edison, that was a tough move.  While the authors acknowledge that it is Willa's story, they found themselves in the adversity.  It is hoped that the authors will revisit this in further adventures.  I hate that this is the end of the run for Skyward!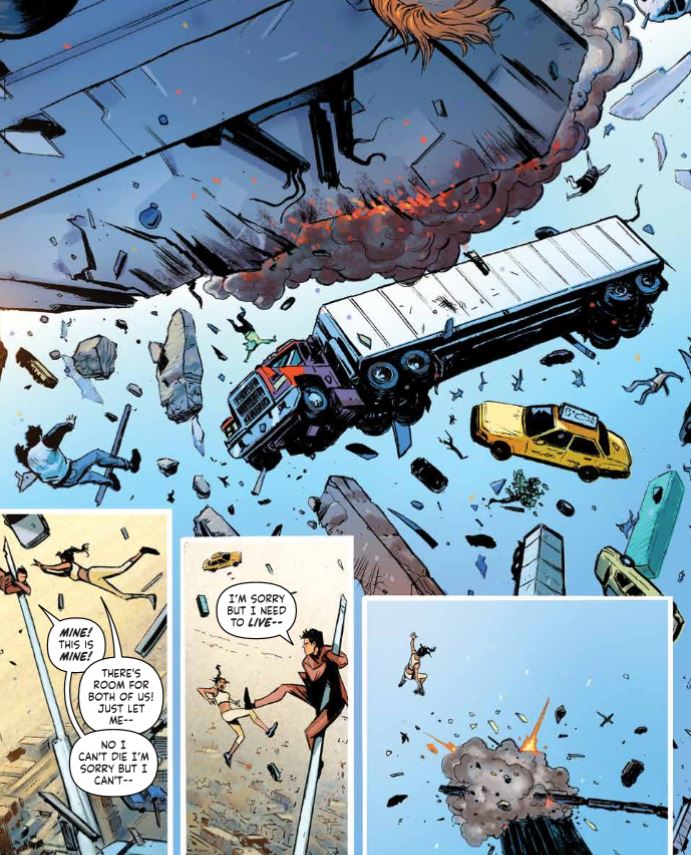 Verdict

This comic is pretty awesome.  Taking away gravity from the Earth…what a great concept to build on and what a great comic playground to work with!   Issues #11 – #15 are compiled in this trade paperback and they are well worth the read as well as the venture back into Issues #1 – #10.  I can only hope the authors will revisit Willa and this concept!  It's too great of an idea to lie dormant for too long!