Review: SPAWN #300
[Editor's Note: This review may contain spoilers]
Writers:  Todd McFarlane, Scott Snyder
Artists: Todd McFarlane, Greg Capullo,  Jason Shawn Alexander,  J. Scott Campbell, Jerome Opeña
Letters: Tom Orzechowski
Colors: Fco Plascencia, Brian Haberlin, Peter Steigerwald, and Matt Hollingsworth  
Reviewed by: Carl Bryan
Summary
"This is how I look!  How I've always Looked.  Every day!  Everything else is an illusion!" – Spawn
SPAWN MAKES HISTORY! With this 300th issue, SPAWN becomes the longest-running independent series in comic book history. To celebrate, legendary artists TODD McFARLANE and GREG CAPULLO return with ALL-NEW interior pencils, with additional art provided by JASON SHAWN ALEXANDER, J. SCOTT CAMPBELL, and JEROME OPEÑA, a cavalcade of celebratory covers, and additional writing by SCOTT SNYDER! And next month, RECORDS WILL BE BROKEN with SPAWN #301! Retailers: see order form for incentives.

Positives
Oh Happy Day!!!  So, The Todd Father took a cue from Sports Illustrated and ESPN magazine and placed EVERY cover of all preceding issues (Yes Issue 1-300) in thumbnail reference sheets.  And why wouldn't he?  You don't become the longest Independent Comic in history without giving fans a retrospective. His homage covers to his initial playground with Marvel and Spiderman are front and center as the initial cover is reminiscent of Spidey. 
Todd McFarlane is a true Stan Lee fan and he does his fans a solid by giving us covers like this!  Taylor Swift has her Easter Eggs for her fans and Todd does the same for his Spawn followers!
Sixty -eight pages of story bliss!  And some of the best writers in the business converge.  Greg Capullo displays Spawn's new powers a playground and provides a glimpse of how Spawn will be henceforth.  Todd McFarlane reveals human nature and how good and evil lines are blurred sometimes.  J. Scott Campbell provides that surrounding characters go through changes as well.  It's not all about Spawn all the time.  Jason Shawn Alexander provides a bit of teamwork to chew upon.  And finally, Jerome Opena brings it home with expectations for the future and a "control alt delete" on the power meter (I love that power meter) and we get to see a "full tank" again!
Positives (even more accolades)
Todd weaves 27 years of work on Spawn into this comic and he does so by including wonderful artists and wonderful writers.  This is one of those issues where you sit and wish you were part of the planning for this issue as it brings out all the current heavy hitters.
Greg Capullo and Scott Snyder are fresh from a Batman Who Laughs run and they easily show how they can take their show on the road to a new playground!  Wow!  I thought the writing and the art on TBWL was strong, but apparently this dynamic duo throws caution to the wind. 
I love the old fashioned return to Spawn Versus The Violator!  But this new Spawn.  Al Simmons is through playing! Todd McFarlane's art is so rich you cannot drink it in fast enough.  You remember that one coveted issue of a comic you did not want any wrinkles to fall upon it?  That one issue you wanted to keep under glass, but you had to read it and read it and read it!  Yeah…that's this one!
Nyx…she's the new Black Widow… can we please have her in the new Spawn movie….please???  And Jessica Priest…no spoilers here, but Angela was the first female character where you had to take notice things were not going to be the same in this universe.  This crew of creators have topped it with Jessica Priest…She-Spawn!
Negatives
Uh…do I even have to place anything under this heading, besides…why can't we have this creative team together ALL the time?  This issue will spoil you if you are a McFarlane fan, a Spawn fan, a Capullo fan, a Snyder fan… you get the picture!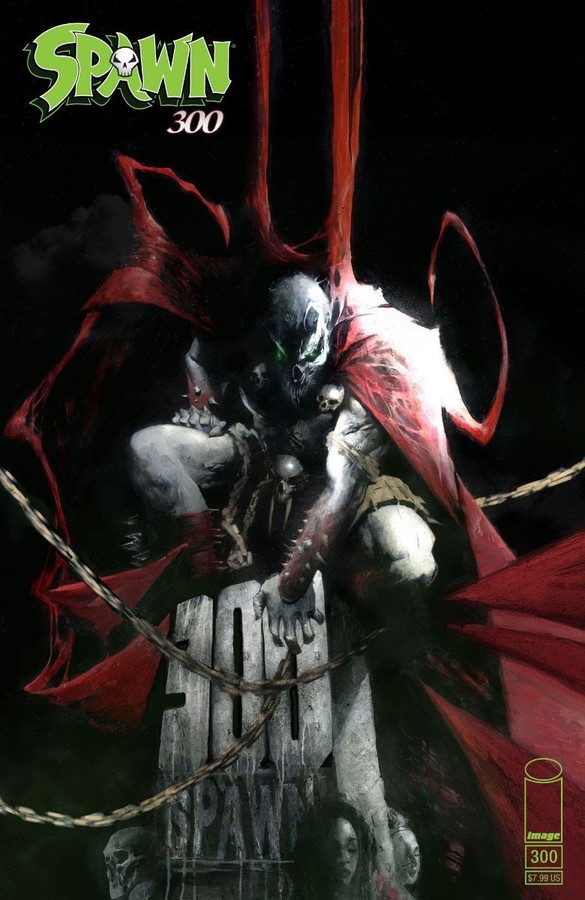 Verdict
Okay…now is the time where you go to the internet and buy all the Spawn comics #1 – #300.  Seriously…where in your lifetime do you have the opportunity to see a character evolve like this?  Sure our grandparents may have sold all of those books in a yard sale that had an original Action Comics or Strange Tales.  But right before our eyes (well 27 years of our vision anyway), Spawn has arrived at a milestone.  And be on the lookout for the ground-breaking issue #301.  Spawn has a new belt, so you should buckle up too!