Review: Batman/Superman # 2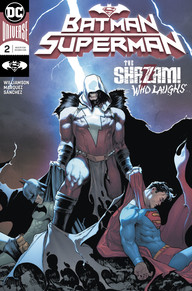 [Editor's Note: This review may contain spoilers]
Writer: Joshua Williamson
Artist: David Marquez
Letters: John J. Hill
Colors: Alejandro Sanchez  
Reviewed by: Carl Bryan
Summary
"You come at me with toys son?  You're just some dude in a Halloween costume Batman!" – Shazam, Earth's Mightiest Nightmare
Batman/Superman #2:  Up in the sky, in the dark of the night, trust no one – for the infected walk among us. Spinning out of the devastating events of THE BATMAN WHO LAUGHS, Superman and Batman are together once more in an all-new monthly series – and they're facing a terrifying new threat that could strike from anywhere.  It's Batman/Superman #2!
The Batman Who Laughs' plot is bigger than either the Caped Crusader or the Man of Steel realized. Following a showdown with the devious killer's first sentinel, a jacked-up, Dark Multiverse-infected Shazam!, the pair has to figure out who else has been targeted for similar transformations. Their first two guesses: someone very close to Batman and the one hero that would make failure nearly impossible–Superman himself!  
Joshua Williamson and David Marquez plunge us deeper into discovering an even bigger plan by The Batman Who Laughs.   As we embark on discovering The Secret Six, we may be seeing the worst version of the World's Finest than we have ever seen!
Positives
Where to begin?  There are remnants of The Batman Who Laughs (TBWL) serum pumping through Commissioner Gordon's veins.  And Billy Batson…. never has a fourteen-year old hero been more dangerous.  And his mouth… whew!  And the paranoia of a kid who thinks that the grown-up heroes are talking about him behind his back.  This is classic adolescent stuff!
The use of TBWL's labeled batarangs is victim foreshadowing at its best.  David Marquez doesn't spare any expense in the art work as the hood over a macabre Shazam works!
Choices…Choices…Clark is faced with the decision of saving Bruce from a plummet to his death or capturing Shazam.  No brainer here as the Big Boy Scout always saves his friend.
Holy Bacta Tank….(you think we wouldn't recognize that homage to The Empire Strikes Back Joshua Williamson?)!  And Clark's reprimand to Bruce while in his Fortress of Solitude…"I don't go to your home and break your things Bruce!"  We sometimes forget that they are friends! 
Those Batarangs….that's the clue!  But who is Commissioner Gordon meeting with? 
And who knew that Clark is such a great actor…Joshua Williamson,,,that's who!  Again, Williamson and Marquez are picking up where Snyder and Jock left off!  And DC is richer in story telling and art for that decision! 

Negatives
"Heh"… if you read The Batman Who Laughs series, the Grim Knight one shot and Batman/Superman #1…you get this comment!  "Heh"…   
Verdict
I am ready for issue #3, and issue #4.  The wait will kill you…or it may give you a visor headache!  At any rate, you have time to add this pivotal issue to your collection.  Seeing Shazam in this light is going to turn heads!  And seeing the last frame of the comic…this version of the World's Finest!  DC is not going to be the same!