Review: BATMAN: CURSE OF THE WHITE KNIGHT #3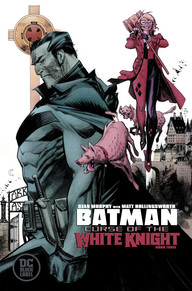 [Editor's Note: This review may contain spoilers]
Writer: Sean Murphy
Artist: Sean Murphy
Letters: AndWorld Design
Colors: Matt Hollingsworth  
Reviewed by: Carl Bryan
Summary
"Gimme the drugs now!  Or I swear to God I will make you fight a pregnant woman!" -Harley Quinn to Batman when her labor contractions become too much to bear.
Batman salvages a groundbreaking clue from the wreckage of Wayne Manor and recruits Harley Quinn to confront The Joker for answers about the mystery of Gotham City's foundations! Their investigation takes a dire turn in the darkest corners of Arkham, and Gordon's life is in peril after a new commissioner is named.
This is the third installment of Batman: Curse of the White Knight!
Positives
Sean Murphy's perfect combo of artistic renderings as well as story telling has put him up with the best in regards to the Mount Rushmore of Batman artists and writers!  The one-two punch he is delivering in diverting away from canon is perfect! 
Back to the Future anyone?  Gotham has secrets and the tap is pouring them out in some places and being stubborn in some.
Bruce Wayne is now known as Batman to most in Gotham.  The Joker has made sure of that.  And a little calling card has been dropped pointing towards Azrael as a pawn in the Joker's plan.
In this story, there is only Barbara and Dick in Bruce's circle.  This is Bruce Wayne "skinnied" down to his barest form.  And Murphy reminds us that he's still a scared and alone orphan!
Harley is carrying twins?  A Wolverine-sideburned Bruce helping Harley put together a crib?  Whoa…
But when you turn the page…an interrogation that rivals Heath Ledger and Christian Bale's scene together.  Murphy pulls no punches in the Joker hitting all nerves on Harley.  When you read this, you see just how low he can go!
But Batman has a few verbal punches he uses as well!  Again, you will not get spoilers here, but as a Batman fan, you cannot drink this issue in fast enough.  I re read it four times to make sure I picked up every morsel of the conversations!
Again, no spoilers, but Murphy is ground breaking.  All that Jim Gordon is going through in the main time line pales in comparison to a confrontation with Azrael!
Finally, Snyder gives a great insight to the relationship between Montoya and Gordon and Bullock.  Abrasive and not politically ….you bet!  But a special relationship…you bet!
Positives (Artwork)
Murphy draws a mean Bruce Wayne (shades of Wolverine's sideburns…).
Murphy draws a very pregnant Harley…she has never been drawn so well!  She is the Harley we all need right now.  None of this crazy Barbie girl stuff with stunted dialogue.  Murphy delivers the pencils and dialogue we need from her!
The homage to Christopher Nolan's Batman films are noticed.  The scene where Gordon is taking out the trash and Batman is in the shadows.  Beautifully rendered here, but with a twist!  Any Batman fan will appreciate this!
Negatives
Here the crickets chirping. Nothing is wrong in this third issue…other than it is 33 pages long and I wish it was 33 x 3 pages long.  
Verdict
Again…Batman:  White Knight was special.  And this sequel is a fun ride.  Murphy reduces the character down to bare bones in this issue.  What is really the lineage of Bruce Wayne?  And how does Azrael fit in on all of this?  What a great time to be a Batman fan!