Review: The Green Lantern #12

[Editor's Note: This review may contain spoilers]
Writer: Grant Morrison
Art: Liam Sharp
Colors: Steve Oliffe
Letters: Tom Orzechowski
Reviewed by: Matthew B. Lloyd
Summary
Hal Jordan comes face to face with the Qwa-Man!  And, it's not who he expects!  The plotlines come together here to provide Hal Jordan with one of the most challenging decisions of his career.
Positives
Grant Morrison has woven a complex tapestry of characters and locales in the first 11 issues of The Green Lantern.  Things come together in The Green Lantern #12 and some of those side stories now find their place in the larger tapestry.  It should come as no surprise that Controller Mu is behind it all and that he's been manipulating things from behind the scenes for a while.
It should also come as no surprise that Morrison doesn't hold back as Hal Jordan must decide, in order to save his own life, to do the will of Controller Mu and remake the universe with the Miracle Machine that Mu has assembled.  It's a great conflict because it doesn't seem like Jordan has a choice and yet down deep down the reader "knows" he's not going bad again, despite the Controllers calling him Parallax.  This all leads directly into November's Blackstars, which will continue this storyline.
The character moments are more nuanced this issue, but still present.  There's a real ferocity to Hal's beating of the Qwa-Man.  He's not going down without a fight and Hal gives it his all, despite the relentlessness of the Qwa-Man, remind you of anyone?  Sinestro's appearance is a real treat.  It is a subtle reminder that Hal and Sinestro were once allies in the Green Lantern Corps and their current state of antagonism is only part of their story.  While redemption may not be on Sinestro's mind, it's always an aspect of his character.  While this appearance turns out to be an anti-matter version of the character, the complexity of their relationship is addressed in this encounter.
The identity of the Qwa-Man is a really clever twist.  It certainly makes the showdown between Hal and the Qwa-Man feel like a dead heat. This situation goes a long way in describing Hal as well as the Qwa-Man.  Additionally, the collision of plotlines in this issue lends itself to a consistency of characterization for Hal Jordan.  While the emphasis waxes and wanes, put together, this character moment has been foreshadowed along the way from issue #1.
One can never exclude Liam Sharp's art from the positives.  While Morrison's script style can sometimes be a bit obtuse, Sharp always hits home with his art.  The Green Lantern #12 is no exception, expertly depicting the action sequence as well as building the tension in the emotionally dramatic sequences.
Negatives
It's understandable that some may not enjoy Morrison's approach to storytelling.  Often, there is little exposition to explain what's going on and it can sometimes be confounding.  However, a little patience tends to pay off.  This is a 12 issue run that if re-read all in one sitting will coalesce into a completely coherent story arc, cleverly assembled.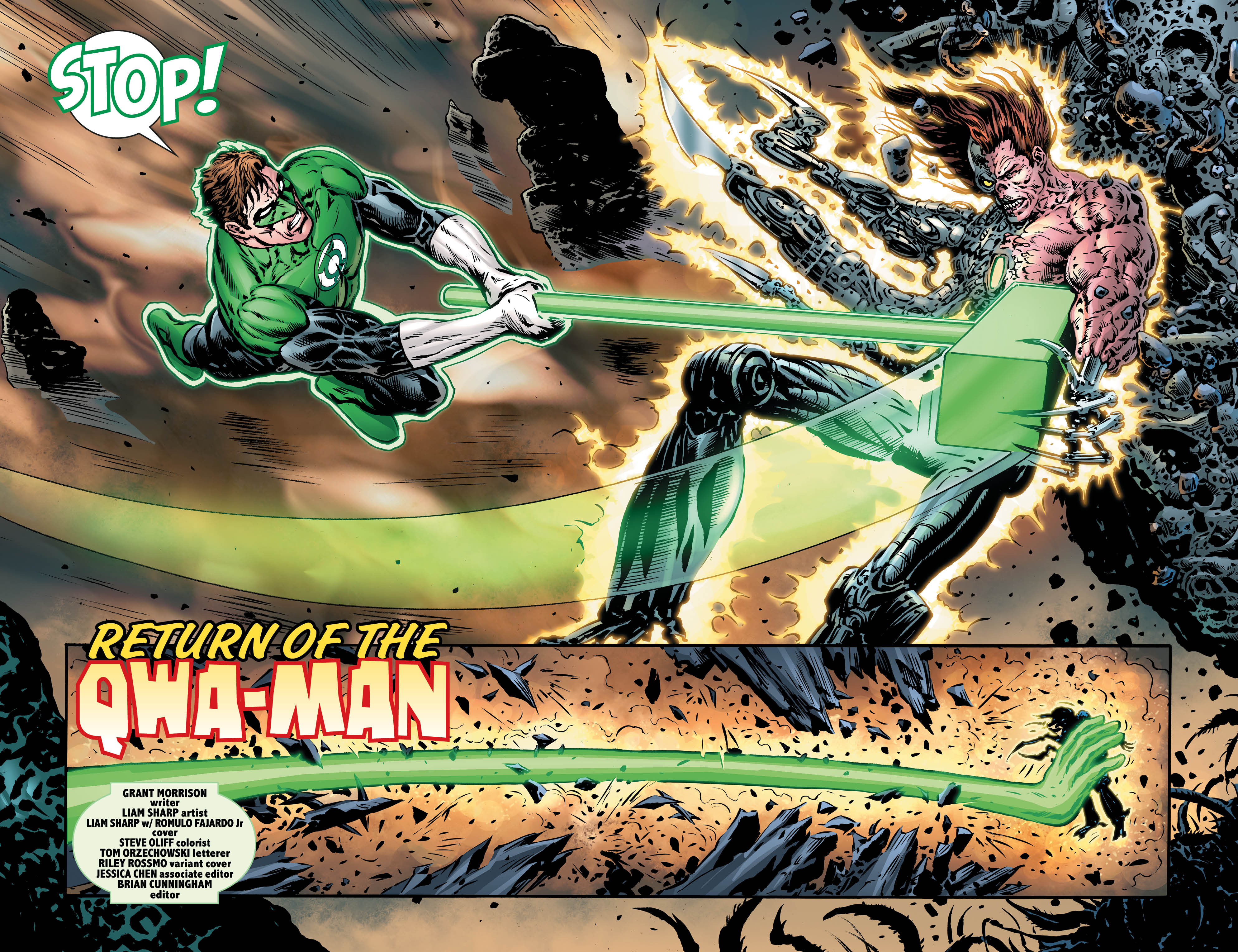 Verdict
The Green Lantern #12 is a true culmination of the previous 11 eleven issue.  While the larger story is not over, this chapter or "season" is.  Continued in Green Lantern: Blackstars, Hal Jordan's predicament will be revealed.  This issue is a masterful segue and summation.  Morrison proves he is still one of the best writers in comics.