Review: WATCHMEN 1×02 – "Martial Feats Of Comanche Horsemanship"
[Editor's Note: This review may contain spoilers] 
Director: Nicole Kassell
Writers: Damon Lindelof, Nick Cuse
Starring: Regina King, Jeremy Irons, Don Johnson, Jean Smart, Tim Blake Nelson, Louis Gossett Jr., Yahya Abdul-Mateen II, Hong Chau, Andrew Howard, Tom Mison, Frances Fisher, Jacob Ming-Trent, Sara Vickers, Dylan Schombing, and James Wolk
Reviewed by: Brad Filicky
Summary
Watchmen 1×02: The second episode of Watchmen begins, like the first, with a historical flashback. This time we are transported to WW2. Germans writing propaganda letters to the black soldiers in the American army. Telling them not to fight for a country that treats them like second class citizens."To carry the gun in the service of America is not an honor, but a shame." Back in the present day Angela and the police investigate the murder of the Judd Crawford. Angela questions Will Reeves with no luck. The police raid a shanty town/trailer park with ties to the Seventh Calvary. We learn that Will Reeves is Angela's grandfather through a clever DNA test. In England Jeremy "he's who you think he is" Iron's character has his minions perform a play retelling the origin of Dr. Manhattan accompanied by masked musicians. Let's just say the play doesn't end well for one of the minions. And we learn the masked musicians are really.. clones of minors who performed the play. The plot thickens. Angel continues to seek out answers from Wiil to no avail so she decides to arrest him. only to have a giant magnet descend from the sky to take him and the car away.
Positives
The tone still feels very Watchemen-esque yet timely.The shows examination of race is, in many ways, similar to how the original graphic novel dealt with the pathos of post Vietnam America. The acting is strong and the characters are intriguing. As a fan of the source material, I don't say this lightly, but these new characters are as captivating as the iconic characters we've come to love over the years. The script is calculated and powerful. And worthy of the name Watchmen.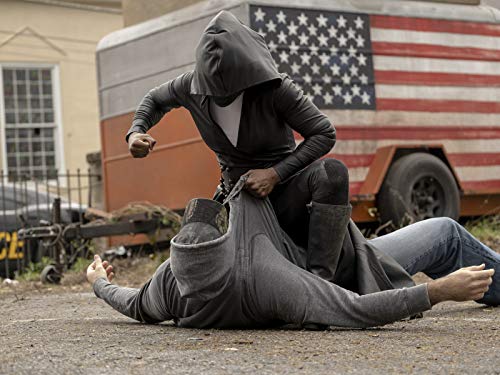 Negatives
Once again I'm left wondering if the story has much appeal to people who aren't familiar with source material. Right now the story feels disjointed to the point that it will leave a lot of folks scratching their heads. With only eight episodes this season, the story is going to have to congeal soon.
Verdict  
Watchmen continues to amaze and perplex us. The plot thickens and we are all here for the wild ride thanks to strong performances and smart scripts.Timely and not afraid to navigate complex moral issues in shades of grey. Watchmen is state of the art in how to do adaptations.