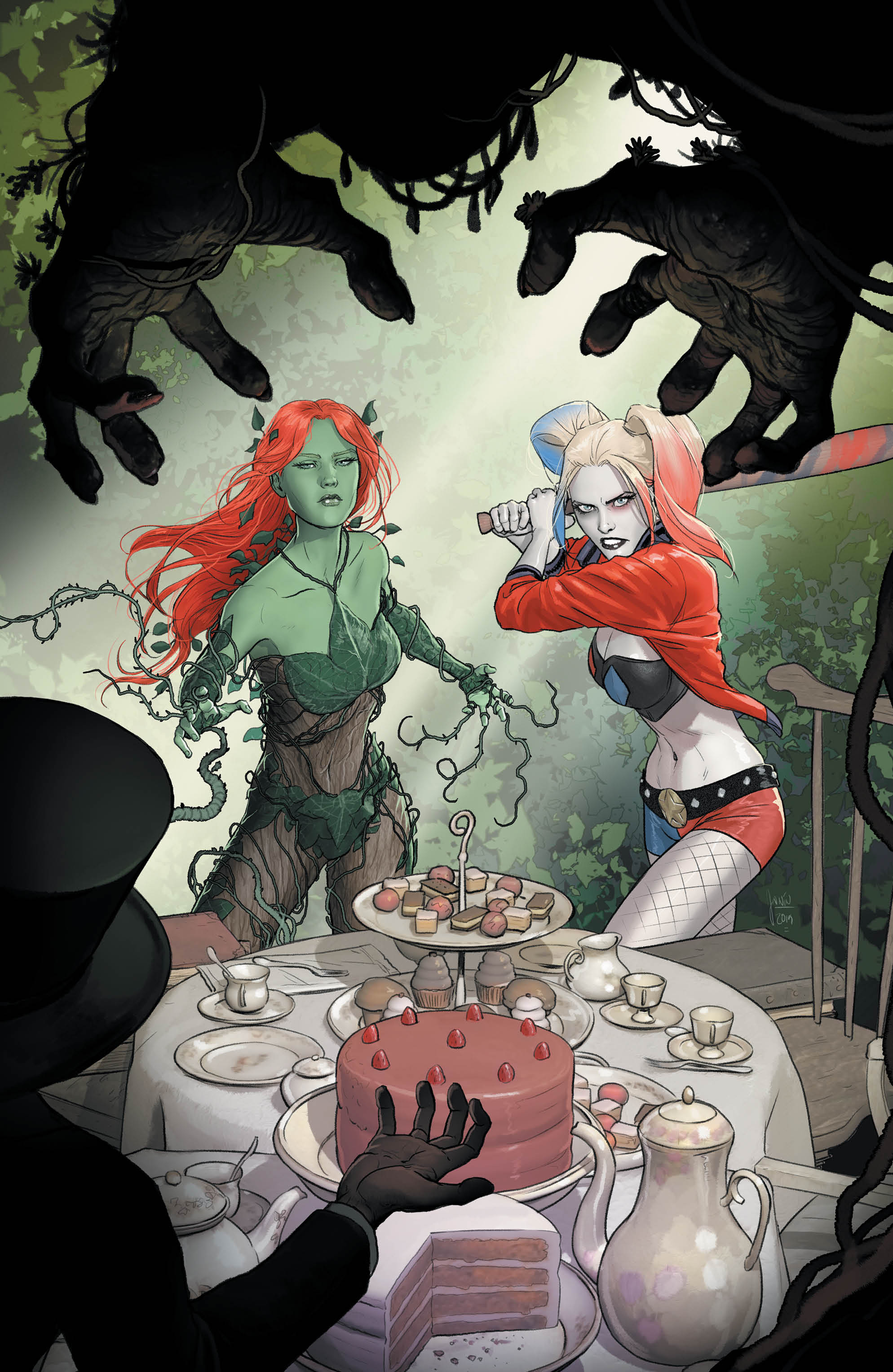 [Editor's Note: This review may contain spoilers]
Writer: Jody Houser
Pencils: Adriana Melo
Inks: Mark Morales
Colors: Hi-Fi
Letters: Gabriella Downie
Reviewer: Tony Farina
Summary
Harley Quinn and Poison Ivy #3 finds our…um…heroines(?) teaming up with Mad Hatter to try to fix up Ivy's incorporeal form. Harley is convinced that the problem is in Pam's brain, so a brain surgeon is the place to go. I wonder if Harley remembers she is a different kind of brain doctor. I suspect she doesn't. Remembering is not really her thing.
Harley figures out that Hatter is trying to double cross her. Action packed battles ensue. Ivy and Harley escape and find a convertible. Madness follows.
Positives
I never tire of telling people that Adriana Melo is masterful. I never tire of it because she continues to be masterful. There is a page during Ivy's big battle where it is just one full page of Ivy busting through a wall. It is spectacular. The action is intense. The facial expressions are full of madness the way that a story involving Harley should be. Feast your eyes.
Jody Houser is the perfect companion to Melo as they create this crazy and delightful dynamic duo. The whip smart dialog continues in Harley Quinn and Poison Ivy #3. I laughed quite a few times and was jealous a few more times at the way she captures both of their inner and outer voices. Of course, Harley's inner and outer voice are almost the exact same as she has no filter and Houser captures that so well.
Negatives
Most mini-series have an issue that exists only to move the plot along. That is this issue. Of the three, it is the weakest. That does not mean it is bad. It is not bad, but it is just not as good. It is not fair to judge people against their own awesomeness, but against whom else can I judge this?
Verdict
The fact that Harley and Ivy get in a convertible leads me to fear that this ends the way Thelma and Louise ends. Well, OK, that is not really possible. DC is not killing off Harley Quinn any time soon. Still, this does not look like it is going to have a good ending for anyone involved. I feel that Houser and Melo are setting us up to be emotionally destroyed by the end. I am not saying that is a bad thing. Good writing and good art will do that.