Review: WATCHMEN 1×04 – "If You Don't Like My Story, Write Your Own"
[Editor's Note: This review of Review: Watchmen 1×04 may contain spoilers]
Director: Stephen Williams
Writers: Damon Lindelof
Starring: Regina King, Jeremy Irons, Don Johnson, Jean Smart, Tim Blake Nelson, Louis Gossett Jr., Yahya Abdul-Mateen II, Hong Chau, Andrew Howard, Tom Mison, Frances Fisher, Jacob Ming-Trent, Sara Vickers, Dylan Schombing, and James Wolk
Reviewed by: Brad Filicky
Summary
We finally get to meet the elusive Lady Trieu she gives a couple a deal they can't refuse to in order to buy their house. They close their deal in time to see a meteor fall from the sky.  Laurie and Angela continue to butt heads as Laurie takes over for Judd and inquires about Angela's missing car. The investigation leads them to Lady Trieu's doorstep. A very futurist doorstep. We meet her daughter, and see human side. But her motives remain unclear. During the episode we introduced to a creepy new costumed vigilante who has a penchant for sliding into sewers. Veidt fishes clone fetuses out of a lake, has a way to grow them into adulthood in minutes. Also, he has creative uses for catapults.
Positives
Ohh how fun Lady Trieu is in that opening scene. That must have been so fun for Hong Chau must have had a great time in playing that scene. Despite their antagonism to each other, Laurie and Angela both manage to be endearing. Itmake the moments between them that much more poignant and human. I love how how weird Veidt is. As horrific as it is likely to be, I can't wait to see what his endgame is. What a tangled web we weave.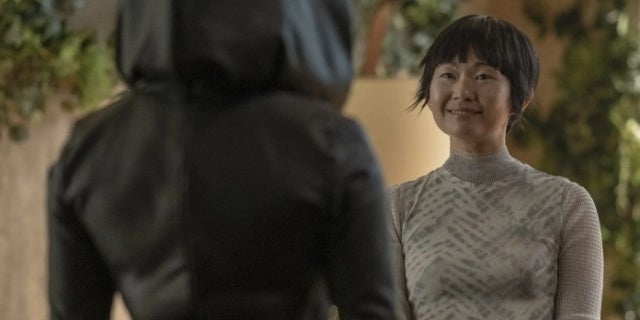 Negatives
Sadly I found Lady Trieu less interesting when she isn't negotiating. Her relationship with her daughter fell flat, but not flat enough to completely ruling out that they can explore this in a deeper way in future episodes. As fascinating as it is, the Veidt subplot is losing a focus. There is a lot of talk about this show is very timely. It explores our modern world in ways that the book did to the 80s. This episode felt missing that timeliness.
Verdict
Watchmen 1×04 represents another strong showing from a show that continues to reinvent the adaptation. Although it may not have been as strong as some of the previous episodes it did introduce us to the enigmatic trillionaire Lady Trieu. Not every episode needs to be driven by metaphor, and this episode was more centered on plot. Veidt continues to get stranger. Watchmen is great at keeping us guessing and this episode is not different.
3.5 out of 5